The Pro Tour also unveiled the location and dates for the 2022 Match Play Championship.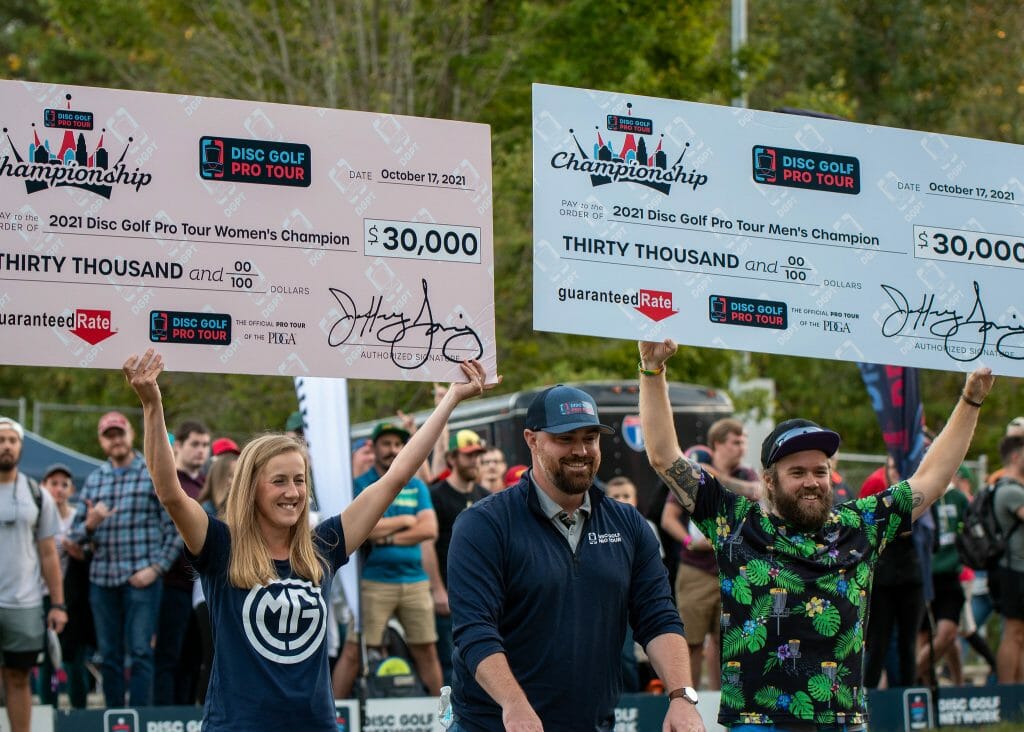 At long last, the Disc Golf Pro Tour announced the points-earning structure for the 2022 season that players will navigate as they seek to earn a spot — and possibly a bye — at the DGPT Championship in October.
For the first time, major championships will offer DGPT points, and they will be worth 1.5 times as much as a DGPT Elite Series event. The final two events of the year prior to the DGPT Championship — the Green Mountain Championships and MVP Open — will serve as DGPT playoff events with a reduced field size and 1.25x points available for players.
Here is the basic points structure in 2022:
DGPT Elite Series (regular season): 100%
DGPT Playoffs: 125%
PDGA MPO/FPO Majors: 150%
DGPT Silver Series: 25%
The top 100 MPO and top 50 FPO players in the DGPT standings will gain entry in to the Green Mountain Championships, the first playoff event. The top 64 MPO and top 32 FPO will get into MVP Open. Tour Director Jeff Spring has said that there will still be regional qualifying opportunities for the events for players not inside the cutoffs.
The DGPT Championship, like in 2021, will host 32 MPO and 16 FPO players. This year, though, only the top 30 MPO and 14 FPO get in automatically. The final two spots in each division will be contested in a play-in event featuring the next two finishers in the standings along with four additional players, reserved for those who won an Elite Series event or Major but did not qualify directly for the Tour Championship.
This is the first year of a new unified Tour after the PDGA National Tour folded into the DGPT. Previously, there were multiple points-earning pathways, and Majors didn't impact standings in any of the season-long points structures.
Match Play Championship Info
As a part of the points structure announcement, the DGPT also unveiled the dates and location for the second annual Match Play Championship: June 16-19 in Bailey, Colorado, a town near Denver nestled in the Rockies at 7,700 feet. The Bailey Disc Golf Course will play host to the event, which falls between the Portland Open (Portland, OR) and the Preserve (Clearwater, MN).
16 players in both MPO and FPO will qualify to play in the Match Play Championship. All Elite Series tournament winners will get an automatic invitation, with remaining spots going to the top players in the standings following the OTB Open in mid-May.
The 2022 DGPT season begins next Thursday, February 24th, at the Las Vegas Challenge.