Details about a mostly stable schedule, including a new DGPT playoff structure
It's a new era in disc golf with the Disc Golf Pro Tour now running the full Elite Series after announcing a new partnership with the PDGA. And now we've got our first look at the 2022 DGPT schedule alongside the already-announced Majors. Here's the 2022 professional disc golf schedule:
Las Vegas Challenge

– February 24-27

 (Las Vegas, NV)
Waco Annual Charity Open

–

March 11-13

 (Waco, TX)
Texas State Disc Golf Championships – March 25-27 (Tyler, TX)
PDGA Champions Cup – April 13-17 (Appling, GA) [Major]
Jonesboro Open

– April 22-24 (Jonesboro, AR)

Dynamic Discs Open – April 28-May 1 (Emporia, KS)
OTB Open

– May 20-22 (Stockton, CA)

Portland Open

– June 3-5 (Portland, OR)

The Preserve Championship

– June 24-26 (Clearwater, MN)

US Women's Disc Golf Championship – July 1-3 (Madison, WI) [Major]
Idlewild Open

– July 8-10 (Burlington, KY)

European Open – July 21-24 (Nokia, Finland) [Major]
Discraft's Great Lakes Open

– July 29-31 (Milford, MI)

Discraft's Ledgestone Insurance Open

– August 11-14 (Peoria, IL)

Des Moines Challenge – August 19-21 (Des Moines, IA)
PDGA Pro World Championships – August 30 – September 3 (Emporia, KS) [Major]
Green Mountain Championship

– September 15-18 (Jeffersonville, VT)

MVP Open

– September 22-25 (Leicester, MA)

United States Disc Golf Championship – October 5-8 (Rock Hill, SC) [Major]
Disc Golf Pro Tour Championship – October 13-16 (Location TBD)
Outside of the Majors, the schedule is comprised entirely of Elite Series events returning from 2021: all 12 Disc Golf Pro Tour events and 2 National Tour events in Texas States and the Dynamic Discs Open.
"All of our events we felt met the standard and all of them wanted to come back on, so all of the DGPT events returned," said DGPT CEO Jeff Spring. "The next step was to integrate National Tour events over all events that we're working with on the Silver Series and over events that submitted new bids." The DGPT and PDGA did take bids from events interested in joining the tour, but priority was given to existing events.
Notably, four of 2021's six scheduled National Tour events are not on the schedule. Two of them — the Beaver State Fling1 and Masters Cup — will be included on the 2022 DGPT Silver Series, a second-tier set of events with enhanced media coverage. Nashville's Music City Open is also being considered for the Silver Series, but there have been challenges finding an available weekend in the tour schedule, according to Spring.
Masters Cup and Beaver State Fling — both long-standing stops on the National Tour — have been deemed to have enough challenges to drop them from the Elite Series, at least for this year. Delaveaga, the home of Masters Cup, is a non-standard 24-hole course with numerous crossing fairways and no cellular service required for live coverage. Beaver State Fling also struggles with cellular coverage and hasn't been hosted since 2019; a new leadership team is taking over the tournament in 2022. "There's four or five issues with both events," said Spring. "If there were one or two, we would be able to do them as Elite Series events."
Both tournaments are working to address the Pro Tour's concerns in 2022 and may be full DGPT events in the future.
Delaware Disc Golf Challenge is currently set to be off the tour in 2022.
Largely, though, the 2022 tour has a similar makeup and structure to this year's. "This process is always challenging, and we prioritized sustainability and simplicity for 2022 as much of our focus went to securing our partnership and merging the tours successfully with the PDGA," said Spring in a statement. "One focus was working backward to Emporia to allow ease of travel to the PDGA Pro Worlds, which has been scheduled on that date for over 10 months. We wanted to make it easy for players to get there."
Potential Additions to the Schedule
The Disc Golf Pro Tour plans to bring back some of its alternative events in 2022, including the Match Play Championships, Celebrity Pro-Am, and All-Star Weekend. Those will be announced in the coming months.
Additionally, the Tour is planning to add a stop in Europe prior to the European Open in July. This year, the Tour had Norway's PCS Sula Open on the schedule, but it was dropped following extended COVID-19 travel restrictions. That and the Silver Series will be announced on November 1st.
The DGPT has also not yet determined where the Tour Championship will be held. Since 2019, the tournament has been at Hornet's Nest disc golf course in Charlotte. "We've loved being at Hornet's Nest, and it's an option for next year, but we are looking to explore options in the area in the next phase of development for the event and for the Tour," said Spring.
Overall, the schedule offers more space between events. There are fewer stretches of consecutive tournaments than in 2021, a year that included four straight weekends with DGPT events.
A New Points & Playoff Structure
A notable wrinkle to the 2022 schedule is a newly established playoff structure leading up to the Tour Championship. The Green Mountain Championships and MVP Open — the final two DGPT events of the season — will serve as limited entry playoff events based on Tour points.
Points will be earned at DGPT events, with Silver Series events offering a reduced number of points (in 2021, it was 25%). New in 2022: players will also earn points at Majors, where there will be a bonus relative to a DGPT regular season tournament. The Pro Tour playoff events will also offer more points than standard ones.
The final playoff structure is not yet finalized. The DGPT did say that around 100 MPO and 50 FPO competitors will earn slots at GMC, with 80 and 40, respectively, getting into the MVP Open. The Tour Championship may expand to include 40 MPO and 20 FPO in 2022, up from 32 and 16.
Tournament Qualification & A Look to the Future
Some Northeast players have expressed concern about the area's top pair of events becoming limited registration playoff events on the Pro Tour. Although there will still be a way for regional players to qualify to compete at both events (and all DGPT tournaments), the decreasing access to DGPT events for players that aren't touring professionals is a part of a broader trend towards an end to open registration.
Already in 2022, Spring estimates that 75% of registrants at DGPT tournaments will be Tour Card holders, regional qualifiers, and sponsor exemptions. Only 25% of registration will be ratings-based. And that number is expected to shrink in the future.
"The transition of the Silver Series to a qualifying tour I expect to happen over the next couple of years," he said.
Next season will largely look like this one, but with the DGPT absorbing the National Tour, 2022 will be a transition to a 2023 season that could look quite different.
A Map of the 2022 Disc Golf Season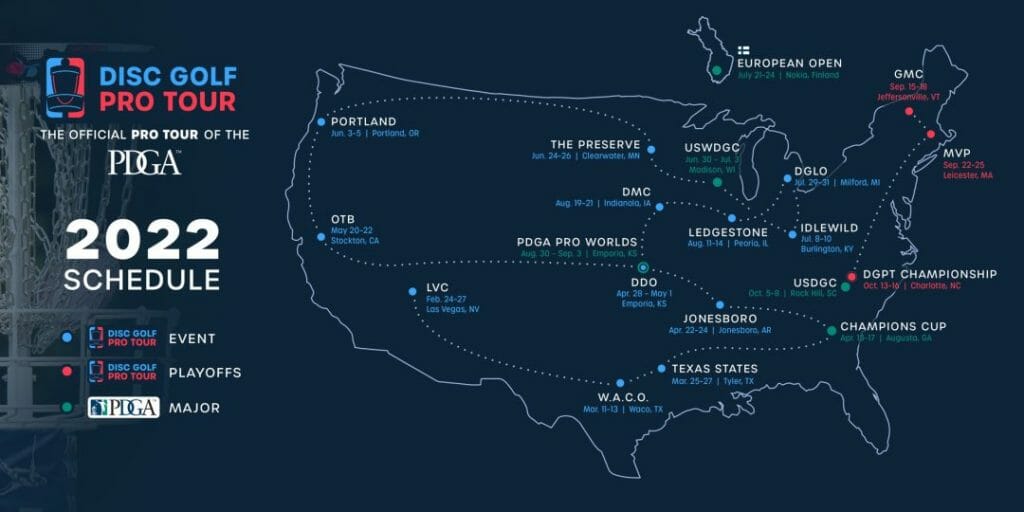 ---
The BSF was canceled this year due to COVID issues and course damage from storms. ↩