Nearly all qualifying players have purchased a Tour Card for 2022.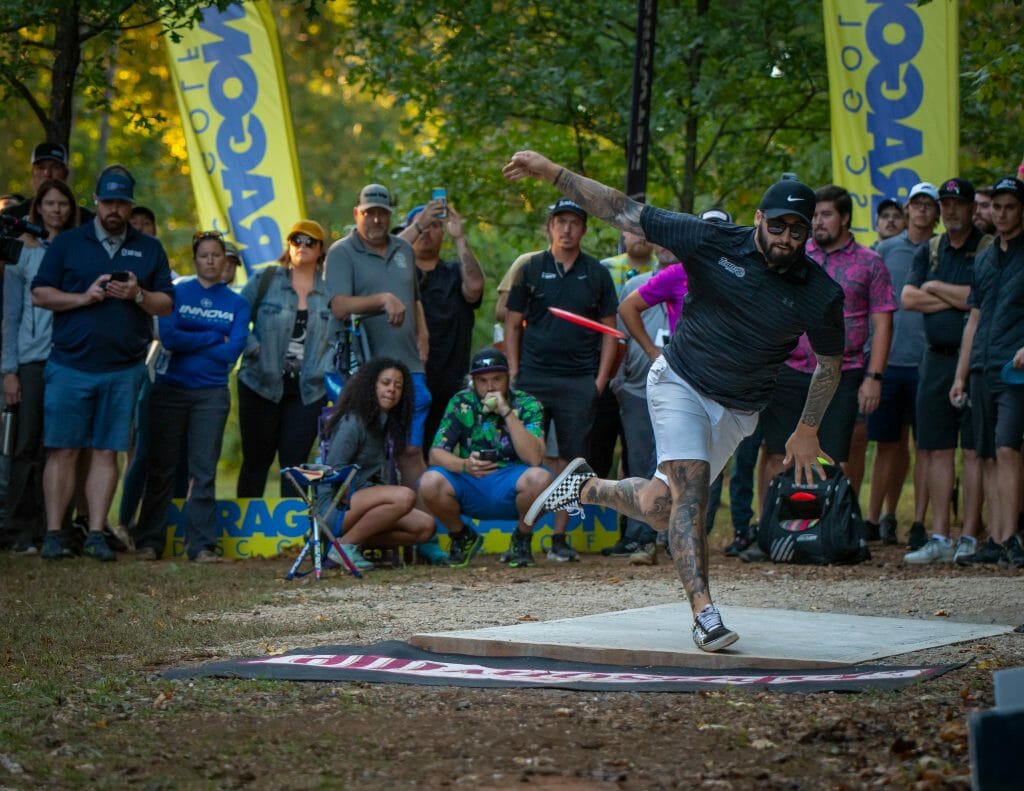 Following in the footsteps of the PGA Tour, the Disc Golf Pro Tour is piloting a Tour Card for the 2022 season.
The Tour Card (TC) program, which was first announced at the beginning of the 2021 season, offers the top 75 MPO and top 25 FPO players from the 2021 DGPT standings the opportunity to get access to guaranteed early tournament registration, health and wellness services, locker room facilities, dedicated player parking, a private hospitality tent, and other benefits. The Tour Card is also available to the top 10 MPO and top 5 FPO players from Europe, as well as additional top-rated players granted exemptions.
The Tour Card costs $760 — $40 for each of 19 events (15 DGPT stops and four Majors), regardless of attendance.1 The DGPT says that they expect that the program will operate at a loss in 2022 because of the cost of providing amenities. Non-TC holders will be able to purchase access to TC amenities for $50 per event.
"This program will be costly for the DGPT to implement as we look to rapidly increase tour card benefits and services to over 100 Tour Card holders at nearly 20 events over the course of the season," DGPT CEO Jeff Spring wrote in a memo to players. "These costs, combined with the expansion event staff to help execute and coordinate the program, necessitate a fee to be applied to those who qualify and participate in the tour card program."
Here's a more in-depth look at what the DGPT is promising to TC holders:
Early tournament registration with full refunds
Staff-controlled parking areas exclusive for players
Private locker room access (including rented bathrooms and changing areas at facilities that lack them)
Private hospitality tent near warm up area
Athletic Performance Zone, with warm-up and cool down guidance and equipment
Massage and chiropractic services at some events
Access to telehealth services for medical and physical issues, with referrals to specialists
Promotional opportunities through the DGPT
Disc Golf Network subscriptions
Caddy and support team credentialing
DGPT tickets for friends and family
Players that sign up for the Tour Card have to agree to professionalism standards and mandatory media availability. The DGPT is also creating a Player Council, comprised of six touring professionals to give formalized feedback and votes on tour issues.
The program is expected to be expanded in future seasons and become the "primary element in registration processes."
How Will Non-Tour Card Holders Get Into DGPT Events?
Some regional pros and non-touring players have expressed concern about the opportunity to get access to DGPT events, given the increasingly formal process for tournament registration. The DGPT says it is going to continue to be possible for players that don't have a Tour Card to get into tournaments.
"Everybody 970 rated and above [in MPO] will have a shot at most events [through tiered registration]," said Spring. "Everybody 1000 and above will definitely have a shot."
"If you're shut out, there are ways to get in," he added. "There are sponsor exemptions. There will be qualifier tournaments announced for most tournaments."
Indeed, there are plans to develop more local qualifying tournaments to gain access to DGPT stops, with up to eight spots in MPO and four in FPO. DGPT tournament directors are recommended to offer qualifying spots at earlier area tournaments, and some events will have week-of qualifying opportunities, akin to USDGC's Monday Qualifying.
Spring said that Silver Series events are also a good option for up-and-coming players to compete against a strong field but have more opportunity to sign up.
Additionally, 2022 will offer the same number of rating-tiered registration slots as were available in 2021.
Which Pros Have Bought a Tour Card?
As of the time of publication, 82 MPO players and 37 FPO players have registered for Tour Card access on Disc Golf Scene.
Of the top 75 MPO players, only Brian Earhart, Reid Frescura, Dylan Horst, James Proctor, Ezra Robinson, Miles Seaborn, and Seth Talbott have not yet signed up for a TC. All top 25 FPO players have signed up.
Additionally, a number of European players — Eveliina Salonen, Henna Blomroos, and Keiti Tätte in FPO2; Kristo Raik, Lauri Lehtinen, Luukas Rokkanen, Niklas Anttila, Niko Rattya, and Väinö Mäkelä in MPO3 — have been granted exemptions to obtain a Tour Card. Most of the European players will only attend a selection of DGPT events.
A number of American players have also been granted exemptions, including Nate Perkins, Austin Turner, Dustin Keegan, Des Reading, Elaine King, and Ellen Widboom.
The 2022 DGPT starts February 24th at the Las Vegas Challenge.
---
This does not cover the cost of tournament entry fees, which are billed separately. ↩

as well as Kristin Tattar, who finished in the 2021 top 25 and did not require an exemption ↩

as well as Albert Tamm and Silver Lätt, who finished in the 2021 top 75 and did not require an exemption ↩