Final Round Recap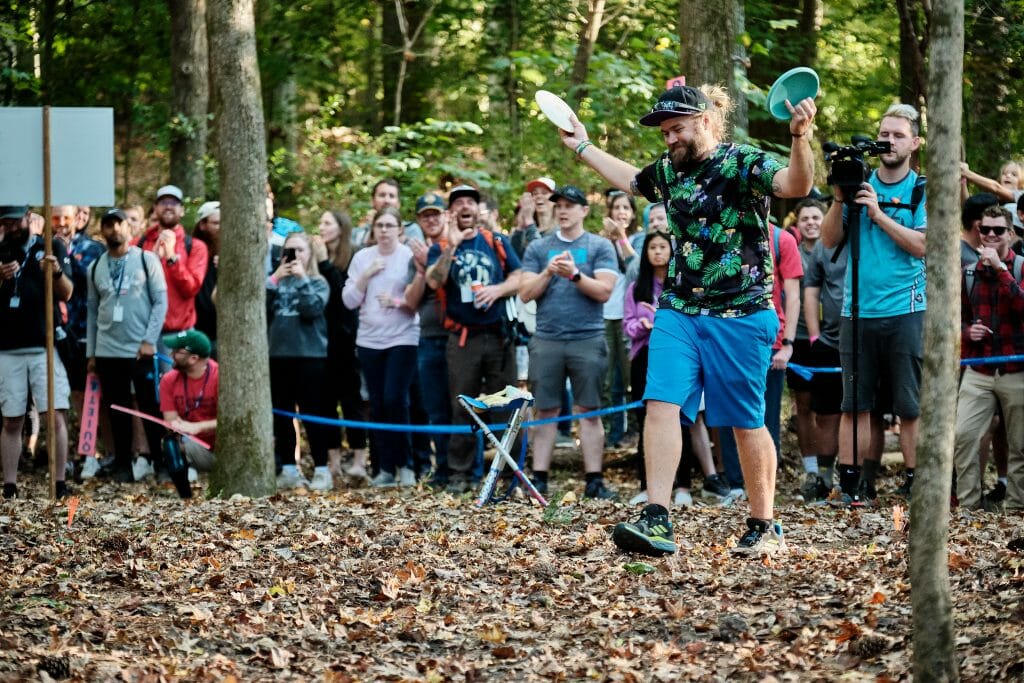 The last man standing at Hornets Nest was a North Carolinian who outdueled the field over four grueling days in the woods.
"It really feels like the Nathan Queen City today," said the newly-crowned Disc Golf Pro Tour Championship victor on Sunday.
After each day of competition at the Tour Championship, there was a fair amount of chatter about Nathan Queen's chances moving forward. The lefty's play was stellar from the start, but questions about it holding up against tougher and tougher fields persisted. Well, over the course of the weekend, the 1026-rated pro put those doubts to rest, beating a field of the best of the best to take down the DGPT Championship and the record-setting $30,ooo top prize.
"It hasn't been the year that I expected for myself as far as cashing at events," said Queen. Queen went full-time on the road in 2019 after a breakout USDGC in 2018 where he finished 11th and was featured on the lead card during the event. "I took a leap and got a truck and trailer before this event to travel in next year. Paid off now."
The $30K first place payout is $11,000 more than Queen had earned in tournament prizes for 2021 leading into the weekend.
Queen showed those first three rounds were no fluke during the Finals Sunday, hitting fairways, hitting putts, and remaining incredibly cool in the face of some of the biggest pressure of his career. And his performance was not without fireworks. Queen started the round with a bang, hitting from 50 feet on a nasty birdie putt on hole 1, and immediately remedied an OB bogey from the island hole 2 by parking an upshot on hole 3 for birdie.
"Making it to this final day from the 28th seed, I finally got to where that seed didn't matter today and got to let it fly open," said Queen, whose low seed made him susceptible to losing tiebreakers over higher seeded players. Queen was at risk of not qualifying for the event until a 12th place finish at the MVP Open earned him enough tour points.
The highest-rated player left in the field, no. 3 Paul McBeth, was out of the gate clean early, going 5-under with zero bogeys through the opening 11 holes. No. 4 seed Adam Hammes was out of contention by hole 6 with five straight holes played over par, and Queen and no. 12 Drew Gibson were one and two strokes back of McBeth, respectively, heading into the final stretch of seven holes.
Hole 12 was only birdied four times over the course of the event, and it bit McBeth with a bogey to tie him with Queen for the lead. The moment was not lost on Queen and he proceeded to attack off the tee immediately. On the next three holes, Queen was into Circle 1 with his drive, and drilled edge of circle testers for birdie on all three. McBeth kept up with a birdie on hole 13, but gave back two strokes with pars on 14 and 15. Gibson too looked like maybe he'd taken the juice from Queen and could be the one to spring to the win by making outside C2 birdies on 13 and 14 to stay within one of Queen, but another C2+ birdie on hole 16 couldn't make up for a two-putt bogey on hole 15.
Queen parked the 357-foot hole 16 for birdie to gain another stroke on McBeth and only needed to par out — not an easy task with hole 17 — to win the first Elite Series event of his career. He would do just that to finish at 8-under par total, tied for the lowest score of the event.
This is by far the defining moment of Queen's touring career, and the "hometown" hero was met with raucous applause as the laurels were doled out. Whether it's peaking at the right time, a course that played to his strengths, or just a good old-fashioned announcement party, we can't wait for the follow up performance from Nathan Queen.
"After that first round I still had to set on my head a little bit, so Friday morning I went out to ride my mountain bike because that's how I try to calm myself down. I was listening to an All That Remains song on the way there and I got the biggest set of chills that I've gotten thinking about this moment right here," said Queen, holding back tears. "At that point I already knew in my head that it was gonna happen. And I came through with it and made it happen."
Despite missing the gold, it was a round for the ages from Drew Gibson. As he did all weekend, he was bringing the entertainment factor during the final round. Though his accuracy off the tee failed him throughout the round, his scrambling and putting allowed him to stay neck-and-neck for the lead for much of the contest. When Queen began to make his run does the final stretch, Gibson went Super Saiyan mode, hitting 72-, 78-, and 69-foot putts to get crucial birdies to stay in the game. He and Queen were making the final round an absolutely must-watch, and while Gibson takes home silver at 6-under par, the pay day is nice ($15,000), and surely EV-7 will be impressed with the endorsement he just gave them.
"Paul and I the whole time were like, this guy is playing incredible. He is just lacing every single shot," said Gibson, congratulating Queen after the round. "I don't know if I've ever seen someone throw that many good shots in a row."

Paul McBeth and Adam Hammes both came up short. McBeth stayed in the competition through the front 9, but couldn't keep up with the birdie barrage heroics of the two leaders to close things out and finished at 5-under par in third, worth $10,000. Meanwhile, Hammes was out of it nearly from the jump, going 8-over par through the first six holes, and effectively just getting the best seat in the house to the fireworks down the stretch and waiting on a $8,000 check. It was disappointment for both, but just reaching the final day will be worth the trip, both for prestige and payout.