Semifinals Recap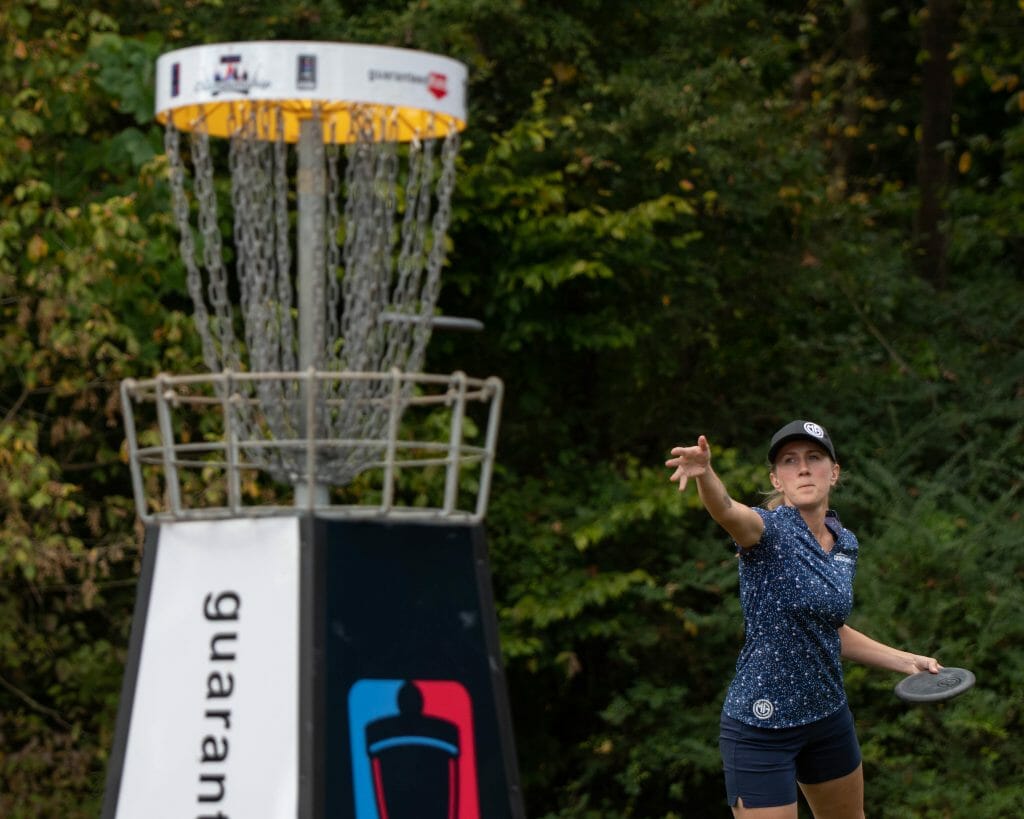 Semifinals for the FPO division were underway on Saturday and the field was introduced to the top four seeds for the first time. It didn't go right for two of the highest seeds, and a hot hand has carried over from Winthrop. 
Reigning Throw Pink Women's Disc Golf champ, Missy Gannon, stays red hot. Her blemish-free round opened going 4-under through the first six holes which concluded the majority of her scoring. Her 5-under par round clocks in sub-1000 at 996 which tied the hot round of the day. Gannon took care of business on the easier scoring front 9, and stayed out of trouble all day by converting two scramble opportunities and finishing second in fairway hits at 85%. She added two 50-foot birdies to show off those putting chops as well. The three seed will be entering Championship Sunday as the highest seed amongst the field.

Discraft's Hailey King tied her teammate at 5-under par. After shredding the quarterfinals and leading in the clubhouse, King stays on top for round 2. She led the field in fairway hits at 90% while coupling it with a division best strokes gained tee-to-green (3.55), and C1 and C2 in regulation rates. Two big Circle 2 putts came on holes 6 and 14 and eight birdies in all were also tops in the field. She will be moving onto the championships and will continue her 2020 Tour Championship defense for that coveted $30,000.

Heather Young rode the roller coaster during her semifinals performance but one thing that stayed consistent was that putter, natch. Although her C1X percentage cooled off to 73% with three two-putts on the front 9, she led the field from C2 at 100% (4-for-4). An impressive display from distance came from three 50-footers and a 40-footer to keep her in the hunt. She led the field in strokes gained putting at 3.46 and will be playing her third round out at Hornet's Nest on Sunday after advancing with a 3-under par.

Rounding out the final four with hopes of taking home that big cash prize is the side arm assassin, Sarah Hokom. After a rather consistent round, she did cap off the round bogeying her final two holes momentarily leaving the door open for Catrina Allen to try to move into the last spot. She led the field in parked percentage at 17% with only 65% fairway hits. Her putter was cooking at a rate of 83% which helped her to a 2-under par round.

After a rough weekend out at TPWDGC, Paige Pierce experiences another uneventful week at Hornets Nest. Her round was over at the jump where she shot bogey or worse in three of her first four holes. Although throwing off the tee was not great at a 60% rate, her putter was red hot. She tied for the field's best in C1X putting at 83% but it still led to a 2-under par round. The FPO points leader has to take her final bow of the season, but this is definitely not the end for Paige Pierce.
Statline
Hornets Nest is taking names throughout the week with some absolutely vicious holes. Holes 1, 9, 10, and 13 did not see a single birdie on the day. These will definitely be holes to watch the final four compete on to see where the field might be able to find some separation.
Heard
"I feel great and had no expectations. I'm just really excited to compete at this event and to be able to make it through another round… I was feeling really chill. It takes me a little bit to wake up in these early rounds so luckily I was ready to go when 10:00 hit." – Missy Gannon.