Opening Round Recap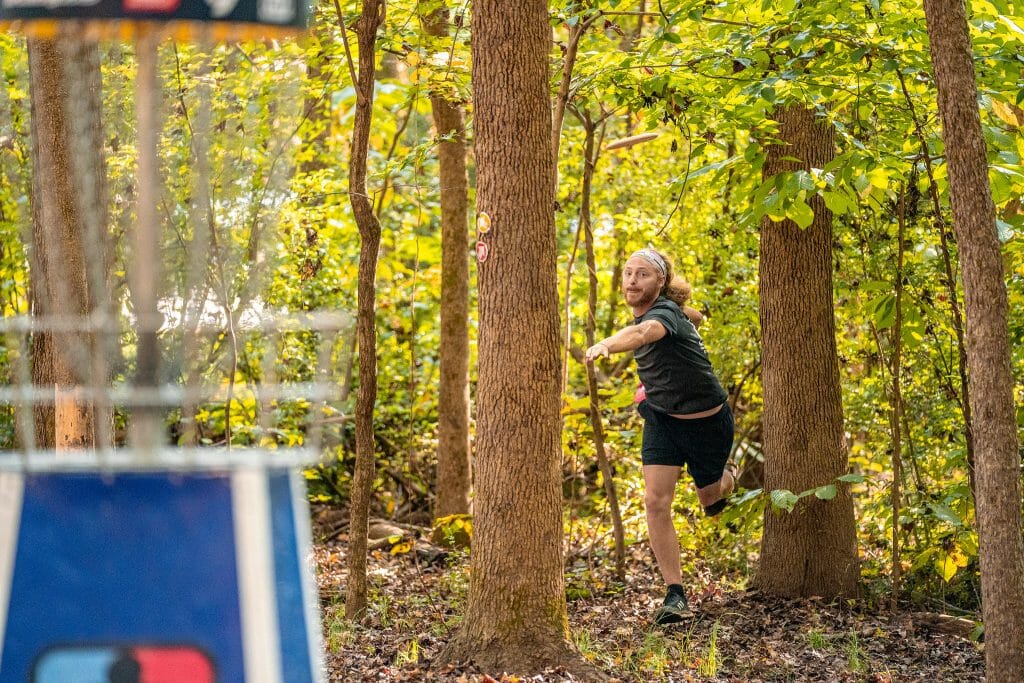 The DGPT Championship format is good for fireworks from the very start, and round 1 was no exception. Here's what happened:
Nathan Queen (6-under par) was the class of the course on Thursday, jumping out to an early lead and maintaining his position to advance. Queen was absolutely on fire from deep, posting a 71% Circle 2 make percentage, which made up for rather pedestrian stats elsewhere. He gained 3.34 strokes on the field when putting, and put his North Carolina roots to good use, taking second in scramble percentage when the woodsier holes left him out of position. It was by no means a championship quality day from Queen, but if he plays this well from out of position for the rest of the weekend, you can bet that he can outlast some of the field just by making great saves.

Chris Clemons (4-under) advanced by playing great golf — plain and simple. His only bogey on the day came on hole 2, with a forehand getting away from him and going long into the water. His forehand was on full display, mimicking the RHBH lines that Hornets Nest demands.

The best tool in Clemons' pocket on Thursday was his jump putt, knocking down a 49-foot birdie and a 38-foot par save, as he converted on a third of his C2 attempts. As with, well, nearly every player in Round 1, his play wasn't as hot as it could have been, and that room for improvement will give Clemons some auxiliary goals to shoot for in addition to trying to advance on Friday.
If you had turned off your stream at the turn, you would have thought that Gannon Buhr (3-under) was going home early. His drive was out of sorts, his long range putts weren't quite dialed in, and he was verbally frustrated with himself nearly every time the disc left his hands. However, you could argue his turnaround was jumpstarted by a shank, a pulled drive that kissed off the first tree available, and proceeded to fly perfectly flat all the way to the pin, which put him to 1-under on the day. From there, he started hitting fairways more consistently, and when he missed, his scramble game was much better. As the competitors ahead of him conceded strokes down the stretch, Buhr stayed clean, and his par stretch down the final four holes was crucial toward earning his spot in the Quarterfinals. The teen has plenty of talent and power, if he can rope in the accuracy off the tee, he'll have a shot to keep moving on at the Championship.

Rounding out the players advancing is Emerson Keith (3-under). Keith too had a rough start to his day, starting +1 over through 3, something that took him off the top of the leaderboard, and for much of the day, out of discussion. However, Keith clawed his way back in over the round, quietly putting together six solid birdies to overcome his three bogey strokes. The story of Keith's round was his finish, he hit the greens in regulation on five of the last six holes, and whether he capitalized or not, taking pars was enough of an advantage when the rest of the field was falling away late. The course at Hornets Nest suits Keith's game fairly well, he has versatility in both his backhand and forehand game, and plenty of power, now it all comes down to hitting his lines.

The broader story of the day was not stellar play, but the short stretches that sunk the competitors' bids. After early predictions about 6-under being the cut line, it ended up being 3-under, a number that many players touched throughout the round. Whether it was Raven Newsom surging late but losing out due to seed, Ben Callaway starting hot but parring his last six holes, Chandler Fry posting a 3-over front 9 and 5-under back 9, or Jeremy Koling bogeying the final two holes to fall out of contention, it was a wild day for the leaderboard.
These players had the quality of anyone in the Quarterfinals, but whether it be nerves, lapses, or just the difficulty of Hornets Nest's latest iteration, Thursday was marked more by it's struggles than it's successes.
Statline
Through Round 1 in 2020, Hole 2 at Hornet's Nest played as the 2nd easiest hole for the field. In 2021, it is now playing as the hardest hole against par. The decision to push the tee back, and add in some danger between the tee and the island has proved to be a challenge, with two tough drop zones and brutal OB inside of the walls around the shoreline. No longer a gimme, we will see if the struggles continue for the remaining players.
Heard
"I told myself that in practice I birdied every single one of these holes in practice, so why can't I do it again? Sure I had a rough start, but we're professionals and we can turn it around." – Emerson Keith on his rollercoaster round, and how he kept in the competition after a tough start