Final Round Recap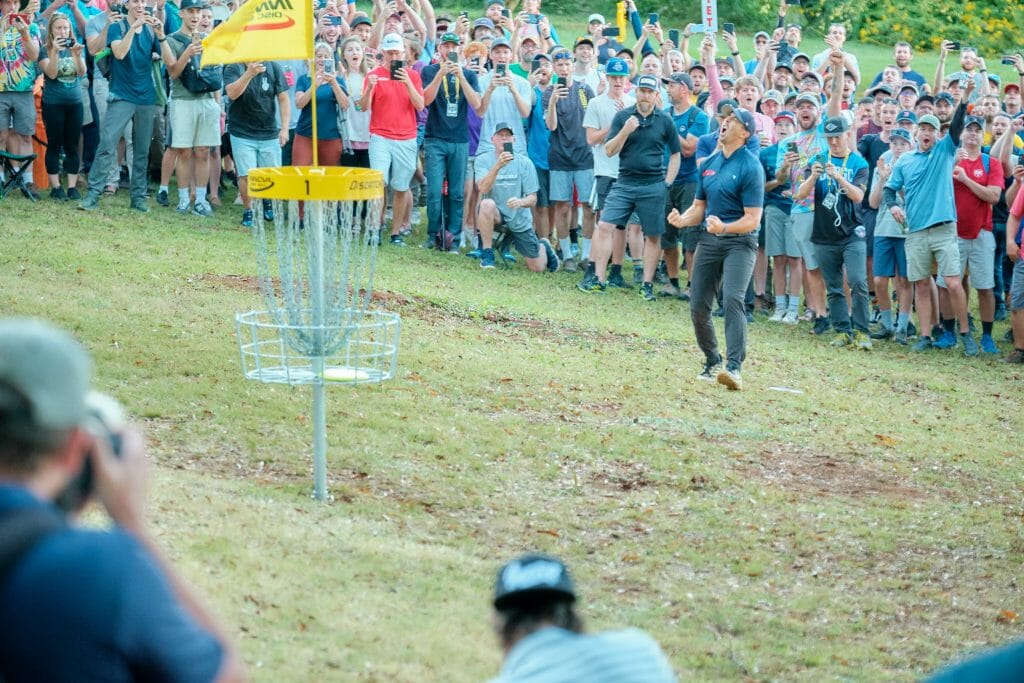 Ultiworld Disc Golf's coverage of the 2021 United States Disc Golf Championship and Throw Pink Women's Disc Golf Championship is presented by Skybreed Discs, a top online retailer and preferred vendor of the 2021 Ledgestone Insurance Open.
After a day with a tight group vying for the lead, Paul McBeth once again rose to the occasion to fight back for a third USDGC title.
For a moment, it looked like McBeth was not going to be able to keep up with the hot rounds of the day. He had a couple stroke lead coming into Championship Saturday but after a double-bogey on hole 12 he was only 1-under par on the round, and contenders had taken the lead with their aggressive attacks. Joel Freeman and Ricky Wysocki had both tied for the lead several holes before, and a bogey-free Kyle Klein from the chase card was also making a move into a tie for first at 24-under par. 
"I knew I had a little bit of a lead starting, and my card wasn't playing too well early on but I knew there was a lot of people out there and Kyle proved that," said McBeth. "I had to keep giving myself opportunities and trying to put it in the basket."
However McBeth's clutch gene activated on the 13th, and he rode it to catch Klein again and the leaders with instant classic moments sprinkled throughout. A clutch par save on hole 15 after an errant upshot resulted in a crafty second approach and connection from Circle 2. He shrugged off a missed opportunity to pick up strokes on hole 16 by heading into the treacherous hole 17 with a plan. The two-time U.S. champion showed his mettle by sticking the island in one, and absolutely smoked a 60-footer looking back at the OB for a share of the lead with Klein at 26-under par.
"Kyle's score kept switching there at the end so kind of changed my mind on 17 to go forehand, put it really safe rather than trying to get the birdie," said McBeth, referencing errors displaying on UDisc Live during the round making it impossible to know for sure where Klein was sitting. "I was still on the green but had to make that putt."
McBeth wasn't ready to turn it off yet. He attacked hole 18, putting a putter out of position but inbounds, throwing a driver to C2 on the challenging upshot, and running (!!!) the birdie putt from 50 feet out while looking directly into OB water beyond the elevated basket. He caught left side chains and was left with a 15 foot putt looking back up the hill for par to force a playoff. McBeth made the putt, natch, and headed directly to meet Klein at hole 1 to start the playoff. 
Klein teed first and sawed off a backhand into the last of the left side schule. McBeth put his shot chain high and just past the basket to 25 feet. Klein's run from a knee came up short of the basket, and McBeth sank the putt to take it home. Somewhat fittingly, the putt came from the spot where he missed a bid and lost the 2014 USDGC title in a playoff to Will Schusterick. It was a full circle win for McBeth, who had been left wanting for much of the season, but when he needed it most, McBeast came through.

"It feels great. I mean, shoot, I was 200 and something feet away from having two majors this year, having another world title," said McBeth. "So, this feels good to come back and prove it on this. I'm in great company with the third [title] for sure."
McBeth joins Schusterick and Ken Climo as the only three-time male U.S. champions. He hit three C2 putts over the final five holes of regulation during the final round, and was second for the event in both strokes gained putting (7.94) and strokes gained from C2 (7.61). He led the event in finding C2 in regulation (75%) and parked shots (18%).
Klein put up a valiant effort for perhaps the most elusive title in disc golf. In only his second year as a professional, he forced a playoff with the central figure of the sport, and did so on the back of a bogey-free, 10-under par final to surge into the lead. While he narrowly missed his opportunity to close the door on the 18th, with a birdie bid from C2, he played admirably all weekend and especially on day four.
It was a crowded group of hopefuls throughout the round, including Wysocki (3rd), Drew Gibson (4th), Joel Freeman (5th), Chris Dickerson (5th), and even Nate Sexton slipping back into the picture (5th). While all had opportunities to distinguish themselves from the group, errant shots, bad breaks, or missed putts reared their heads at one point or another. Winthrop didn't allow for anyone to play perfectly, but whether it was mental lapses, or the course, these competitors fell just short.
The final story of the day was technical quirks for viewers at home and players on the course. Fans were chattering about lapses in the stream throughout the day, as there was an outage early in the round that lasted several holes for some viewers, and then more reported drops during McBeth's run starting on hole 17. It was certainly a sign of growing pains in the live coverage, but there was much praise for the service throughout the week, just an unfortunate moment when it mattered most. The DGN issued a statement about the technical issues.
Disc Golf Network Issues Statement Over USDGC Final Round Technical Issues
The second technical controversy was the UDisc Live scoring down the stretch. After McBeth's drive on 17 as he walked to the island, Klein's score began to change. For the majority of the card's first putts, McBeth was shown to be the outright leader at 25-under par, with Klein's round showing as finished at 24-under. There was clear deliberation happening on the green, with players convening around McBeth to try to sort it out, and Ian Anderson on coverage letting the viewers know that Klein was still in the lead at 26-under. With the strategy of the pro game still leaning heavily on UDisc as a resource for score tracking, it was a moment of awkwardness as McBeth could have easily been misled by an inopportune mistake. Luckily, McBeth ran the putt as he needed to, and the scores were updated shortly.