Round 2 Recap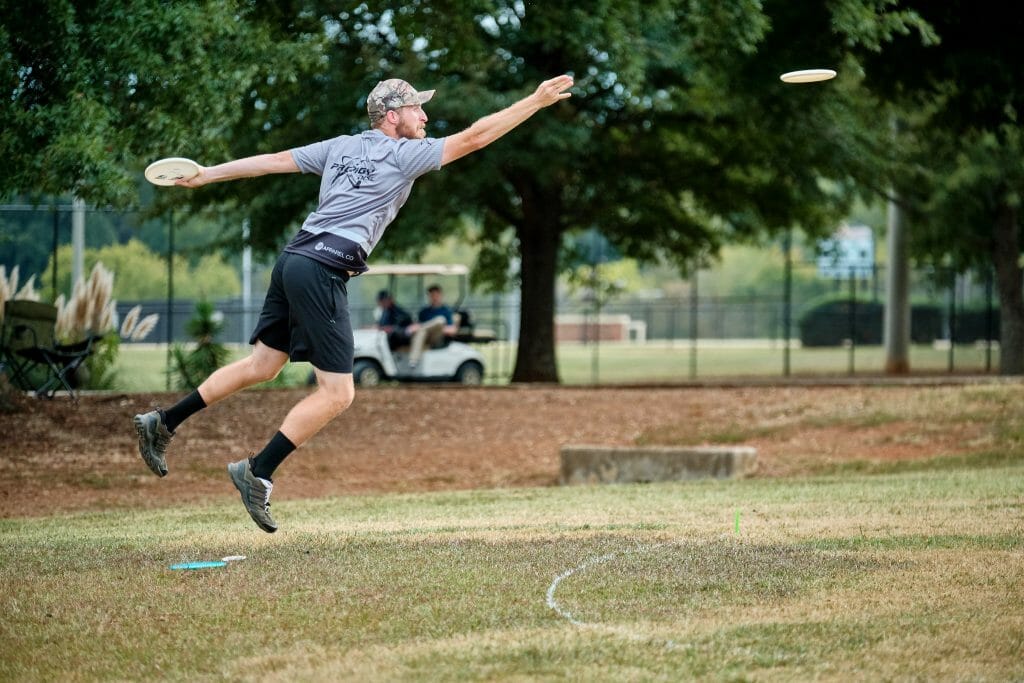 Ultiworld Disc Golf's coverage of the 2021 United States Disc Golf Championship and Throw Pink Women's Disc Golf Championship is presented by Skybreed Discs, a top online retailer and preferred vendor of the 2021 Ledgestone Insurance Open.
After a tough day for the lead card at USDGC, the defending champ pushed to the front of the line with a 1073-rated, 11-down hot round to take a three stroke lead on the field heading into moving day.
The 🤖🐔 is activated. Chris Dickerson posted a bogey-free round that didn't feel blistering in the moment, but his consistency saw him rise to the top in a crowded field. Dickerson put together three turkeys on the day, dodging bogeys and OB, and putting together a great putting round that saw him go 92% from Circle 1X, and 40% from C2. He's sitting at 17-under par total.

Dickerson's biggest strength right now is his thoughtfulness while driving. He leads the tournament in fewest OB strokes taken, and is near the top in scramble percentage, despite not needing to call on his upshot game too much. Dickerson was able to get a lead and ride it last year, let's see if he can replicate that effort, or if another Heimburg-esqe effort will give him a scare once again.

Ricky Wysocki, seeking his first USDGC title, is playing like a man who wants nothing more but to fill this gap on his trophy shelf. He too went bogey-free on Thursday with a 9-under par day to move into a tied for second at 14-under par, hitting 85% of fairways and showing his scramble mastery when he didn't. At a tournament where your putt may be oddly obstructed by a pole, tree, or haybale, having the putting range that Wysocki does puts him in a great position to attack, and he is doing so with aplomb. While he sits three back of Dickerson, he is in a small grouping of players with the chops to go into all out attack and make up the gap, no matter how well the leader is playing.
It was a day of highs and lows for Rothlisberger, who didn't quite replicate the excellence of the opening round, but still put up a respectable 4-under to hang on to a tie for secondand a spot on lead card for Moving Day. On coverage, it seemed that Rothlisberger's forehand was the culprit, throwing overturned shots on holes 2, 5, and 8 that kept him from nabbing birdie, and even leading to bogey in some cases. However, his day was full of incredible shots as well, check out his upshot on hole 2 to save a par, his blast across the water on 5 to save par, and his absolutely park job on 13.

Rounding out the lead card is Canadian representative, Martin Hendel. He surged to lead card after an 8-under par round to finish at 13-under par total, only marred by a bogey on hole 2 where he went OB approaching the green. Otherwise he was showing off a great driving/putting combo of 95% fairway hits with 100% putting inside the circle. Hendel is a USDGC veteran, and has been crushing it in the Canadian scene in 2021. His first foray into the Elite Series circuit this season was good, not great, taking 37th at GMC, but he is clearly in form as he competes for the U.S. title.
Drew Gibson may not be on the lead card, but he was providing the fireworks throughout the day, notching a beautiful ace on hole 7, following it up with two birdies, and then parking hole 10 for the tough eagle. He followed up his 6-down through four holes stretch with a continually electric performance, culminating in a birdie on 17 where he flexed, yelled, and put the field on watch. While he ended his day with a bogey on the tough hole 18, his midrange game is a perfect tool to pick apart Winthrop, as he always has control on his landings, he just needs to point and shoot with his considerable power. Keep an eye out for him to keep rising through moving day as he's tied for fifth with James Conrad and Joel Freeman at 12-under par after rising 26 positions. 
After starting 8-down through 11 holes, Paul McBeth had taken the outright lead. The last third of the course, however, would play 3-over for him and he'd finish at 11-under total and in a tie for eighth with Bradley Williams, Simon Lizotte, Eagle McMahon, and Nate Sexton. McBeth went OB twice on hole 17 and "saved" triple-bogey from 50 feet.
Statline
Move over Hole 17!

Hole 18 is playing as the toughest course to par at USDGC, and the upshot is the prime culprit. Most pros can manage the open turnover drive, but throwing a low ceiling shot that doesn't skip down the slope into the lake is causing plenty of trouble. If the competition is at all close going down the stretch, the 1-2 punch of 17 and 18 is surely already taking up residence in the contenders' minds.