USDGC aims to match current all-time highest cash payout for first place
Ultiworld Disc Golf's coverage of the 2021 United States Disc Golf Championship and Throw Pink Women's Disc Golf Championship is presented by Skybreed Discs, a top online retailer and preferred vendor of the 2021 Ledgestone Insurance Open.
This year's USDGC is planning to award a first place cash payout matching the all-time high of $20,000 set at the 2020 DGPT Championship. The first place prize for the TPWDGC winner will be $6,000, tying it for the fifth highest FPO payout of all-time. The DGPT has already announced a $30,000 top prize for both the MPO and FPO winners of the 2021 DGPT Championship next weekend.
A second place prize of $13,000 at USDGC would also be a top five payout all-time for the MPO division, and is $1,000 more than James Conrad won at the 2019 USDGC, and $2,000 more than Chris Dickerson won last season.
This year's USDGC payout includes more than $50,000 of added cash and the TPWDGC sees more than $14,000 added cash to the purse.
Here are the full payout tables, per the PDGA event pages for the USDGC and TPWDGC: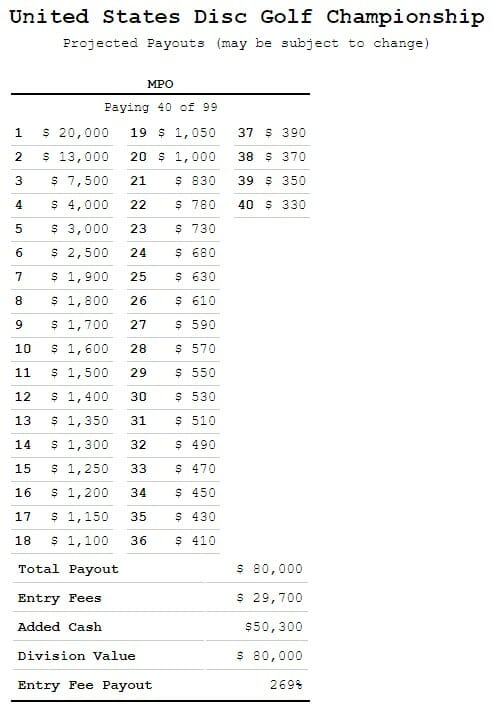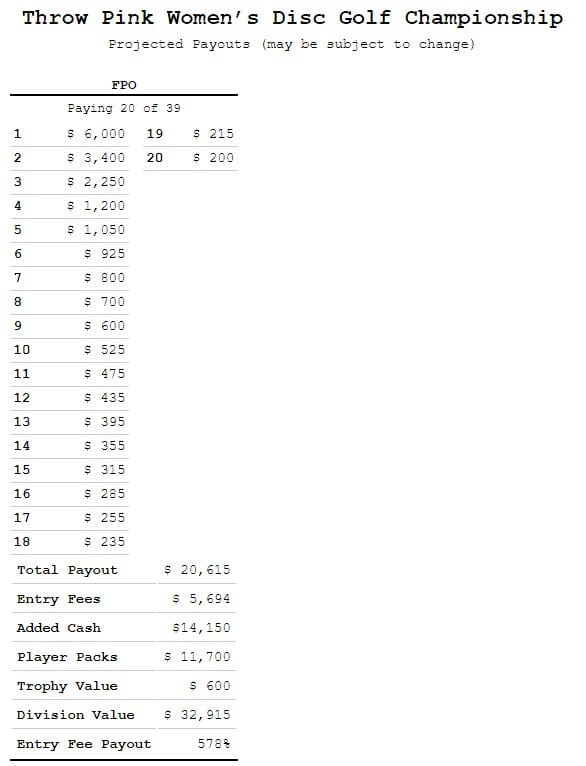 Top Prizes by Division
| Year | Tournament | Division | Player | Place | Prize |
| --- | --- | --- | --- | --- | --- |
| 2020 | DGPT Tour Championship | MPO | Kevin Jones | 1 | $20,000.00 |
| 2021 | PDGA Pro Worlds | MPO | James Conrad | 1 | $16,500.00 |
| 2007 | United States Disc Golf Championship | MPO | Ken Climo | 1 | $15,000.00 |
| 2009 | United States Disc Golf Championship | MPO | Nikko Locastro | 1 | $15,000.00 |
| 2008 | United States Disc Golf Championship | MPO | Nate Doss | 1 | $12,000.00 |
| 2010 | United States Disc Golf Championship | MPO | Will Schusterick | 1 | $12,000.00 |
| 2017 | PDGA Pro Worlds | MPO | Ricky Wysocki | 1 | $12,000.00 |
| 2017 | United States Disc Golf Championship | MPO | Nate Sexton | 1 | $12,000.00 |
| 2019 | United States Disc Golf Championship | MPO | James Conrad | 1 | $12,000.00 |
| 2005 | United States Disc Golf Championship | MPO | Dave Feldberg | 1 | $11,000.00 |
| 2006 | United States Disc Golf Championship | MPO | Barry Schutlz | 1 | $11,000.00 |
| 2003 | United States Disc Golf Championship | MPO | Barry Schutlz | 1 | $10,000.00 |
| 2004 | United States Disc Golf Championship | MPO | Ken Climo | 1 | $10,000.00 |
| 2016 | PDGA Pro Worlds | MPO | Ricky Wysocki | 1 | $10,000.00 |
| 2016 | United States Disc Golf Championship | MPO | Jeremy Koling | 1 | $10,000.00 |
| 2017 | DGPT Tour Championship | MPO | Ricky Wysocki | 1 | $10,000.00 |
| 2017 | PDGA National Tour Elite Series Bonus Payout | MPO | Paul McBeth | 1 | $10,000.00 |
| 2018 | United States Disc Golf Championship | MPO | Paul McBeth | 1 | $10,000.00 |
| 2020 | United States Disc Golf Championship | MPO | Chris Dickerson | 1 | $10,000.00 |
| 2020 | DGPT Tour Championship | MPO | Chris Dickerson | 2 | $10,000.00 |
| 2021 | PDGA Pro Worlds | MPO | Paul McBeth | 2 | $10,000.00 |
| 2021 | DGPT Match Play Championship | MPO | Calvin Heimburg | 1 | $10,000.00 |
| 2020 | DGPT Tour Championship | FPO | Hailey King | 1 | $20,000.00 |
| 2020 | DGPT Tour Championship | FPO | Paige Pierce | 2 | $10,000.00 |
| 2021 | PDGA Pro Worlds | FPO | Catrina Allen | 1 | $10,000.00 |
| 2021 | DGPT Match Play Championship | FPO | Paige Pierce | 1 | $10,000.00 |
| 2021 | PDGA Pro Worlds | FPO | Paige Pierce | 2 | $6,000.00 |
| 2017 | PDGA Pro Worlds | FPO | Paige Pierce | 1 | $5,500.00 |
| 2021 | PDGA Pro Worlds | FPO | Lisa Fajkus | 3 | $5,300.00 |
| 2018 | PDGA Pro Worlds | FPO | Paige Shue | 1 | $5,000.00 |
| 2017 | PDGA National Tour Elite Series Bonus Payout | FPO | Paige Pierce | 1 | $5,000.00 |
| 2016 | PDGA Pro Worlds | FPO | Valarie Jenkins | 1 | $5,000.00 |
| 2019 | PDGA Pro Worlds | FPO | Paige Pierce | 1 | $5,000.00 |
| 2020 | DGPT Tour Championship | FPO | Catrina Allen | 3 | $5,000.00 |
| 2021 | DGPT Match Play Championship | FPO | Missy Gannon | 2 | $5,000.00 |