Final Round Recap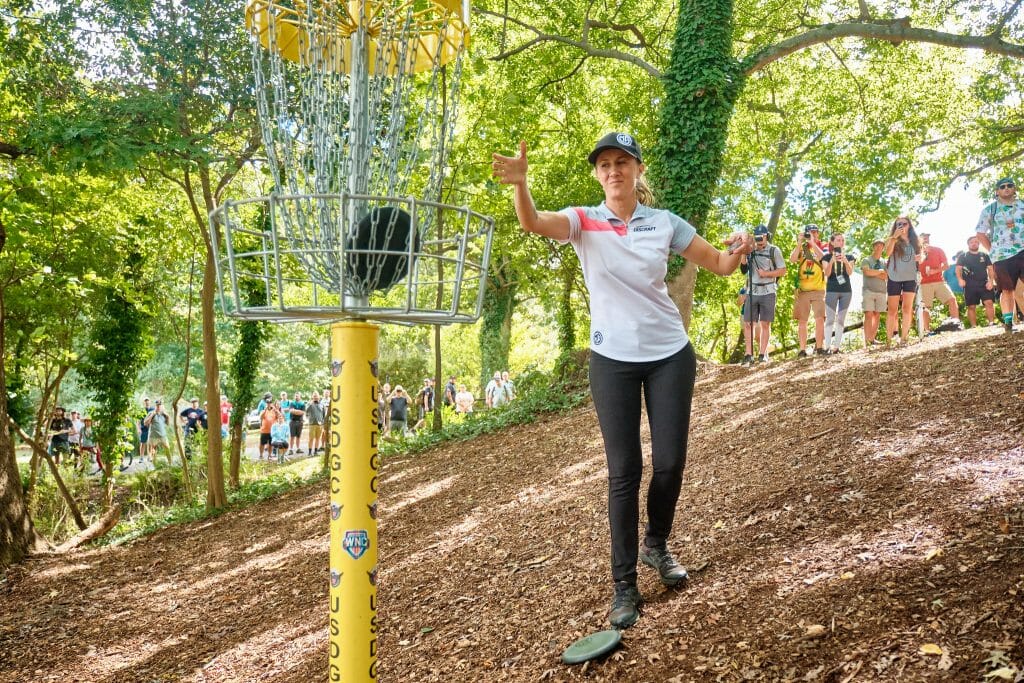 Ultiworld Disc Golf's coverage of the 2021 United States Disc Golf Championship and Throw Pink Women's Disc Golf Championship is presented by Skybreed Discs, a top online retailer and preferred vendor of the 2021 Ledgestone Insurance Open.
The weekend out at Winthrop finally comes to a close. After four treacherous and brutal days of battling, the FPO division crowns an inaugural Throw Pink Championship winner. Missy Gannon made it interesting late but pulled out the victory after four consistent days of golf and she could not be more confident.
"It's incredible," said Gannon after the A-tier win with Major energy. "I knew that I had it in me and I'm just so happy that I finally felt like I was putting a consistent year together. I'm so confident in my discs and my sponsors are amazing."
"It's just a combination of so many things that has helped me get to this point and play the way I've been playing."
Gannon's even par final round and 2-under par final total was paced by her putting, which was day-in and day-out consistent. Her 82.25% success rate at Circle 1X on the weekend led to a fourth best strokes gained putting total of 6.49, and Gannon relied on it in  pressure-filled moments coming down the stretch.
"I just know that that is my strength, so I don't think about what it's for," said Gannon. "I think, 'This is what I do, and I have to make it no matter what it's for.' I just try not to put pressure on myself and just make the putt. Easier said than done."
It's hard to calm the nerves on such a high stage, but for Gannon it was disc golf as usual. Coming into Championship Saturday with a one stroke lead earned on Friday, Gannon's fellow lead card mates, Valerie Mandujano, Hailey King, and Ohn Scoggins, were trading birdies for bogeys and not able to make up any ground on a steady Gannon. Through 13 holes, Gannon was 1-under par for the day with 10 pars and only one missed putt inside C1X, although that miss on hole 12 did let Mandujano close the gap back to a single stroke. Mandujano would give two strokes right back, however, on the next hole.
"I was pretty level and was out here just trying to have fun," said Gannon. "I had awesome card mates, which always helps. Just trying to keep everything cool and calm and I think that I did that for the most part."
An errant drive on hole 14 would be corrected with an edge of circle birdie on hole 15, but Gannon again left the door open after a missed makeable putt on hole 16. And as Gannon was worried about Mandujano hanging around, Kona Panis had worked her way off the chase card to within a couple of strokes of the lead with a 3-under par effort.
On the island hole 17, Gannon turned a forehand over and sent it long into the drink OB. Mandujano also juiced her forehand, and hit inside the front corner of the green but also going OB. Gannon safely made the green from the dropzone, and when Mandujano came up shot it effectively ended her shot of a comeback. Looking back at the OB hay bales just on the other side of the basket, Gannon may as well have etched her name onto the trophy when she drilled the comeback bogey save from C2. A safe drive on hole 18 allowed her to chip up for a tap-in W.
"I know that I can do this consistently, it's just having some bad rounds sometimes," said Gannon. "If my putt's on and I'm getting clean off the tee, I'm going for the win. I just hope to keep doing it and hope that this is good momentum going into the Pro Tour Championships."
Panis' late surge may not have been strong enough to upend the leader, yet she caps off her week in second place at a score of even par, two behind Gannon. Her driving performance was spectacular, hitting 95% of fairways during the final round.
Sarah Hokom, up five spots with a hot round 4-under par, Hailey King, and Valerie Mandujano round out third place in a three-way tie. King and Mandujano both had to birdie hole 18 to catch Hokom for the final podium spot.