The 2021 Amateur World Champ made a name for himself on the pro scene during round 1 of the USDGC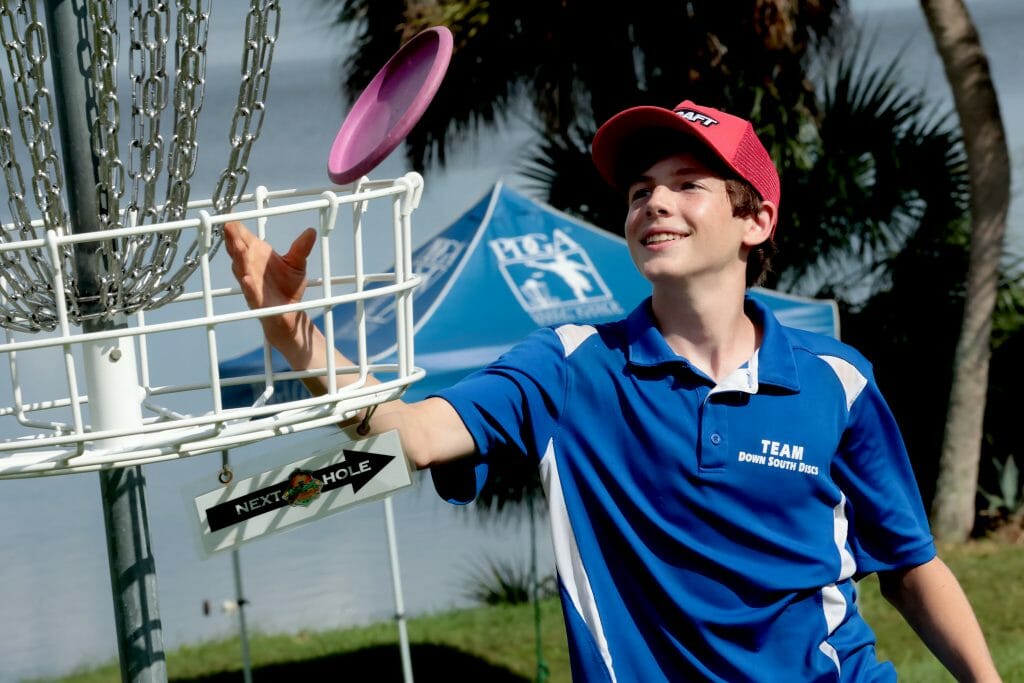 Ultiworld Disc Golf's coverage of the 2021 United States Disc Golf Championship and Throw Pink Women's Disc Golf Championship is presented by Skybreed Discs, a top online retailer and preferred vendor of the 2021 Ledgestone Insurance Open.
Name: Evan Scott
Age: 16
Hometown: Duncan, SC
Current Rating: 999
Sponsor: Discraft
Notable Wins: 2021 PDGA Amateur World Championship, 2021 NADGT-Premier @ International Disc Golf Center, 2019 Music City Open (Advanced), 2018 United States Junior Disc Golf Championship
A 16-year-old from nearby Spartanburg, Evan Scott, showed maturity beyond his years while playing on the feature live card during round 1 of the USDGC with James Conrad, Chris Dickerson, and Mason Ford, and turning in the best card of the bunch.
So how did the teenager get featured during one of the most prestigious disc golf tournaments in the world?
Evan Scott won this season's PDGA Amateur World Championship in August, earning him a spot at USDGC, but has already been making moves on the pro scene. He finished second to Joel Freeman last week at the Carolina Clash, and accepted cash at six other events since turning pro after Am Worlds in Orlando, including a 22nd place finish at the Music City Open.
"I was definitely declining cash for a while because I wanted to play in Am Worlds," said Scott. "After that I was looking to go pro and start making some money."
This season isn't even Scott's first go at Winthrop. He participated and qualified for the 2020 USDGC through Monday qualifying a year ago.
"I've watched Evan now for about three years," said Andrew Turner, a fellow Hub City Disc Golf Club member, last year after he and Scott earned their spots. "I remember the first time seeing him and thinking, 'Man, this kid is unreal.' And watching him this year just running over people in local tournaments. It really didn't surprise me to see him live up to the billing and do what he's been doing all year."
In round 1 of the 2021 USDGC, Scott shot a 7-under par round that has him tied in fifth with Barry Schultz, JohnE McCray, and Adam Hammes and playing on the chase card. After steadying himself with a comeback putt from Circle 2 to save par on hole 1, Scott settled in with four consecutive birdies on holes 3 to 6, and another turkey on holes 8 to 10. He's bringing in some of the knowledge he learned last year to early success.
"If you're not in position to birdie don't try to make something happen, just keep it in bounds," said Scott. "Take pars, birdies whenever you can, and try not to take any big numbers."
Before Scott was an Am World champ and fledgling pro, he also earned another significant victory at the 2018 United States Junior Championships at Smugglers' Notch over Zach Arlinghaus.
As for the rest of this year's USDGC, Scott is keeping his head down and wants to see a lot of what he put on the course Wednesday. As for the future, he's hoping he has a similar trajectory as players he'll be playing with on Thursday like Schultz and McCray.
"There are definitely players I've looked up to and watched," said Scott. "Hopefully I can start a career that lasts a pretty long time, that's the goal."