MVP and GMC historically favor players who play smart and clean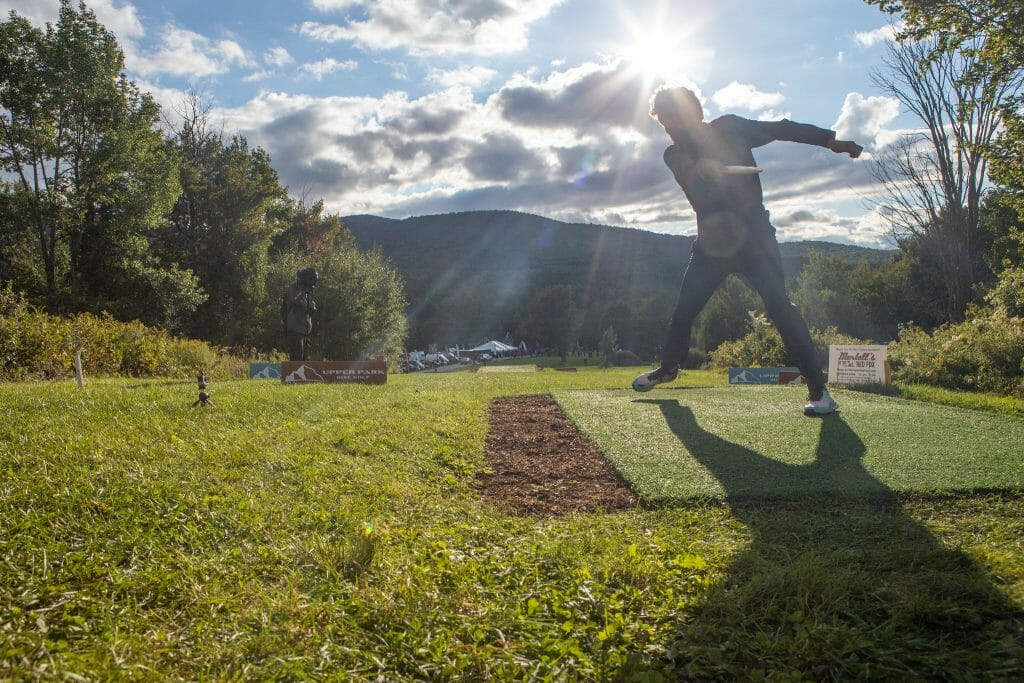 And there we have it, the end of the 2021 DGPT regular season. The New England swing of the tour featured two of the most beloved venues in the game, and gave us some of the best golf of the season bar none. Coincidence? Probably not. Great players at great places do great things, and after months of hyzers and power plays, some more nuanced golf helped to show us what a "complete player" really looks like.
At Maple Hill, Adam Hammes and Catrina Allen took home wins which will help define their seasons, and for Hammes the first chapter in his career. 
Allen came into the event fresh off a win in Delaware which had broken her post-Worlds winless streak and yet, she was the underdog to Paige Pierce who was looking to take her third win in a row at Maple Hill. Allen ended up clearing the field by seven strokes, and Pierce by eight strokes. Allen was 74% from Circle 1X, well above her season average, but well below the 88% clip she set at Delaware. It's been said many times before that Allen doesn't need her putter to be lights out in order to take home the win, she just needs it to be serviceable. Player of the Year is an open debate right now in FPO, but Allen's win at MVP may have just tipped the scale back in her favor.
Hammes' win at Maple Hill was his second Elite Series event dub of the year, his other coming back in the spring at Masters Cup. Hammes' win is notable not just because of his remarkable play, but because of the equally disappointing final round by Eagle McMahon, who had a four stroke lead going into round 3 and ended up three strokes back of Hammes in a tie for second with Ricky Wysocki. Hammes may quietly be staking a claim as one of the premier players of wooded style courses. He first burst on the scene in 2019 at the Hall of Fame Classic at the very wooded WR Jackson course, and tends to finish best when there is more foliage than open air.
What both Hammes and Allen's wins at Maple Hill showed us is that steady improvement and consistency will generally beat out flashes of brilliance and bursts of glory on courses where every hole is demanding. Hammes improved his score each round, while Allen's only fluctuated by three strokes over three rounds. Their competitors all enjoyed great rounds, but also saw otherwise solid days get torpedoed by big numbers. A course like Maple Hill, especially when weather can be a factor as the wind was on day one, will give you opportunities to learn from your mistakes and adapt to improve the next round if you are humble enough to do that. Hammes and Allen were the most adaptable players on the weekend.
A couple days after and a couple hundred miles north at the Green Mountain Championship, the theme established and the lessons learned in Leicester could just as easily be applied in Jeffersonville.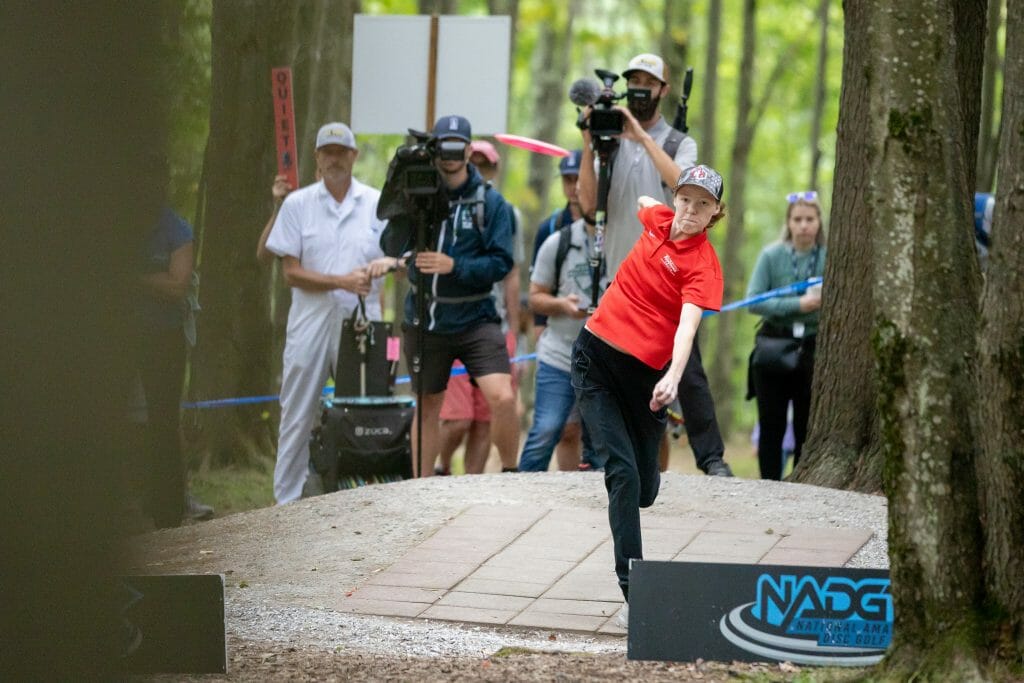 Chris Dickerson and Hailey King have not been the most consistent players this season. Writing that sentence in regards to Dickerson feels weird, but it's true. Lately he just hasn't been as robotic and automatic as he usually is. For King, some inconsistency is to be expected from a player as young as she is, with as much untapped potential and room for growth both on and off the course. 
King's game plan seemed to be predicated on the conceit that she would have to limit the damage in the woods at Brewster, and get her birdies (and better) at Fox Run Meadows. While a 6-over par round 2 at Brewster was maybe a bit loose for her liking, she knew her game at these courses was consistent enough to plan for her time in the Meadows to make up for it, going 3-under with an eagle in round 1 and adding a clean sheet 9-under par in round 3. See, consistency works both ways; if you know you're going to suck on some holes, know where you're going to be great.
Dickerson took his first bogey of the tournament on hole 11 of the final round, and even though his second blemish, a double-bogey on 16, allowed for a mathematical possibility that Wysocki would catch him, there isn't really much more to say about such a remarkable tournament showing from Dickerson. In our most recent Power Rankings, I noted that Dickerson had been playing some decidedly un-Dickerson like golf lately. I will accept all, not partial, but ALL credit for his win this weekend.
In total, the New England swing demands consistency and improvement, and does not take kindly to flashy, overly gaudy play. Perhaps it's some latent Yankee spirit, or just that these three courses are exceptionally challenging, which historically favors players who play smart and clean and accept their lumps when the courses deal them, and move on to the next hole. The four winners over the past two weeks showed us that.
Stray Thoughts
I was at Maple Hill running the Ulti-gram for the first part of the first day and followed Andrew Marwede, Trevor Harbolt, Alan Wagner, and Taylor Rafaleowski. Everyone had their highlight moments, and Rafaleowski deserves lots of credit for keeping a smile on his face despite some very tough holes. Marwede, though, was the star of the card and is in fact a complete player. I recall on hole 6, his drive ended up about 50 feet short and left of the basket, pinched off behind those pesky guardian trees. He lined up his putt and I was tempted to pull out my phone to catch a video and decided to save my battery thinking, "Ain't no way he's gonna hit this." And of course, he did hit the putt and ended up finishing in a tie for seventh. Marwede's seventh place finish at Maple Hill wasn't his best of the past several events, or even in the New England swing, as he finished fifth at the Green Mountain Championship, but it did cement him as legitimate contender at every tournament he enters, and proved that his second place finish at Idlewild was no fluke of tree kicks, and his fourth place finish at DGLO wasn't just a product of home cooking for the Michigan native.
The Music City Open will be the last chance for Paul McBeth to win an Elite Series event during the regular season, and bring his Elite win total to three on the season. I don't count USDGC as part of the regular season, and neither, really, does anyone else. McBeth isn't washed up, or on the decline, but it is definitely fair to say that something is off with him this season, and it's the putter. McBeth is top 10 in every statistical category including: second in fairways, first (!) in parked, second in C1 in regulation, seventh in C2 in regulation, third in birdies, third in scramble, and ninth in C2 putting. However, he is 30th in C1X putting. He's even sixth in bounce back. No aces on the season, though. McBeth has credited some iffy putting in the past to injuries, including his back and ankle. Who's to say?
Dylan Capaccioli was the toast of New England these past two weeks. The Halifax, MA native played his way on to the chase card at GMC for round three, and had all of Massachusetts rooting for him. The kid has a bright future and tons of game. Even money we'll see him on coverage again.
Congratulations to the whole team at DGN. The end is in sight and if you, dear reader, happen to see one of them in the wild, spare a thought for them and remember there but for the grace of god do I produce live disc golf content.