They're ready to play. We've got 'em ranked. Who is in our top 25?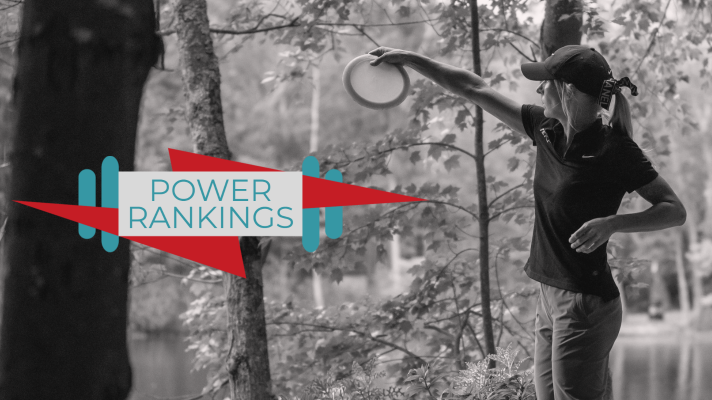 The final march toward the end of the 2021 season is upon us, and the battle at the top of the FPO Power Rankings is intense. Surprising nobody, it's Catrina Allen and Paige Pierce, neck and neck. Pierce took back-to-back victories at the Ledgestone Insurance Open and Idlewild Open, then Allen turned in a double dub of her own, taking down the Delaware Disc Golf Challenge and the MVP Open. While Allen comes out on top of this edition of the Ultiworld Disc Golf Power Rankings, Pierce probably holds a slight edge in the season-long rankings. Pierce has six Elite Series wins and a Major in 2021. Allen has four Elite Series wins and the crown jewel Major. Pierce's average finish at DGPTs, NTs, and Majors is 2.56; Allen's average is 3.06. The race for POY is too close to call.
While Allen and Pierce are assuredly locks at #1 and #2, the year-end 3-spot is definitely up for grabs, and the cadre rounding out our top 5—Missy Gannon, Sarah Hokom, Hailey King—hope to grab some late-season hardware. King took down the Texas State Championship and Dynamic Discs Open, Gannon claimed victory at the Des Moines Challenge and Stafford Open, and Hokom rolled at the Vintage Open. Who's your pick?
They're ready to play. We've got 'em ranked. Read on to see who else made our top 25 heading into the Green Mountain Championship.
Methodology: We combine an algorithmic objective ranking with subjective ballots submitted by UWDG staff. The algorithm uses a standardized scoring model to compare elite events, awards competition and cash bonuses, and features a decay function that gradually phases out past results. For the ranking, staff considered the following criteria: 1. results from the 2021 Elite and Silver Series events, 2. UDisc and PDGA statistical measures, 3. the previous UWDG Power Rankings, and 4. their super subjective vibes, gut feelings, and premonitions.
FPO Power Rankings
Full breakdowns for each player continue below.
Bonus Content for Ultiworld Disc Golf FPO Power Rankings (US Edition): September 10, 2021 is only available to Ultiworld Subscribers
Already have a subscription? Log in
Whether you visit Ultiworld for our reporting, our podcasts, or our video coverage, you can help us continue to provide high quality content with a subscription. By becoming a subscriber, not only do you receive benefits like bonus content and full article RSS feeds, you also help fund all of Ultiworld's coverage in general. We appreciate your support!