Four relentless rounds to decide a champion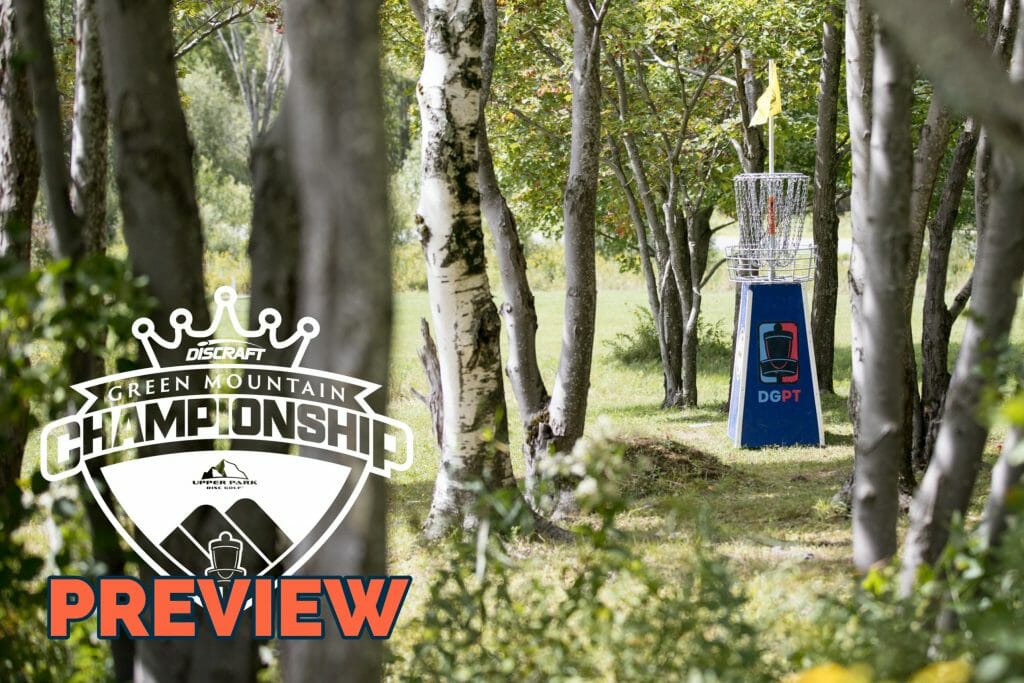 From last week's birthplace of the Disc Golf Pro Tour to the current home base of the operation, the Elite Series is finishing up its annual pilgrimage to the northeast.
DGPT Tour Director Jeff Spring turned the host site of the Green Mountain Championship, Smugglers' Notch Resort, into a disc golf destination. Fox Run Meadows and Brewster Ridge have their own personalities, and have continued to be refined since featuring in the 2018 PDGA Professional World Championships.
For the pros, many of which stay at the resort for the tournament week, the field has to feel good about their chances every season. If you include 2018 Pro Worlds in the results, as the GMC took the season off, the Open and Open Women's divisions have had five and four different winners, respectively.
Last year Kevin Jones and Hailey King previewed their DGPT Championship-winning form with big performances in Vermont, even if King's didn't end in victory. We also were introduced to Dan Brooks-Wells, who proved you don't have to have the highest player-rating to put down a hot score at Smuggs.
The end of the season is looming, and time is running out to achieve those goals set out in February. There may be no better setting than Green Mountain to make a mark on 2021.
Past Winners
| | Tier | Open | Open Women |
| --- | --- | --- | --- |
| 2021 | DGPT ES | Chris Dickerson | Hailey King |
| 2020 | DGPT/A-tier | Kevin Jones | Paige Pierce |
| 2019 | DGPT/A-tier | Paul McBeth | Sarah Hokom |
| 2018 | n/a | n/a | n/a |
| 2017 | DGPT/A-tier | Nate Doss | Paige Pierce |
| 2016 | DGPT/A-tier | Ricky Wysocki | Catrina Allen |
| 2015 | A-tier | Ricky Wysocki | Catrina Allen |
| 2014 | A-tier | Ricky Wysocki | Anne Lewis |
| 2013 | B-tier | Ricky Wysocki | n/a |
What We're Watching
Want to finish top 10 in the Open division? Just post a double-digit round under par. Six players were able to do so in 2020 and none finished lower than a tie for ninth. Only eventual winner Kevin Jones was able to go 10-under par on Fox Run Meadows. For the Open Women, an under par round on either course guaranteed a podium finish in 2020. Runner-up was the only player to go under-par all four rounds.
Catrina Allen is the most dangerous player on tour right now. In her own words, she's gotten out of her head the last couple of tournaments and seen the results come with it. Back-to-back weekends with stellar final rounds and the 2021 world champ is peaking at the right time. Allen will be looking for her first W at Smuggs since 2016.
Simon Lizotte returns after a prolonged stay in Canada due to travel restrictions. He missed his "home" tournament at the MVP Open, and will be playing a venue where he has finished ~25th three times compared to just one top five. Considering Eagle McMahon has also not had the greatest track record here,1 maybe it's the Baby Crush Boi, Kyle Klein, who has the best chance to podium.
GRIP6 Pick 6 Locks of the Week
Hear me out, Paul McBeth. Considering the last couple of results, McBeth isn't a lock for anything right now, but he has been pretty automatic on there courses over the past three seasons. For most other players, two Elite Series wins in a season would be great. For McBeth, if he is stuck on two Elite Series wins it would match his lowest total in a decade. He also only won two last season in a shortened schedule.
Hailey King's finishes at Smuggs have gone from 10th, to fifth, to second. Logically, it can only means she wins in 2021. The victory could have easily been hers last season if not for a course-obliteration by Paige Pierce in the final round.
The Courses
Brewster Ridge: MPO – Par 61, 7,760 feet; FPO – Par 61, 7,370 feet
Brewster Ridge is one wooded half of the weekend, featuring long, challenging tee shots which require precision and shaping off the tee. This is the more stereotypical New England-ish course of the two.
View Brewster Ridge Caddie Book
Fox Run Meadows: MPO – Par 63, 9,405 feet; FPO – Par 63, 8,455 feet
Fox Run is more open, with plenty of OB, both artificial and natural. Fox Run requires more attention to the landing zone, rather than the flight path.
View Fox Run Meadows Caddie Book
Extended Forecast
Overall, nice conditions are in store for the Green Mountain Championship. A shortwave trough will provide a chance of showers early in the day Friday, and an approaching cold front could cause some showers to form Sunday, as well as gusty wind conditions.
Thursday: Afternoon high near 70°. A gentle southwest breeze possible.
Friday: Rain showers possible early in the day, but rain chances decrease throughout the day. Northwest wind of 10 to 15 mph will make the high temperature of 62° quite chilly.
Saturday: Another disturbance will begin approaching the region. Winds will shift out of the southwest in response to this, on the order of 10 to 15 mph. Highs will top out in the upper 60s.
Sunday: A few showers will be possible. Afternoon highs will top out in the low 70s. The main story will be the wind. Southerly winds of 10 to 20 mph likely, with gusts to 30 mph possible.
How To Watch
---
McMahon was 4th in 2020 though ↩