Fina Round Recap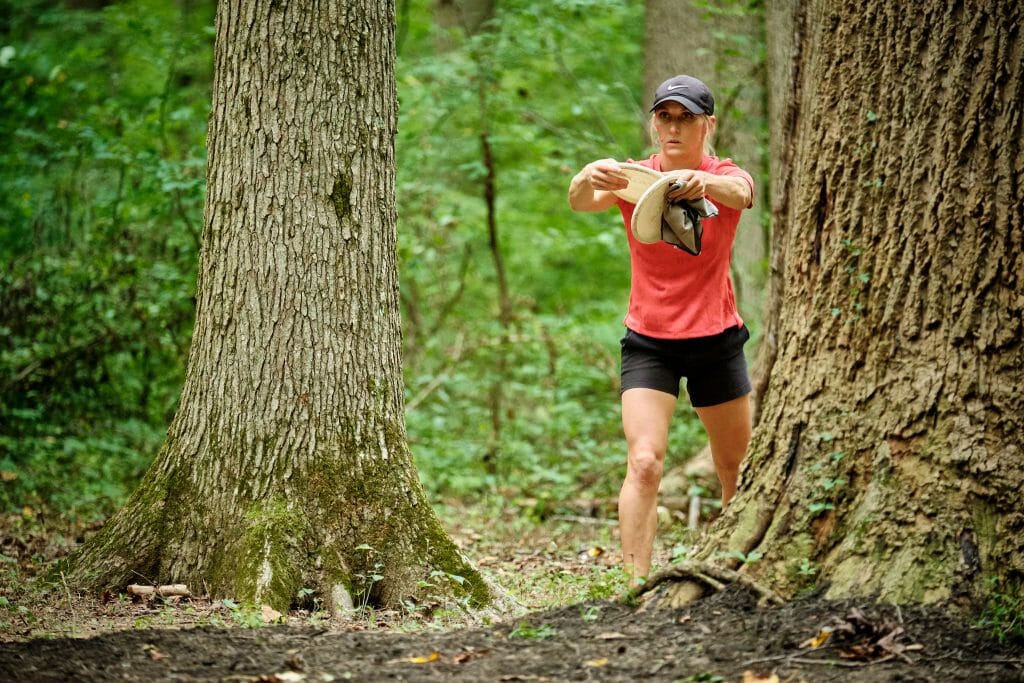 Catrina Allen led the Delaware Disc Golf Challenge by one stroke after both the first and second rounds. On a course like Iron Hill where double-bogeys are as common as a birdie, the final round was set-up to be a fight to the finish, as three players were lurking just behind Allen in second place, ready to pounce on every mistake.
Instead, Allen shot a course record for the Open Women's division, an 11-under par, to win the event in commanding fashion by 10 strokes at 14-under par total. The 1030-rated final round, Allen's ninth 1030+ rated round of her career, was just one stroke off the combined total score under par of the past two FPO Delaware winners combined.
"I know this is not nice to say, but it felt easy for once," said Allen, after her first PDGA National Tour victory of 2021. "Just getting my mind out of the way and letting all the hard work come through."
Allen, who won the 2019 NT here, as well as the 2015 A-tier, had the division's only bogey-free round of the weekend on Sunday, and immediately made her intentions known with two birdies to open up the day. By the time the lead card hit the turn to the back 9, Allen was 5-for-5 from Circle 1X, had a 50-foot birdie on hole 6, and a six stroke advantage over the field.
"[It was] one of those rounds where there wasn't a lot of thinking," said Allen. "Seemed like the shot was right there and I was just reacting."
A 6-down score on the back 9 from Allen was icing on the cake, and included a highlight C2 birdie putt from a knee downhill of the basket on hole 12, and four straight birdies to finish the round.
Allen led the division in strokes gained from tee-to-green by 7.5 strokes (20.07), strokes gained in C1X (5.68), fairway hits, parked percentage, and finding C1 and C2 in regulation. Importantly for Allen, she finished with only three two-putts over three rounds. Over the final 18 holes Allen hit 95% of the fairways on Iron Hill, 13 percentage points better than the next closest player.
"It means a lot," said Allen. "To think back to a couple years ago and how low it was, it makes it feel even better. I'm thankful for the challenge."
Heather Young, Kona Panis, and Holly Finley shared second place going into the final round, and Young looked to be on track to nab that finish spot for herself as Finley and Panis fell off pace early. The lefty was only able to reach putting range in regulation on one hole after hole 4 though, finishing fifth at 1-over par total as players like Ellen Widboom (4th, even par total) made final day pushes. Finley was able to go 3-down on her back 9, including two makes from C2, to get back to even par for the day and finish third at 2-under par total. It's her second Elite Series podium of the season. Panis finished sixth.
Past DDGC champ Sarah Hokom charged off the second chase card Sunday to earn a second place finish at 4-under par total with a 5-under par final round. Hokom was 1-over through five holes before reeling off six birdies to zero bogeys to close out the day.