Round 2 Recap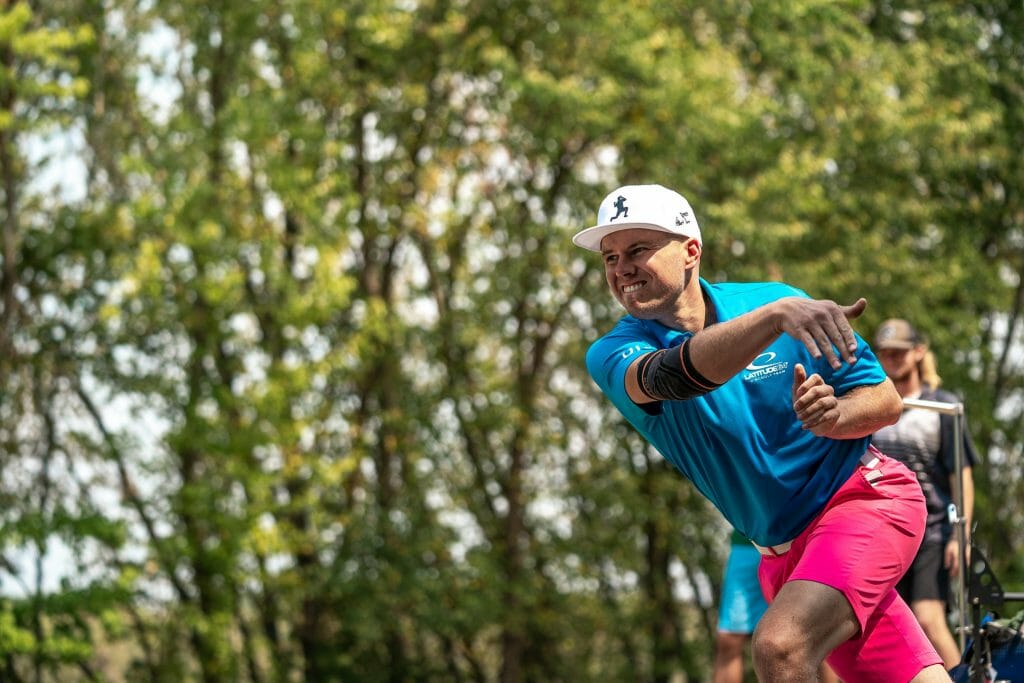 After Iron Hill had made most pros look mortal on day 1, Connor O'Reilly responded by making the course look easy on Saturday at the Delaware Disc Golf Challenge.
His 1063-rated, 11-udner par effort was dominant, as he consistently birdied holes that were challenging the rest of the field. O'Reilly flipped the script from needing birdies on the front 9, to picking up six birdies on the back 9, including hole 10, which is playing as the hardest hole to par this weekend. He leads the field in parked percentage, 22%, finding both greens in regulations, and strokes gained from tee-to-green,19.8. Can he keep it going? He has a buffer going into the final round, but Iron Hill isn't a cakewalk no matter what your game plan is. O'Reilly sits at 18-under par after two, good for a five stroke lead on the field.
Andrew Marwede continued his strong east coast swing with an 8-under par round, good for second place heading into the final round. As it was with Idlewild, Marwede's accuracy, shot shaping, and strong forehand game led him to a strong Saturday performance. The hallmark of a great round at Iron Hill is a great round of scrambling, and Marwede joined the 100% club with his effort on Saturday, and stayed bogey-free. Not to mention his three connections from Circle 2, all for birdie. We saw him perform under pressure a few weeks ago, and he'll likely be tested again if a victory is in the cards. Marwede finished day 2 at 13-under par on the weekend.

Ricky Wysocki adds a lead card appearance at yet another tournament in 2021, although not in as dominant of fashion of past performances. Wysocki was a jack of all trades, master of none in round 2, playing solidly off the tee, off the fairway, and on the green. Most surprisingly, his longest make was only from 27 feet, not nearly the range we usually see from the C2 wizard. All this is to say, we haven't seen Wysocki at his best yet in Delaware, and he remains in striking distance, tied for third at 12-under par.

Finishing out the lead card is Raven Newsom who posted a a clean, bogey-free 6-under par round. While he didn't card as many birdies as his competitors, he avoided the danger of the back 9, and was rewarded by staying close to the leaders in third place. Newsom was strong off the tee and out of trouble, with 89% fairways hit and a perfect score when scrambling. His golf was steller on Saturday, and if he can add a little more blue to his scorecard, he too can be in contention should the leaders slip up.
Tied in fifth at 10-under par are Calvin Heimburg and Corey Ellis, who moved up 34 and 25 spots with a 10-under par and 9-under par round, respectively. Heimburg had an eight hole birdie streak in the middle of the course, and Ellis had a highlight eagle with an 80-foot make on hole 9.
Statline
A fun one, but if Connor O'Reilly's first round was erased from his scorecard entirely, his 11-under on Saturday would still be good enough for a fifth place standing going into the final round. It was a truly dominant performance from the Austin native.