Round 2 Recap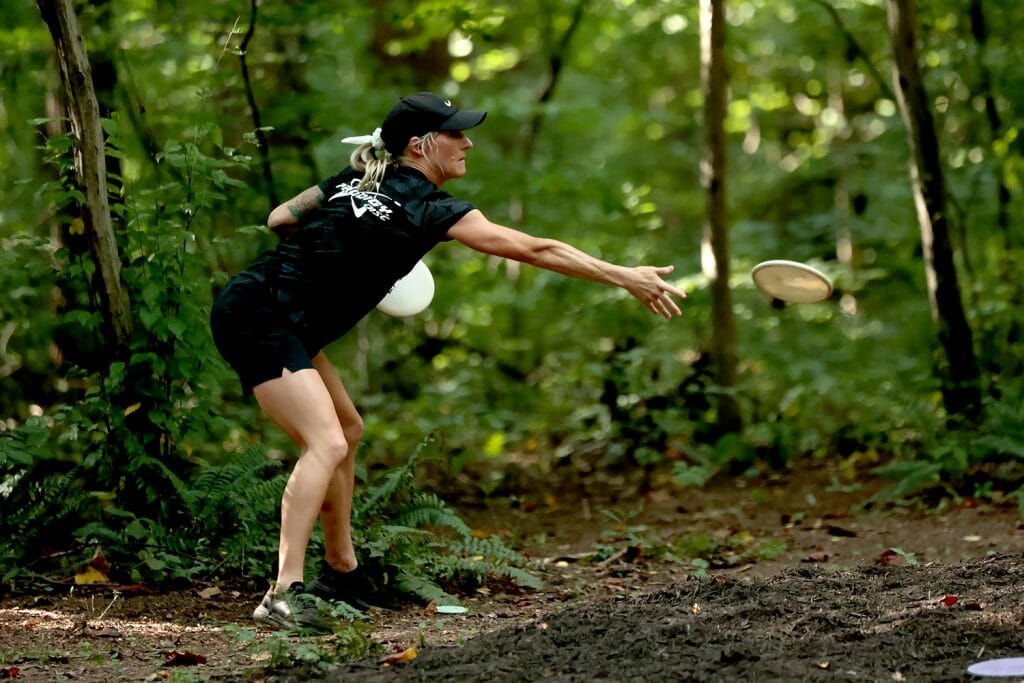 The woods don't get any easier the longer you play in them, and Iron Hill was still very stingy with its strokes on moving day at the Delaware Disc Golf Challenge.
Kona Panis had taken the lead from Catrina Allen on hole 16 when she parked her approach for a drop-in birdie, but Allen came right back to tie things up on hole 17, and held on during a rough final hole to maintain first place at 3-under par total. Allen's even par day saw her finding Circle 1 in regulation more regularly than she did on Friday, yet the conversions from the green weren't perfect like a day before. Panis led the field in strokes gained from tee-to-green, 5.89, and finding C2 in regulation, and could have easily been ahead, as she missed four birdie putts from inside 10 meters. Panis' double-bogey on hole 18 kept her in a tie for second at 2-under par total.
Tied with Panis are Heather Young and Holly Finley. Young was the only player under par in the division, and her 2-under par performance saw just one bogey, and a typically clean day around the green. Finley's C1X putting was a bit underwhelming — four missed putts inside the circle — but she made up for it with a C2 birdie from 60-feet on hole 7 and a 150+ foot throw-in par save on hole 9.
Ellen Widboom may be down in 11th place, however, her jump putt was on Saturday. She made a par and birdie from 94 and 79 feet, respectively.
Jessica Weese should be pleased with her effort during round 2. Along with successfully scrambling seven times, tied with Widboom for most in the division, a 7-of-8 showing from C1X moved her up four spots into a tied for fifth with Sarah Hokom at 1-over par total.