The players, TD Jade Sewell, and the PDGA talk about the issues at Worlds.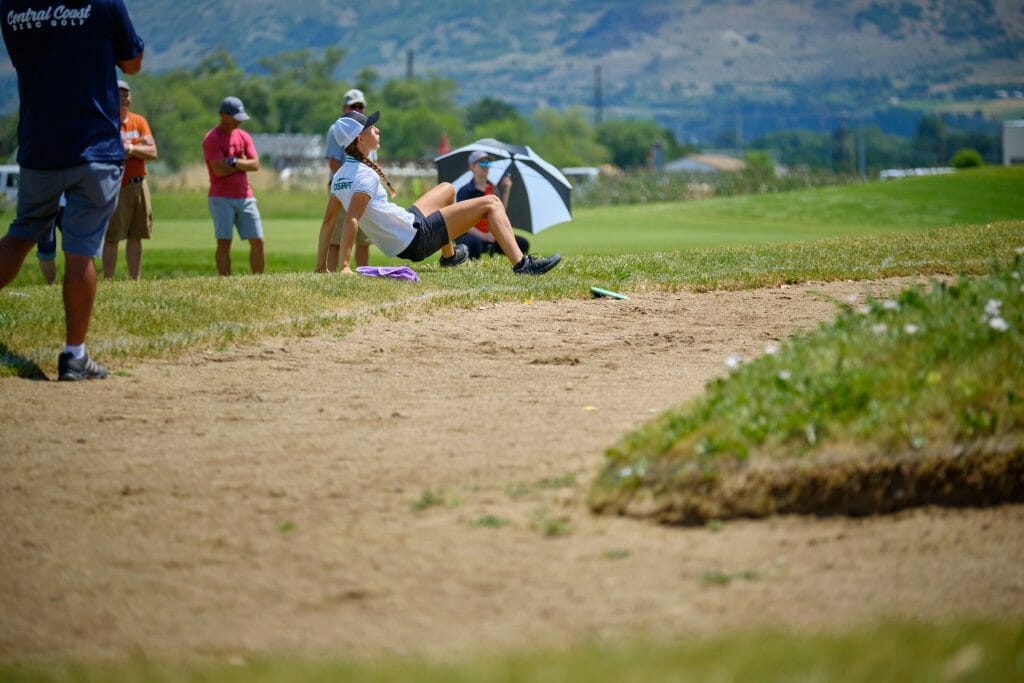 Let's hop in our wayback machine and try to remember the halcyon days of the 'before times' of 2019.
When Utah was announced as the host venue for the 2020 World Championships, the news was met with some trepidation. The golf course at Mulligans had played host to a Disc Golf Pro Tour event and was nice enough, but was it Pro Worlds caliber? Similarly, would the wooded course, The Fort, be ready? At a test event, the course was decidedly not ready due to flooding, and I had conversations with touring pros about whether or not Utah Worlds would be up to snuff.
In the days and weeks leading up to the event, players on social media were raising some concerns about the state of the course. Dana Vicich tweeted on June 19, "There's a battle brewing between top players and PDGA/Worlds Staff regarding OB lines around sand traps and greens not being marked with string." Mike Sullivan, the PDGA Event Support and Training Manager, replied that the issue had been addressed. As it turned out, it had not. Players began their tournament at Mulligans on a course that did not have clearly and objectively marked OB lines, which forced players to make judgement calls on what was or was not fully OB. After complaints from players, OB lines were then added at Mulligans prior to round 3, after each division had played 18 holes on the course.
Normally, courses are not supposed to be altered once an event begins. The changes — announced to players right before they teed off on the first hole — led to further complaints, as some players had shots penalized in their second round that wouldn't have been out-of-bounds in round one. Eagle McMahon took his frustration to Instagram Live after his second Mulligans round.
Other players were also frustrated. "Usually when you talk to somebody at the event staff, they appreciate the feedback or try to fix it instead of letting it slide or not trying to fix it," said a touring player who spoke with Ultiworld Disc Golf on the condition of anonymity. "The players knew the bunkers [were a problem] from the beginning. We requested to have them fixed, roped, painted before the event. Once they weren't ready by day one, we didn't think the day three issue would happen, when they painted the lines. I could see this happening at the other tiers, but a Major/Worlds is unacceptable. I'm not sure who is to blame — the PDGA or Worlds staff — but it's unprofessional. [The] worst part was it was done without notice. We found out about two minutes before our third round…during the tournament. If we got an email about it, I'd be cool and not as upset. Sucks that shots on day one were safe compared to day three."
Paul Ulibarri, a long-time professional disc golfer and the head of the PDGA's Pro Touring Players Committee, had a somewhat more forgiving take. "Painted lines were done because the players were saying it would be tough to make calls on the sides of the bunkers," he said. "So the staff tried to do better and paint the lines. To speed up play. I don't think it's cool to change the course mid-tournament, but in this case I can see why. My problem is, the rules say you can't do that, then it was done."
Worlds Tournament Director Jade Sewell told Ultiworld that the initial decision to leave the OB lines unmarked or painted was made in part through conversations with Mulligans golf course staff, and because of the practical difficulty in painting OB lines on uneven ground.
"So the Utah Open started everything, right?" said Sewell. "Because Nikko [Locastro] landed on the weedy grass that came over the edge into the bunker and the lines were bad. If I could do it over, I would have had them all trimmed out. We spent 40 hours, man hours, on the bunkers trimming them out [before Worlds]. When the PDGA showed up, their exact words: 'Hey, they look fantastic.' We agreed everything looks way better. People texted me two days after I had trimmed them up saying, 'Hey, are you going to get these bunkers that are horrible?' And I said, 'Have you been over there to look at them?' And they'd call me back and go, 'Oh, wow, these are way better.' And so everybody agreed. Ricky [Wysocki] did say they looked way better — he was one of my guys I call — but he said you're still probably gonna have some issues. I'm like I understand…even with paint, you have issues, even more so in my opinion, especially when it's all curvy and wavy, and it's missing pieces. Like the paint job has to be very, very good."
According to Sewell, the decision to leave OB unmarked was a team decision made with input from various players, and he was well aware that there was the possibility of issues arising from OB disputes. Mulligans was also not allowing string to be used to mark OBs and hazards. He also said that the PDGA staff added the lines to the course after the first two rounds without his knowledge or consent, despite it being a violation of rules.
"I don't know when they did it," said Sewell. "I was at the course by 5:30 in the morning. It was done."
---
The perceived lack of course preparedness did not stop at OB lines.
On June 20, Eric Oakley took to Facebook calling for volunteers to complete course preparations only a couple days before the start of the event:
"It seems as if the Tournament Staff and the PDGA didn't allocate any volunteers or staff to help dress the course," said Oakley. "So [Dynamic Discs] has to dress Mulligans and some small stuff at The Fort without the help of the Tournament Staff or the PDGA. I talked with Gabe, [Dynamic Discs] team manager, and a person who headed the majority of the setting up, and decided the best way was to ask on social media for some help. We gave away discs and gift cards to those who helped dress the course. The biggest issue is that had Gabe not been there, we are unsure if the course assets would have been set up."
In general, players have described the event and courses as simply underprepared and below the standards established by Disc Golf Pro Tour events. Players criticized tee pads and drop zones that would sometimes be on an uphill slope, or a drop zone that could actually be in a more beneficial position to those having thrown a bad shot than an inbounds shot. A large majority of the touring field filed negative event feedback.
Perhaps the most widely publicized and known issue which came up over the course of the week was #DrivingRangeGate. On June 22, Brodie Smith tweeted that he had paid $1,000 out of his own pocket to fully rent the driving range at Mulligans for players to use for warming up. Prior to that, players only had the option of throwing into the net which surrounded the range to warm up. You can read all about it here:
Ulibarri agreed that the range not being rented was an oversight but credited the event staff and PDGA for responding to player concerns. "The driving range should have been closed down, and the players should have been able to use it to warm up," he said. "After it was rented [by Smith], the PDGA rented it for the whole time. So there was a problem, then, bang, it was fixed."
For his part, Sewell thinks some of the criticism is valid and said that when running an event of the size and complexity of the world championships, it's impossible to please everyone. "I mean, there's always little bumps and disagreements," he said.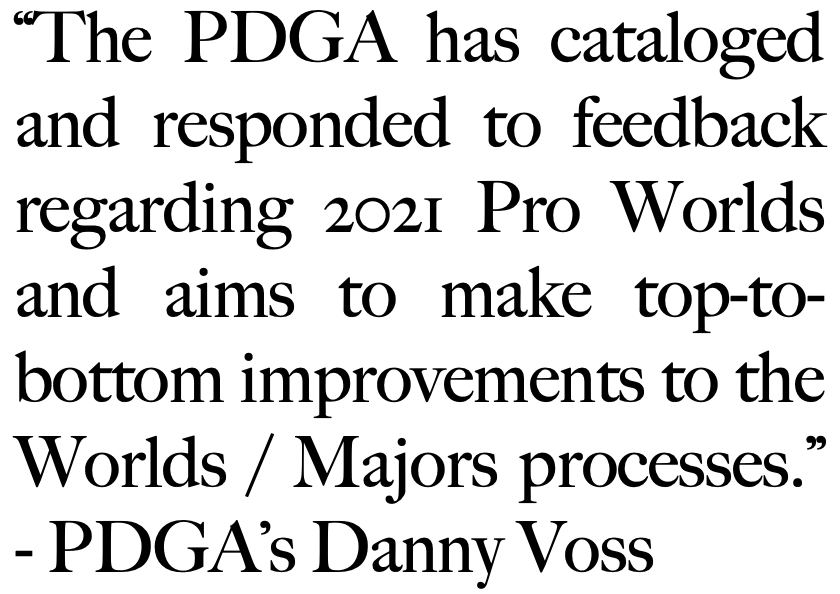 Sewell also pushed back against the narrative surrounding the driving range rental, practice rounds, and the suggestion that there were inadequate facilities and opportunities for players to prepare for the event. He said the Local Organizing Committee rented the entire park adjacent to the golf course for warm-ups, which included about 10 baskets.
With the addition of several 50' x 50' nets for driving, he said there was adequate space to prepare. Sewell did say he wish he had rented out the entire golf course during some of the practice round days before the event, however.
Instead, he held tee times for practice rounds, and when a disc golf group was not going out, Mulligans could send groups of ball golfers in between, so both sports were sharing the course at the same time. That caused problems.
"[Mulligans golf pro] Kip Vandyke calls me in the morning," recalls Sewell. "He tells me I have two [disc golfers] that went out and I have all these blocks that are unfilled. 'You care if I send out some ball golfers?' [asked Vandyke]. I said if there's no one out there to do it. And then, all of a sudden, Paul [McBeth] walks up. I was like, 'Oh, crap.' So I drive down to the pro shop and ask, 'Hey, did Paul have a tee time?' They look in the book and tell me he didn't, just walked up. I talked to Paul and I just left, but I knew he was not happy."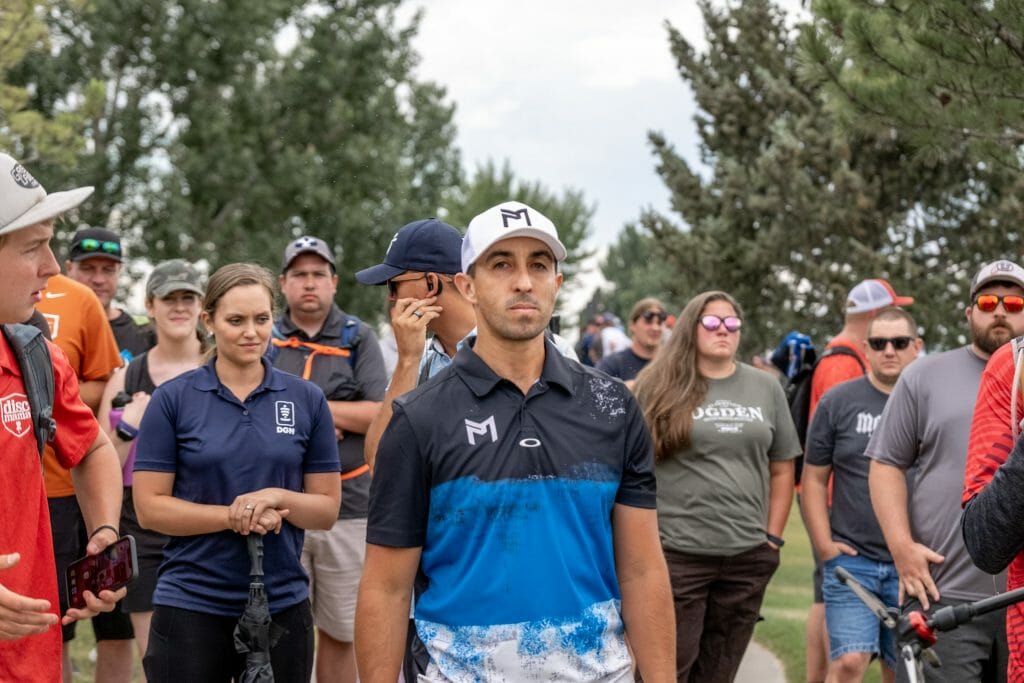 Sewell told Ultiworld that the information regarding practice areas and tee time reservations was all communicated to players prior to the start of the event.
Regarding some of the feedback regarding the set of the courses, specifically drop zones at The Fort, Sewell admits that there could have been improvements but is overall proud of the work he and his team were able to complete on a totally new course over the past couple of years.
"I own an architectural firm," said Sewell. "I love to create. We had to use bulldozers to cut out fairways [at The Fort]. I mean, you can't imagine the garbage. We literally cut this out of nothing. We have a real versatile course that has a lot of different kinds of holes. And the negative I would say is I had some complaints about some drop zones. I probably had 12 or 14 touring pros throughout the years to come stop by and help me; It's not like this is just some guys in Utah figuring this out. The drop zones I put in there, I didn't think they'd ever come into play, very rarely. I think that was probably my mistake. I didn't imagine that would happen to these top level pros as much as the local guys that do it."
---
Adding fuel to the fire of complaints during the week happened thousands of miles away from Utah.
On the third day of Worlds, PDGA Board of Directors president Justin Menickelli joined Frolfer Magazine's podcast, where he criticized Paige Pierce for her comments leading up to the USWDGC and Smith for his handling of renting out the driving range.
"I thought it was kind of a jerk move, honestly on behalf of Brodie," said Menickelli, and, "People were not publicly roasting [Paige Pierce], but behind the scenes she got roasted pretty hard and I think she deserved it." For a more complete transcript, check out the comprehensive write-up by Disc Golf Fanatic.
"The opinions expressed during my interview on Frolfer Magazine were my own and not the opinions of the PDGA staff or Board of Directors," Menickelli told Ultiworld Disc Golf. "For six years, I have primarily kept my opinions private. I should have kept them private for another two months. Thank you to all of the players, members, and friends who have reached out to me in support."
Menickelli, who has served on the PDGA Board since 2015, had already been planning to leave the Board of Directors at the end of his term this summer.
---
Multiple players and media outlets have noted that the events put on by the DGPT over the last two years have raised the bar and expectations for quality of courses, fan experience, and player experience for professional events. Numerous players have said that PDGA Majors and National Tour have failed to meet those expectations since resuming events this year.
"You need to professionalize some of the staff and what's happening and the best way to do that is with money," said one touring player.
There hasn't been any suggestion that there was a lack of effort put forth by the volunteers who organized and pulled off the World Championships. All players who spoke with Ultiworld never even hinted at that. "I saw a lot of try out there," said Ulibarri.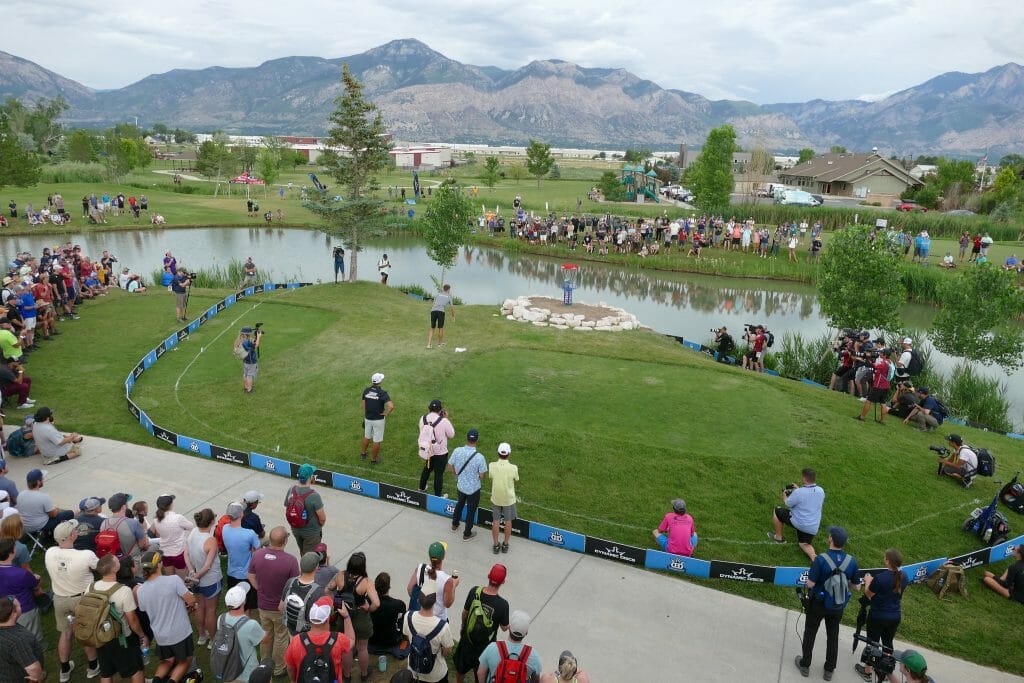 What does seem apparent is that the PDGA and Sewell's team on the ground did not have as open and complete a line of communication with professional players as was necessary. One needs only look at Sewell's assertion that the OB lines were painted overnight by PDGA staff without consulting him.
"The PDGA has cataloged and responded to feedback regarding 2021 Pro Worlds and aims to make top-to-bottom improvements to the Worlds/Majors processes," PDGA Director of Marketing Danny Voss told Ultiworld. "This feedback, which includes constructive criticism and positive comments, was received both at the event and through our event evaluation feedback form. Our team is committed to improving through the development of clearer event standards, ramped-up communication with [Local Organizing Committee] staff, increased time spent at the host facilities prior to the event, and continuing to build on our relationships with manufacturers, local organizers, media, and other industry partners to provide world-class tournaments."
Up next for the PDGA is the remainder of the National Tour, comprised of the Delaware Disc Golf Challenge and the Music City Open, as well as the Masters Pro World Championships, Amateur World Championships, and the Tim Selinske US Masters Championship. The National Tour events will have the most eyes on them, and they represent an opportunity for the PDGA to apply some of the lessons learned from Worlds.
Before that, though, the PDGA Board of Directors — which is currently electing new members (voting is open through July 31st) — will hold its semiannual PDGA Summit in Michigan before the Great Lakes Open in two weeks. The agenda is expected to include discussion of the World Championships, Majors, and the future of the operations of professional events.
Charlie Eisenhood contributed reporting.