Round 2 Recap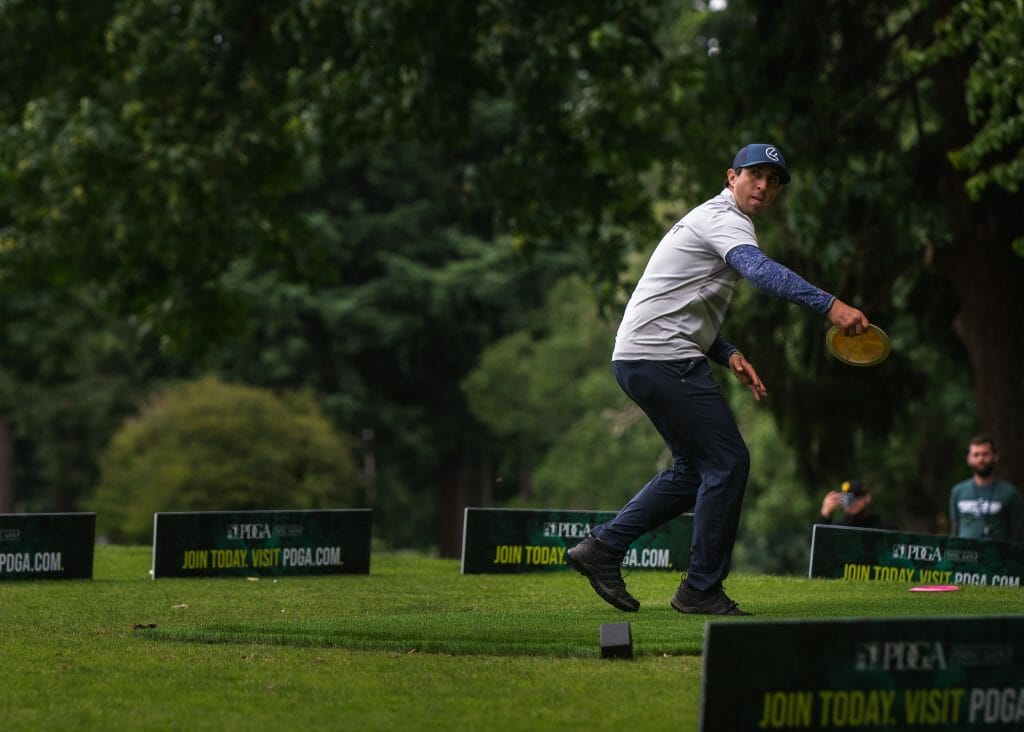 It was differing fortunes for those near the top of the leaderboard when round 2 of the Des Moines Challenge restarted on Sunday morning after play was suspended on Saturday.
Paul McBeth started round 2 in second place but had fallen behind early with a 2-under start through seven holes. When play resumed on Sunday, McBeth banged an edge-of-circle putt for birdie on hole 8, and reeled off seven more birdies to finish out his round at 10-under par. He tied for the hot round with Gavin Rathbun (T-2nd) and Seth Talbott (T-13th) while moving into first place at 17-under par total, one stroke ahead of Rathbun and Ben Callaway. McBeth didn't miss a Circle 1X putt during round 2, and he's first and second in finding C1 and C2 in regulation, respectively, over two rounds.
Rathbun moved up four spots on the leaderboard into second with his 10-under. Rathbun and Calvin Heimburg were both at 9-under par through 11 holes and in first before the stoppage in play Saturday. A return bogey on hole 12 and double-bogey on hole 18 keep Rathbun chasing the lead. Heimburg meanwhile was 2-over par on holes 12-18 and is in a tied for sixth at 13-under par.
Callaway had the only eagle on hole 10 and posted a 9-under to hold his position. Albert Tamm was tied with Callaway and McBeth after 18 holes and fell two spots into fourth with Raven Newsom at 14-under par. Zackeriath Johnson, the final player in second after one round, did not fair as well, even after the restart. He dropped 21 spots into a tied for 23rd at 9-under par despite only carding one bogey for the round.
Day one leader Silas Schultz had a similar day to Johnson. He was even par during round 2, with only two holes played over par, but had five two putts and four OB strokes. Schultz is tied with Johnson, Brodie Smith, Emerson Keith, Thomas Gilbert, and Alan Wagner in that 23rd spot.
Statline
Callaway was not just the only player with an eagle on hole 10, he was the only one to even have an eagle look from inside C2 in the field. And his was just 16 feet away. To par, hole 10 is the easiest on the course with 61% of the division recording a birdie on the par 5, but Callaway's hyzer approach was still something special.