Elaine King was the first player to win no. 300 and she did so with one week to spare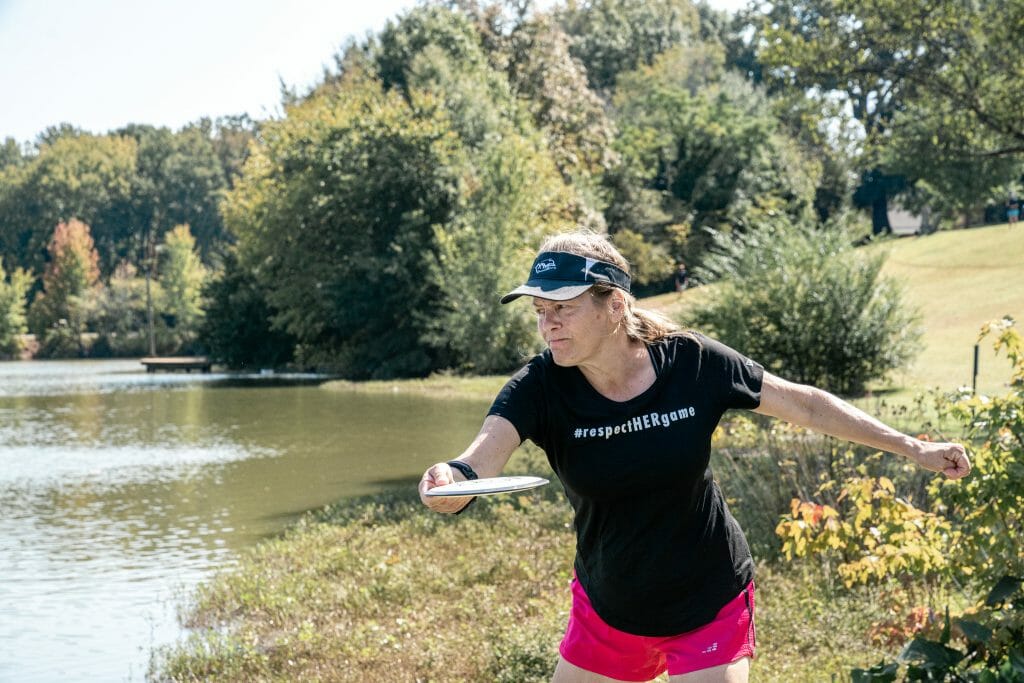 On June 19, 2021, Elaine King became the first disc golfer to record 300 career PDGA wins.
King achieved her milestone at the ECO Tour presented by BTW Global Rocky Mount in Rocky Mount, North Carolina by winning the Open Women's division by eight strokes. At the same event, Brian Schweberger won the Pro Masters 40+ division to secure PDGA win no. 298 of his own. By the next weekend, Schweberger would match King's career PDGA win total at 300, and surpass it with no. 301 with a seven stroke Pro Masters 40+ triumph at the B. Cordell Memorial in Fayetteville, North Carolina on June 27.
While she currently resides in Durham, North Carolina, King is a native Canadian and has been a PDGA member since 1985 with PDGA #3090. Her first win came in Ontario in 1986, and King has become one of the most decorated athletes in the disc golf history. She has won five PDGA Pro Championships in the Open Women's division, including four consecutive between 1991 and 1994, and 15 total career PDGA Majors in the Open and Masters divisions.
Schweberger joined the PDGA in 1997, #12989, and won his first career PDGA event two years later in Zebulon, North Carolina. Known for his incredible ability to throw a thumber, especially in the woods, Schweberger's lone PDGA Major came at the 2013 Tim Selinske US Masters Championship in his home state of North Carolina. He topped a field that included Ken Climo, Barry Schultz, Jay Reading, Patrick Brown, and JohnE McCray.
Schultz, another current North Carolinian and one who has 10 PDGA wins already in 2021, is currently at 264 career wins. Climo is one ahead of Juliana Korver at 229 and 228 career wins, respectively; Korver has returned to touring in 2021 and has two PDGA wins this season in the Pro Masters Women 40+ division. Des Reading also has PDGA wins in 2021, which helped her over the 200 milestone in April. McCray is approaching no. 200 as well, as he currently sits at 190 career wins.
Other notable win totals include 248 for Mike Moser, 171 for Catrina Allen, 141 for Paige Pierce and Steve Rico, 137 for Cale Leiviska, 132 for Paul McBeth, and 118 for Ricky Wysocki.