The Disc Golf Network captured more human drama at 2021 Pro Worlds than any disc golf tournament before it.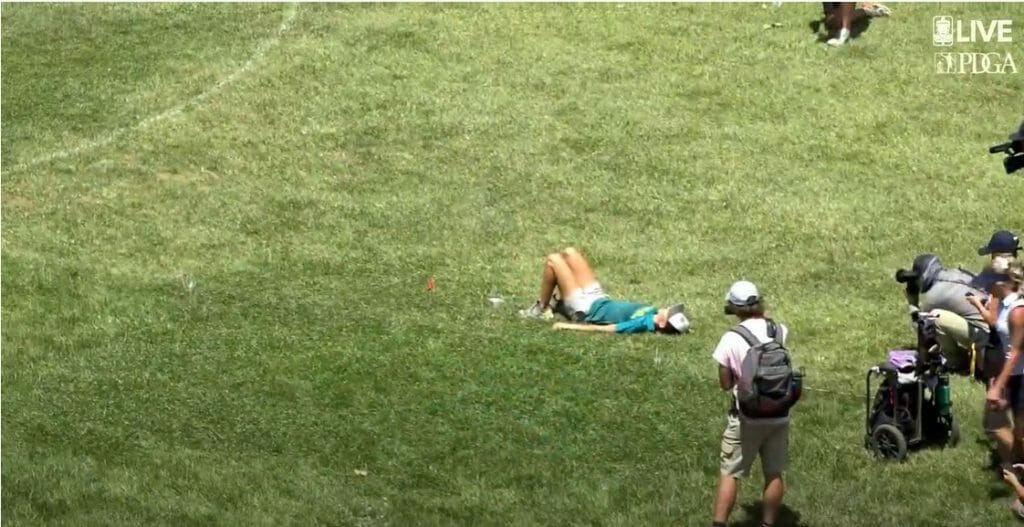 Ultiworld Disc Golf's coverage of the 2021 PDGA Pro World Championships is presented by Skybreed Discs, a top online retailer and preferred vendor of the 2021 Ledgestone Insurance Open, and Aria Discs, a new disc golf brand making discs designed for beginners.
My favorite moment of the 2021 PDGA Pro World Disc Golf Championships wasn't James Conrad's throw-in that'll be seen around the world. As spine-tingling as that was, there was another moment in the broadcast of the FPO round that will live long in my memory. It was enacted on the green of hole 18.
Paige Pierce had seen her two-throw buffer with two holes to play wash away with two up-shots. On hole 17 she seemed to grip too tight and pull into a tree. On hole 18 she gripped too loose, and her disc faded left into OB. Add some rock-solid play from Catrina Allen and Pierce was putting from OB to save bogey and try to force a playoff. From 45 feet the disc hit the top band. Pierce sank to her knees and then fell back to lay in the grass. The fight leaving her body. She knew the quest for a sixth world championship was over.
Right then, Disc Golf Network producer Jonathan Van Deurzen switched from the camera tracking Pierce's putt from behind, to the view from the crow's nest. The image of Pierce, laying alone on the grass, was stark and cinematic. The moment of failure is an intensely lonely one, and DGN captured it perfectly. The scene mirrored the shock we were all feeling at Pierce's late collapse. It was a deft touch from the producer, and it made for great television. To me it was a sign of the increasing sophistication in how our sport is broadcast.
"I almost went to the front view of her laying down, but quickly checked myself cause it wasn't much different than the back view," said Van Deurzen afterward.
With six cameras on course for the whole tournament, all transmitting through a pre-purchased section of cellular bandwidth normally reserved for emergencies, we were treated to many such moments of human drama. Moments that the standard throw-cam plus catch-cam rarely capture.
On the final holes of the MPO round, we saw a normally serene James Conrad stalking off after his brilliant drive on hole 11, with the adrenaline surging through his body and him working to contain it. We again saw the agitation on Conrad's face after his tee shot on 18 hit a tree and almost went into the water. We saw Paul McBeth, owner of one of the best poker faces in the game, for a moment reveal his nervousness as he sat during the long wait to throw on 18 before his features hardened again as he stepped up to throw.
The women faced a similar excruciating long wait on tee 18 before they could decide their fate. We saw Catrina Allen standing on the tee like a gladiator, framed by the water and the crowd-filled grandstands in the distance; while Paige Pierce sat and stared at the ground. The difference in their body language seemed to foretell what was to unfold.
Then, with the shot seen around the world, we had a replay of Conrad, holding the pose of his follow-through, with golden backlight from the late afternoon sun, frozen; and then explode with joy as his miracle shot grazed the right-side chains and collected the back of the bucket one or two rungs below the rim.
Some of this theatre may have been possible with a less equipped broadcast team, but we certainly would have missed much of the human drama. The whole riveting 30 plus hours of broadcast had me thinking – are we there yet? Have we reached a point where non-disc golfers will watch the game purely for the drama that unfolds? Is disc golf about to break the ceiling where it appeals to more than just the converted? There are one or two clues that this may happen soon if it hasn't started already.
Clue one is the pace of the game. It takes roughly half the time to walk a disc golf hole that a ball golf hole. This really hit home to me because of the time I was watching the broadcast. FPO started around 2 am for me and the MPO 6 am. I tended to watch the last few holes of the FPO from my phone in bed before getting up at 6 to catch the guys on the big screen. But it's early morning: coffee must be made, small rooms in the house visited, breakfast prepared…and will you guys give me a break! A disc golf tournament, covered by multiple cameras, is just wall-to-wall action with almost no time to tear oneself away.
You folk who are not from somewhere in the former British Empire know that there is a few versions of cricket, yeah? There are test matches that go five days, one-day matches, and then the newest form of the sport is 20-20, which takes about 3 hours – as long as a baseball or football game and as long as a round of disc golf. To me disc golf, when comparing it to ball golf, is like 20-20 compared to a one-day cricket match. There is always something happening.
Clue two is how the commentary has improved from the early days of the Disc Golf Network. The three commentators with an on-course roving reporter seemed to work well. If you give commentators too much talking to do, then they'll tend to talk too much. The early days of DGN broadcasts seemed forced. Now the banter is more relaxed and insightful, with pauses in the right places to let the action speak for itself.
Like the moment on the first hole of the playoff: James Conrad is standing on tee 16 with the OB island and the lake spread before him. All we heard was the 'woosh' of his out-breath as he tried to calm himself. There was no, "He has to land on the green to win this tournament," or any of that obviousness. Ian Anderson only interrupted the silence with, "This is the most important shot of his career," as the disc was released.
Commentary style preferences are highly individual. One person's genius is another's irritant. Me? I miss Crazy John Brooks. I loved his verbal stylings and jazz musician's cadence. I think he has a worthy successor though in Philo Brathwaite.
I have a suggestion for a drinking game for those of you who are worried about alcohol poisoning from "ground-play" or "speed control" drinking games. My suggestion for a smooth, relaxed, few drinks per hour is – every time Philo rhymes.
"Strokes on folks."
"Hit it and quit it – as James Brown would say."
"This is a fickle hole; you are kinda just pokin' and hopin'."
"Step-through putt for KJ USA to finish his day."
I also enjoyed the way Philo sometimes called the flight of the disc like a horse race right down to its last wobble. Or his oblique metaphors that took a while to register.
For example: "James Conrad, keeping the Seinfeld theme song going on in his head." Or, after Calvin Heimburg's putt on hole 16 during round three, "Vinny just broke disc golf, man, I'm out." When McBeth threw a rare thumber on hole 13 it was, "McBeth barely waved his hand, like he was playing catch with his grandma." Or when  Kevin Jones hit a long putt and down-pumped his fist, "That was like a bass drop when you are sitting in Kevin's van listening to that heavy music. Wham!"
All three commentators, Brathwaite, Nate Doss, and Ian Anderson, chimed in with some good craic (as the Irish would call it).
Nate – "Big shoutout to the volunteer with the neck brace on."
Philo – "Hopefully the doctor doesn't see you."
Ian – "Or the insurance company."
On the technical side, there was the wisdom from Doss' three world championships and the importance of staying in the process (which could be another drinking game).
"It's the process. It's all about accepting the path that has been handed to you."
"This course is like a boa constrictor; it just chokes you tighter and tighter."
Also, Philo's experience as a coach was valuable; with his ability to break down seemingly complex techniques and articulate their essence.
"McBeth, not enough forward push on the putt when he was staring at the water and too much loft. It's all about momentum going towards the basket."
Then I really should ask Ian Anderson about his process because right now my imagination has him sneaking up like a ninja and rifling through players' bags in the dark while they sleep. The man's ability to know the exact disc each player is about to throw, its weight, its history and often its nickname, is borderline freakish. At times when James Conrad was throwing, he was naming the disc, plus the disc from his previous sponsor (and its nickname). It adds an important element to the broadcast though, because we all know the question that comes after every good shot we see – "What disc was that?"
I had less time to enjoy the FPO coverage, because 2 am. But a similar dynamic seems to have been created with Charlie Eisenhood providing the journalistic balance to Val Doss' championship experience and Hannah McBeth's attention to detail. McBeth, particularly, has made great strides as a commentator. Rather than just contribute statistics she seems to draw from a database of quotes in interviews, often perfectly matching a quote with that player's predicament.
Of course, it's nearly impossible for someone like myself to objectively assess the appeal of the DGN's world championship broadcast to a broader audience. To fully test my theory, I'd need to get a group of my non-disc golfing mates together as a focus group to watch a round and see if they can endure. I'm sure they'd like it. I might even try this and write about during the USDGC.
Yes – I think we might be there.