Round 4 Recap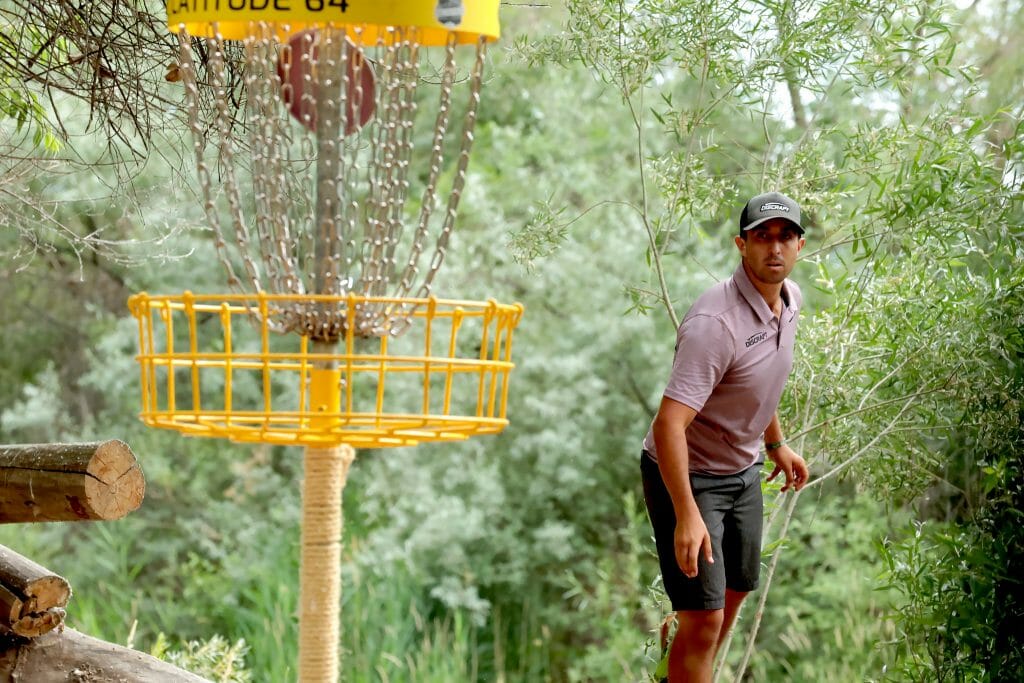 Ultiworld Disc Golf's coverage of the 2021 PDGA Pro World Championships is presented by Skybreed Discs, a top online retailer and preferred vendor of the 2021 Ledgestone Insurance Open, and Aria Discs, a new disc golf brand making discs designed for beginners.
If Friday is any indication, the final round of 2021 Pro Worlds at The Fort will be one for the ages, as players bounced around the top 10 all afternoon during the penultimate 18.
After scuffling in the pack for the first four days of competition in Ogden, Paul McBeth turned it on for a blistering 10-under round in the heavy woods of The Fort. McBeth's 10-under was the hot round on the day, and he accomplished this while taking two bogeys early in the round. McBeth got things going with a tap-in eagle on hole 9 and was 6-under on the back 9 including three birdies to close the round, and now leaves the rest of the field hoping for him to falter. Based on past pedigree, it will be a tall task to wrench the lead away. There's something poetic about McBeth, the 5-time World Champion, fending off a field of new challengers, all seeking their first world titles. We'll see if he can keep his dominance going for yet another year. McBeth has a one stroke lead at 31-under par total.

The triumvirate of James Conrad, Kevin Jones, and Calvin Heimburg are in second place at 30-under par, and Nate Sexton is solo fifth at 29-under.

If not for McBeth catching fire, James Conrad may have been the story of the day. After a steady round, Conrad clutched up when he needed it most, ending his day with four straight birdies, firmly staking out his spot on Saturday's lead card. 89% fairway hits, and 100% C1X putting are a recipe for success, and Conrad did all of the little things right on Saturday. The Fort requires high accuracy, and despite his disadvantage with minimal forehand game, Conrad played incredibly strong, and put himself in the hunt for his first world title.

Both Calvin Heimburg and Nate Sexton had up-and-down days on Friday. Heimburg hit a rough patch on holes 11 and 12, taking back to back bogeys after failing to get off the tee effectively. It was tough sledding in the difficult moments, but when Heimburg was on, he was clinical, recovering from the bogey stretch with back to back drop-ins on the 15th and 16th for birdie. Sexton looked in control for large stretches after starting slow, but finally succumbed to bogeys in the final stretch of his day. He'll likely be kicking himself for the bogey-bogey finish to his day, and currently sits two back from the lead, after holding it alone late in the day.

Kevin Jones and Chris Dickerson round out the players firmly in the hunt. Jones, like McBeth, made a run from the chase card to get a share of second, using his favorite flippy forehand lines to put together a strong round. While two bogeys held him back from getting even higher on the leaderboard, The Fort does not give up bogey-free rounds easily, and Jones put together a strong day despite these falters.

Dickerson, sixth place, 28-under par, coming from a larger deficit, needed a herculean effort to get back in it, and he answered the bell. A birdie streak of seven with just one bogey was good enough to vault onto the chase card, and we all know Dickerson can do damage from a card behind. His pairing of 89% fairway hits and 100% from inside the circle made the difference, and if today was any inkling, there should be a camera on Dickerson ready to roll on Saturday.

For a split second it looked like Ezra Aderhold was going to follow Conrad's lead and ace hole 16. His big forehand directly hit chains but bounced out of the basket from the force, stood up on the ground and rolled OB.

One final note, it was an amazing day for live coverage. The camera hopped from lead card, to chase, even to Dickerson making a run from his position on the third card. There was constant action, and McBeth taking the lead on the very last hole sets the stage for an exciting final day. You're not going to want to miss the thrilling conclusion, With storylines baked in up and down the leaderboard, buckle up, we're in for plenty of intrigue.