Glendoveer provided both good competition and beautiful scenery

Anyone else's elbows and legs tired from just watching the Portland Open?
Over 12,000 feet for the Open division, and another 10,000 for the Open Women, brought a whole new meaning to the idea that the standard method for challenging the top players is to simply make the course extremely long. So far, this has been the Year of the Hyzerbomb, with all but four Elite Series events — WACO, Texas States, USWDGC, Masters Cup — having taken place on ball golf or mostly-open courses.
In some cases, these wide open courses have been able to provide some beautiful scenery and exciting finishes. In other cases, not so much. Fortunately, the Portland Open at Glendoveer Golf & Tennis gave us a good dose of the former.
In MPO, there was triumph and tragedy in equal doses. Eagle McMahon earned the win, and despite his insistence that people would not be impressed by someone walking on water, his victory was impressive. McMahon led the field in strokes gained tee-to-green, was third in putting at 92% from Circle 1X, and only carded three bogeys all weekend. Watching McMahon send 450-500-foot hyzer flips out toward those massive Douglas firs over the gorgeous fairways at Glendoveer made for some lovely weekend viewing.
As wonderful as it was to watch McMahon blister some plastic all weekend, it was just as painful to watch Kevin Jones struggle on the 15th green. We don't want to dwell on this for too long, but what happened to Jones, and I use that phrase on purpose because we can all agree that Jones was a victim there, was gut wrenching to watch. Jones had a two stroke lead going into 15, and even if he takes a double-bogey he is still in a tie for first with three holes to play. Instead, he finds himself missing the podium entirely. Jones has had a rollercoaster season so far, and a win in Portland would have done wonders for his prospects heading into Pro Worlds. Instead, his up-and-down season continues.
Kevin Jones hole 15 Portland Open
In FPO, Paige Pierce did it again. Another wire-to-wire win. Pierce had been tied with Catrina Allen going into the second round, but made her move on the back 9 where she went 5-under par. It really was the second round which made all the difference this weekend in FPO. Allen outplayed Pierce in the third round, but it wasn't enough to close the gap. No surprise, but Allen and Pierce were first and second respectively in strokes gained tee-to-green. In fact, the only statistical category in which Allen was outside the top three was, you guessed it, C1X putting, where she hit at 68%, which was good for 12th at the event. Pierce was first at 88% from inside 10 meters which pretty much tells the tale there.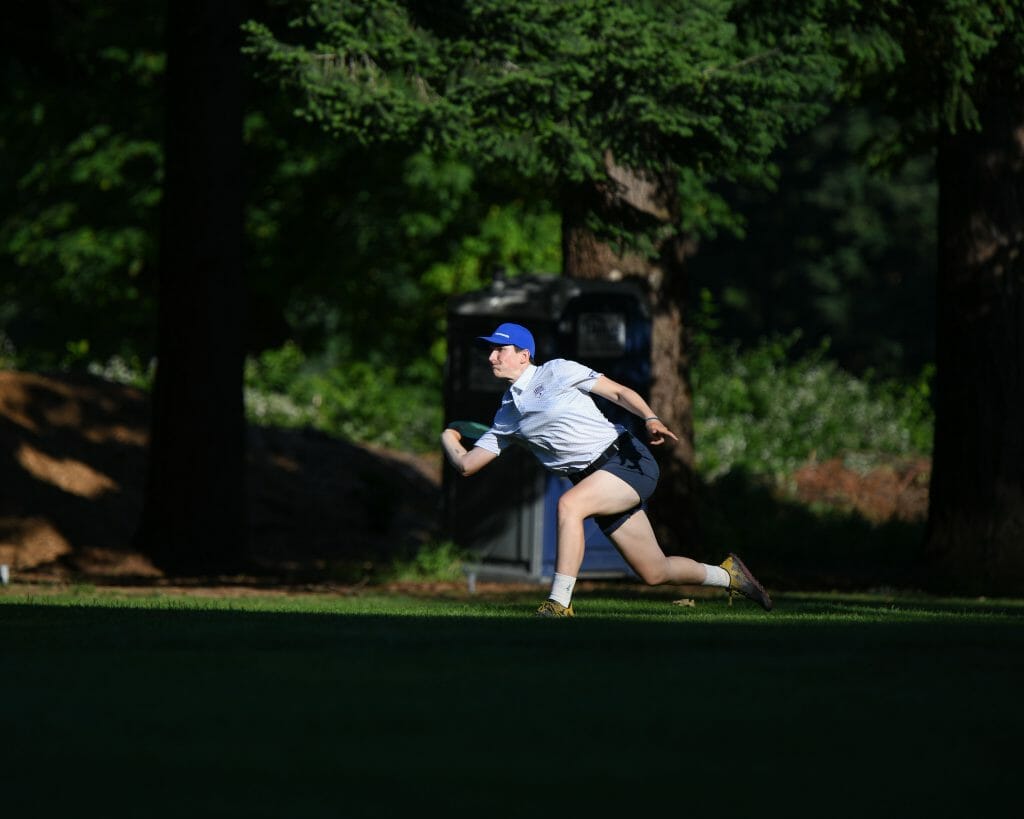 Ella Hansen's performance this weekend hasn't cemented her as a top player in the division, but it has certainly put the rest of the field on notice. This was Hansen's second third place finish in the past three events, and her first at a DGPT event. Her previous podium visit came at USWDGC. Hansen is "only" 919-rated, and only has 18 events under her belt since she started playing PDGA sanctioned events LAST FALL, so she clearly has a lot to learn and room to develop, which is terrifying. Hansen clearly has the correct competitive mindset and knows how to perform under pressure. The biggest question so far is, how will she perform in the woods? She partly answered that at USWDGC and we'll see her play in the trees at Utah, but at present she is not scheduled for any events in July, so we'll have to wait until the final leg of the season to see her carve lines on the East Coast, if she makes it out that direction.
Stray Thoughts
Speaking of woods golf, the discourse around Eagle McMahon's performance on golf courses is an interesting one. Or a toxic one, depending on your point of view. Outside of two wins at the Beaver State Fling, and a single W at Idlewild, all of McMahon's wins have come on more open courses where he can let the disc fly, or roll. And you know what, that's just fine. Horses for courses, and it's pretty obvious that McMahon has every shot in his arsenal, as well as one of the best putters in the game, so let's just enjoy Dustin Keegan giving McMahon 12,000 feet of airspace to work with for a couple rounds.
Calvin Heimburg currently has a one tournament streak of cashing and making the top five. It will be exciting to see if he can carry it forward.
As I mentioned last week, the gap between the winner and 10th place in FPO tells us something, but what that something is can be tricky to parse out. This week, Pierce won with a 21-under par showing. The 10th place, or in this case the three players tied for ninth place, finished 26 strokes back of Pierce at 5-over par. In this group was Madison Walker, Sai Ananda, and Deann Carey. What is clear, and has been made clear with the continued dominance of Pierce and Allen, as well as the ascendancy of Hailey King, Ella Hansen, and Kona Panis, is that distance off the tee is no longer optional in FPO, especially at the types of courses we have seen this season.

Has anyone else noticed that James Proctor is just killing it? He has three tour events this season and has finished 15th, second, and ninth. Proctor is currently registered to hit five more events this season, including Pro Worlds, DGLO, Ledgestone, and Idlewild. He'd make a great sleeper pick for any degenerate gamblers out there, just sayin.
The last time Paul McBeth got this deep into the season with only one win at what we now call an Elite Series event, was 2011. He won his first two PDGA National Tour events that season, the Memorial Championship and Beaver State Fling, as well as the Tali Open over a pretty loaded field.