Breaking the seal on a brand new course -- Glendoveer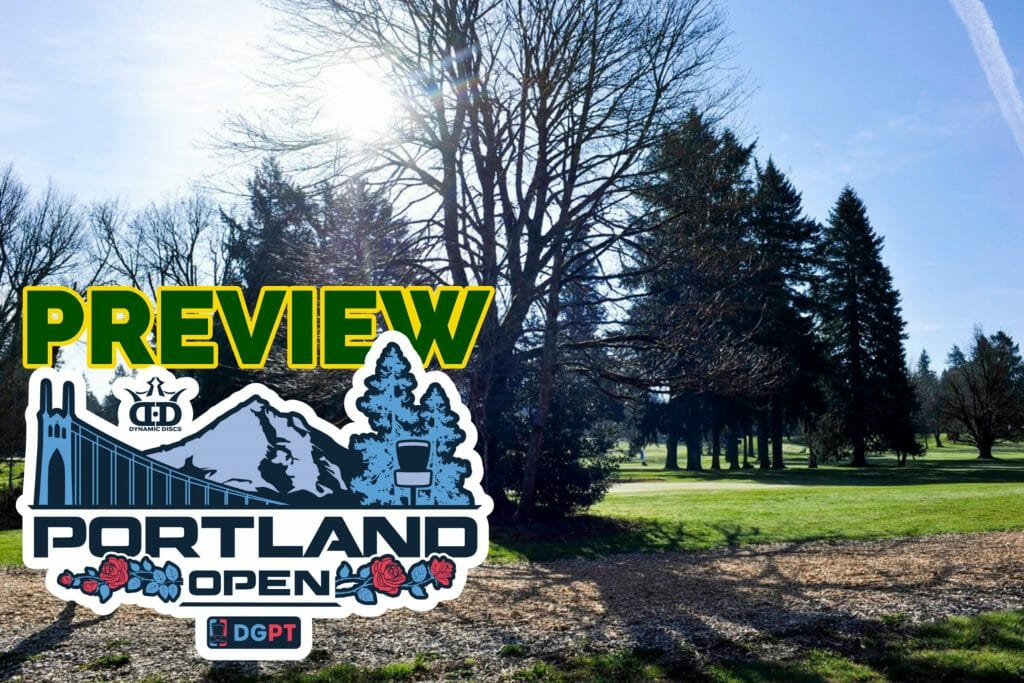 While the nation seems to be full-steam ahead on the reopening front from the still-present COVID-19 pandemic, things are still a bit wonky out there. There is no better example of that then what the Oregon tournaments — the Portland Open and Beaver State Fling — have had to deal with in 2021.
So with the Portland Open heading from Blue Lake, one of the sites of 2014 Pro Worlds and the inaugural Portland Open, to a brand new course at Glendoveer Golf & Tennis, we are in unchartered territory, and it's difficult to decide what's instore.
Here's what we do know: players love Oregon. Portland is one of the preferred tour stops and the energy around the PNW won't change with the venue. Spirits should be high, especially once the high temps players are currently experiencing during practice rounds break.
As far as what we should expect from play on the course, maybe we look back a couple weeks to the OTB Open to gauge who we could see perform well on the fairways of Glendoveer. Eagle McMahon won in that inaugural event in Stockton, so maybe he gets another W on an "inaugural" course? Catrina Allen and Paige Pierce are probably good bets, as always, and will anyone else in the field have the arm to keep up?
It still feels strange coming into so many events relatively blind this season, but that's kind of what it takes to run a Tour this year. Last minute changes and new courses test the professional mindset of touring players. Those type of things can wear on a person, so whoever can withstand that should be finding themselves higher up the leaderboard come Sunday.
Past Winners
| Year | Tier | MPO | FPO |
| --- | --- | --- | --- |
| 2022 | DGPT | Simon Lizotte | Valerie Mandujano |
| 2021 | DGPT | Eagle McMahon | Paige Pierce |
| 2020 | Canceled | | |
| 2019 | DGPT | Drew Gibson | Paige Pierce |
What We're Watching
It's a hard switch to go from bombing your longest distance driver to finesse around the greens. Sometimes these golf courses also cause the distance determinations to be a bit off without as many natural markers such as trees near the baskets to judge. Crack that conundrum, or whip out your Bushnell rangefinder, and prosper.
McMahon took the Masters Cup off after his win at the OTB Open. Maybe McMahon never having to readjust his game to the variation of terrain at DeLaveaga will bode well for Glendoveer.
Paige Pierce is on a heater after taking a break from tour around the time of the Dynamic Discs Open. On paper the hot hand should continue on a layout she has a clear advantage on over the majority of the field.
Let the return of the European players commence. Kind of. Estonian Albert Tamm has been in Mexico quarantining and is entering the U.S. for the Portland Open to kick-off a mini stateside swing that includes Pro Worlds later this month. What will the prolonged travel time do to his game?
GRIP6 Pick 6 Lock Of The Week
Reigning champ Drew Gibson will be well-suited to Glendoveer and is coming off a good showing in Santa Cruz. Feel confident having him on your list. We also like Scott Withers, who rules the roost in these parts. He won't have the local advantage of having played this particular course dozens of times, but he'll surely want to flex his 1038-rating on those full-time touring players he doesn't always match-up against.
Take away the second round of Masters Cup and Catrina Allen could have just as easily have won the past two Elite Series events (not counting the USWDGC Major) that Pierce has taken home. It's felt like a long time since we've seen her hitting Circle 2 putts at such a high rate, and even when she's not converting she's hitting metal consistently. Besides the two highest-rated women in the world, Missy Gannon came on strong at the end of the OTB Open and is due a podium finish.
The Course
Glendoveer: MPO – 12,696 feet, par 67; FPO – 10,522 feet, par 70
A lot is going to be made of the VERY long layout at Glendoveer. Paul McBeth caused a stir when he critiqued some of the design elements on the course. Course designer Dustin Keegan stopped by the Upshot to talk about some of his choices.
Dustin Keegan Glendoveer Interview
Chris Clemons added that while the opening holes offer some technical shots, much of the back 9 is "field work and some putting."
Blue Lake, the host of the 2019 Portland Open, is also a long bomber course, so some of the players who performed well two years ago may be able to repeat those performances.
Portland Open Glendoveer Caddy Book
Extended Forecast
After a nice start to the tournament on Friday, changes come Saturday and Sunday. An upper level, shortwave trough will move into the region Saturday. Although this feature is a little weak, it should still provide enough lift for some showers on Saturday. This system will quickly depart the region Saturday night. However, a more robust upper level disturbance will move into northwest Oregon Sunday. This will lead to much more widespread rain Sunday afternoon. There may even be a chance of some thunder late Sunday afternoon, although this would be a little outside of the climatological norm.
Friday: Mostly sunny with highs topping out around 79°. Light northwest winds possible.
Saturday: Showers likely, especially in the morning. The afternoon may dry out. Highs will "warm" only into the mid 60s. Westerly winds around 10 mph possible.
Sunday: Afternoon showers are likely. Highs will once again top out in the mid 60s. Southwest wind of 5 to 10 mph possible.
Again, there is a low chance of lightning and thunder Sunday. The system appears strong enough to produce a few embedded thunderstorms Sunday afternoon, but climatology suggests this likelihood is low.
How To Watch
Follow livescoring on UDisc Live. For video round coverage, see our previous post: