Round 2 Recap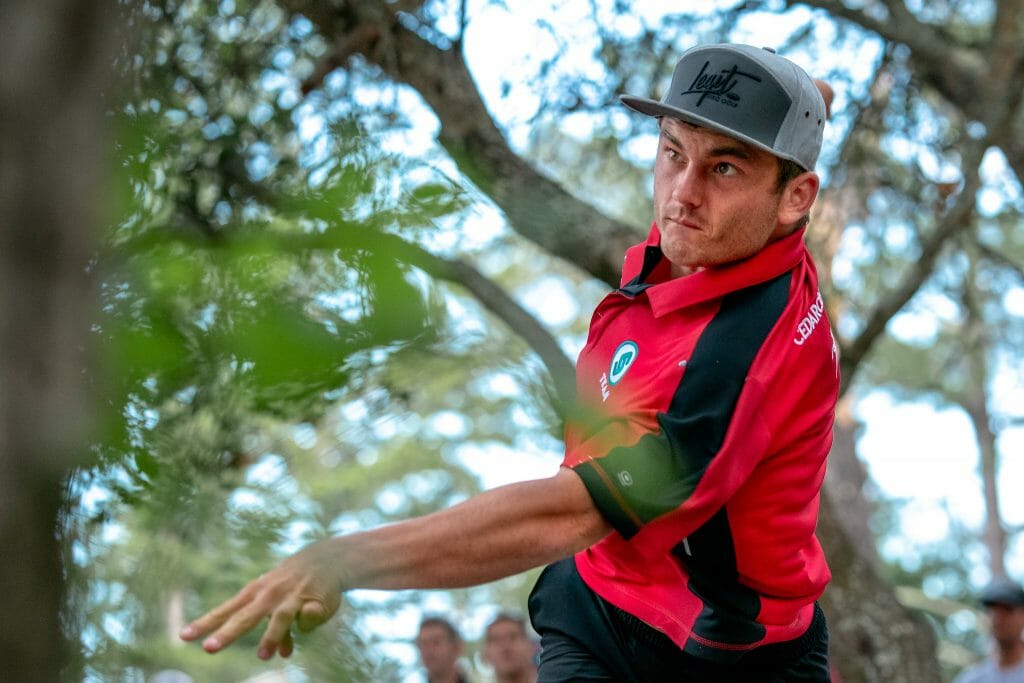 Moving day at the Santa Cruz Masters Cup promised some solid storylines and, as always, DeLaveaga delivered.
Even with three bogeys on his scorecard, Kevin Jones moved into a tie for the lead with Adam Hammes at 25-under par total after shooting a hot round 13-under par on Saturday. Putting held Jones back in round 1, and he cleaned it up by going 100% from Circle 1X on 13 attempts, and adding three more C2 makes for birdie. Jones really caught fire on the back half of the course by birdieing 12 of the final 14 holes, and he continues to lead the division in fairway hits (81%), and finding C1 (56%) and C2 (81%) in regulation. His strokes gained from tee-to-green is 1.4 strokes higher than the next closest player.
Hammes was overshadowed by Jones' onslaught of birdies, but is doing just fine on his own. He followed up his 14-under par first round with an 11-under par during round 2, and has yet to miss from inside 33 feet, converting all 26 C1X chances through 48 holes. Hammes was 8-under par on the day as he made the turn after hole 12, and had created some cushion on his lead before Jones turned it on.
Of the five players tied in third at 19-under par, six strokes behind Hammes and Jones, three of them jumped eight spots or more up the leaderboard. James Conrad and James Proctor were playing together on the third card and shot matching 11-unders. Conrad had the highlight of the round with an ace on the 220-foot hole 20, AKA Gravity. Drew Gibson's 12-under par moved him up 11 spots; he has yet to bogey through 48 holes. Kyle Klein remains in third and Alden Harris had the best round on a card that included Paul McBeth (8th) and Ricky Wysocki (T-9th) to stay on chase card.
Speaking of McBeth, there are not a lot of courses where you'll see the 5X world champion go 4-over on three consecutive holes. His bogey-double-bogey-bogey run on holes 7-9 stunted an otherwise good round.
Statline
The last time the entire Masters Cup was played at the DeLaveaga Masters Cup was 2015. That year Paul McBeth and area man Nate Doss traded the lead back and forth through the opening two rounds before McBeth shut the door in round 3. It was a two-horse race six years ago and should be again in 2021 with Hammes and Jones clear of the field.