Round 2 Recap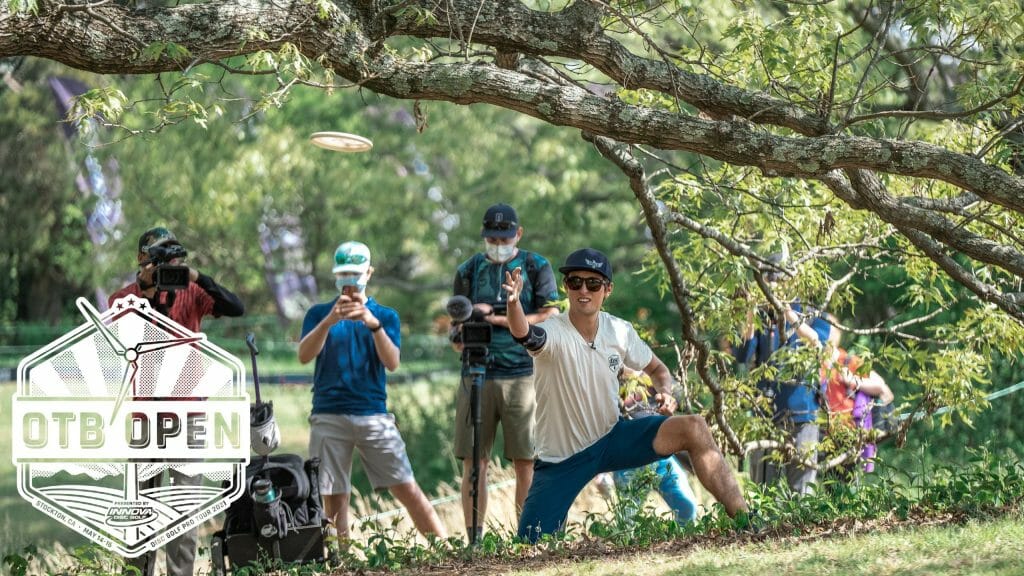 Moving Day in Stockton saw the deck reshuffle, with players shooting up the leaderboard in ideal conditions. Swenson Park is showing its favoritism toward the biggest throwers, and we'll see a final day lead card chock-full of some of the farthest throwers in the division. Let's talk about what happened on day 2 of the OTB Open.
Eagle McMahon solidified his lead with another stellar round on Saturday, just one off the pace of the hot round with a 10-down. McMahon, despite posting a great score in comparison to the field, still had room for even better. His putting balked at one point during the back 9, and he finished the day 73% from Circle 1X, low for his typically incredible standard. It speaks to Eagle's great play over the whole weekend that he still holds a healthy margin going into the final day. McMahon does lead the event in strokes gained from tee-to-green at 17.8, more than three strokes more than the next closest player. He's shown he has the ability to score on just about every hole, all that's left is to put the pieces together, and replicate his first round on Sunday. McMahon sits four clear of the field at 23-under par total.

Aaron Gossage was the surprise story of Saturday. The Colorado native boasts incredible power and enjoyed a steady day on the green whenever he left any meat on the bone. Gossage's two most impressive stats on the day where he tied Calvin Heimburg with an 11-under par hot round were a 28% parked percentage, good for second in the field behind only Anthony Barela, and no OBs in the second round. Swenson rewards those who stay in bounds, and Gossage stayed yet to find hazards through 36 holes. He'll embark on his first lead card round at an Elite Series event on Sunday, and we'll see he can keep his consistent play rolling enough to challenge a Tour veteran like McMahon and Ricky Wysocki. Gossage is tied with Wysocki in second place at 19-under par total.

The looming threat of Anthony Barela putting together all facets of his game was fully realized on Saturday. The frame, the power, the potential, it always seems like just a matter of time until he takes the stage as one of the creme de la creme of disc golf's elite. Saturday was a look at that future reality. Barela was at the top of many statistical categories, most notably leading the field in fairway hits (90%) and the aforementioned parked percentage (39%). Out of context, those are impressive stats, when Barela's massive distance is taken into account, it becomes downright scary. It seems like every tournament where Barela comes up, it's always said that he is the future of the game, let's see if the first inklings of the future have arrived on Sunday. He moved up one spot into a tied for fourth with Paul McBeth at 18-under par total after shooting 10-under on Saturday.

Ricky Wysocki on a final day lead card is inevitable in 2021. Wysocki had a pedestrian round compared to his routine excellence, but he remains within striking distance to take down the title in California. Wysocki carded nine birdies on Saturday, but intermittently struggled with OB throughout the round. The roller game can be mercurial, and we will see if the need to stay aggressive will have Wysocki turn back to the roller game again to chase down McMahon.

The chase card for Sunday should be a fun one. The quartet of McBeth, James Conrad, Heimburg, and Nikko Locastro is arguably more star-studded than the lead card, and they'll be in the hunt to close the gap that McMahon has built. Heimburg especially bounced back from a tough Friday round on Saturday, and there's been plenty of talk about how this course suits his game. His hot round included an ace on hole 15. I wouldn't count out anyone from this lead card to make some noise before the day is out.
Heard
"I'm just going to try to keep the same gameplan, just go out and have fun, keep the nerves from getting to me a little bit, and at the end of the day I'm just happy to be here." – Aaron Gossage, on his game plan when playing with some of the best of the division.
"It felt like there were quite a few swings, I never really felt like I fully got in the zone, but I think I was still able to make more good shots than bad. I missed a lot of putts inside the circle and some that were just outside that usually drop-in, but it seems like after every mistake I made, I followed it up with a little bit of a blue streak. All in all, it was good, and when Ricky made a huge putt, I was able to focus back in and play my own game." – Eagle McMahon, on his round and how he kept even-keeled through the ups and downs.
Statline
While Swenson may have wide-open fairways, course designer Leonard Muise made sure to give the course some teeth. The field has posted 650 OB strokes thus far in the tournament, and it is plaguing players from the lead card all the way down. Look for OB to play a role in the final day, as it seems to be the most dramatic factor in losing strokes.
Highlights
Eagle McMahon drive on hole 2 during round 2. OTB
Ricky Wysocki roller on hole 2 during round 2. OTB
Paul McBeth putt on hole 2 during round 2. OTB
Aaron Gossage putt on hole 8 during round 2. OTB
Ricky Wysocki putt on hole 11 during round 2. OTB
Eagle McMahon drive on hole 13 during round 2. OTB