Tough track tests touring throwers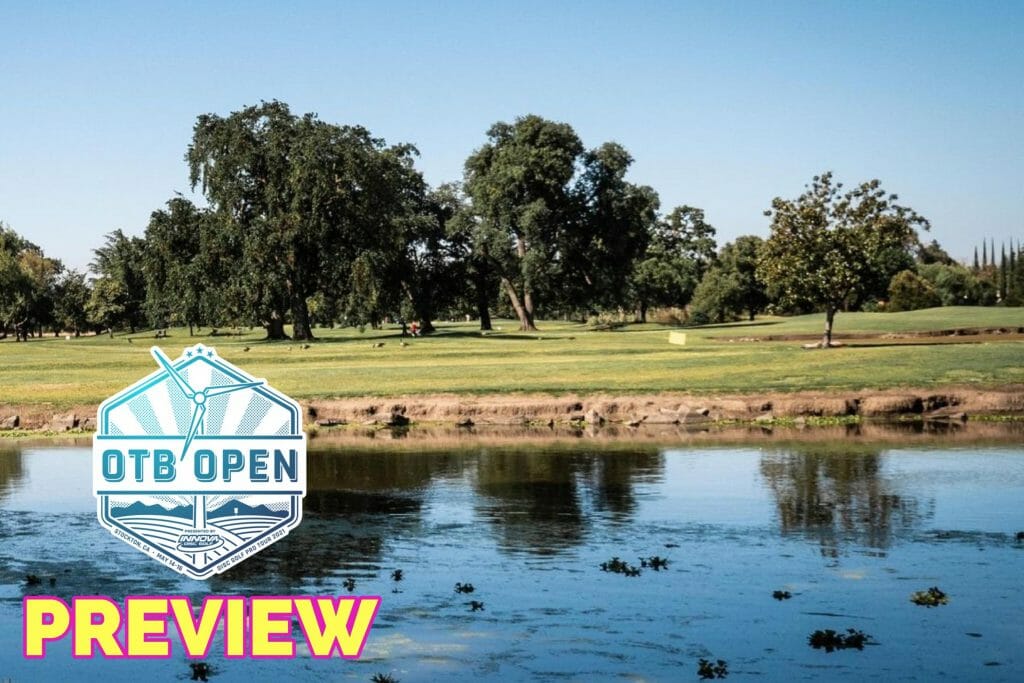 Starting Fast; Showing Versatility; Handling Pressure
Swenson Park course designer Leonard Muise divides the safari layout being used for the OTB Open into three segments, "each with its own personality." The way Muise describes these three segments — Starting Fast, Showing Versatility, Handling Pressure — can also be applied to the flow of the touring season.
We've breezed through the opening stretch of the year, hitting five Elite Series events already, and players are well on their way to establishing their pecking order for Pro Worlds, just around the corner in June. The OTB Open kicks off the West Coast Swing and second phase of the year, a time where your game needs to come together in all facets. This will carry through the summer until the final stretch into the fall Majors, where a year of travel and expectation is firmly weighing down on even the most practiced veterans.
The rebranded San Francisco Open and new course should bring new energy and focus for the pros. The terrain has changed and the weather is heating up. There are no favorites at a park with no history. Maybe you haven't started the tour how you thought you would. Here is the blank slate you've needed.
Swenson Park is more than a transformed ball golf course, it's a new lease on your year.
Past Winners
| Year | Tier | MPO | FPO |
| --- | --- | --- | --- |
| 2022 - OTB Open | ES | Simon Lizotte | Paige Pierce |
| 2021 - OTB Open | ES | Eagle McMahon | Paige Pierce |
| 2020 - SFO | DGPT | Canceled | Canceled |
| 2019 - SFO | DGPT | Ricky Wysocki | Catrina Allen |
| 2018 - SFO | DGPT | Paul McBeth | Sarah Hokom |
What We're Watching
Kyle Klein has won the last two events he's entered — the Mid-America Open and 303 Open — and the back injury that caused him to withdraw from the Dynamic Discs Open has not stayed with him following the event. We've seen Klein's promise before, and after some close calls in Arizona and Waco to start the year, Klein is back on the trajectory of a week-in, week-out challenger. Swenson has some similarities to Winthrop Gold, and we know what Klein can do on that type of course.
How will the time off for Paige Pierce have treated her? Pierce has only two podiums in five events in 2021, but she should have a distinct advantage over much of the division on the 10,000+ foot track. The hand was hovering over the panic button after the Texas tour. Pierce doesn't need to win, yet a weekend averaging her rating would go a long way on the confidence meter.
He's back…Simon Lizotte has chosen the best, or worst, course to test his elbow on. Lizotte hasn't played since last year's USDGC, and throughout 2020 he was never at 100%. We'll get to see him on the live coverage Friday, and if we're lucky, at least another round of coverage later in the weekend.
One player in the 55 player Advanced division at last week's Amateur OTB Open turned in a round on Swenson Gold under par. A single round. None of the Advanced Women were able to go under par. The strokes gained on the green stat will be key to maintain those thin margins between scores. It also means we shouldn't see any one player run away with the lead out of the gate.
GRIP6 Pick 6 Locks Of The Week
When you think of a player who can take advantage of a long layout you think of Garrett Gurthie. He can sling a disc a country mile, has an S-tier roller, and a throw-in Sonic game useful around open greens. And as we've pointed out before, Gurthie is also much better in the woods than he gets credit for. Swenson requires big distance to designated landing zones, and picking lines through oak groves. He's primed to succeed. Drew Gibson is from just up the road in Sacramento and similarly thrives on this type of course. He performed well at the San Francisco Open events in 2018 and 2019, and he's coming off back-to-back top 7 finishes, including at the Dynamic Discs Open.
Do not bet against Catrina Allen. Same for Ricky Wysocki. It's hard to trust anyone else in Open Women outside of Paige Pierce due to the length of Swenson, but Lisa Fajkus just proved to us at the Challenge at Goat Hill that you can succeed without a big drive.
The Course
Swenson Park: MPO – 11,514 feet, par 66; FPO – 10,022 feet, par 70
Paige Pierce says Swenson is "controlled distance shots…lots of low ceilings and lots of trees" and long enough to utilize a golf cart for practice rounds to save some energy. Simon Lizotte said there are "no gimmies," the front 9 is roller ready, and birdies will be hard to come by in the back 9. James Conrad backs up those reports by showing off the roller play on several holes during a practice round with Ezra Aderhold.
So far the pros have been pretty complimentary of the bomber course, and there is plenty more that create challenges rather than purely distance. Five of the final seven holes feature water OB, there are still ball golf hazards in play, and the two-meter rule is in effect — it is NorCal.
During last weekend's amateur OTB Open, a 4-over par 70 on the gold layout the Open division will play was averaging close to a 1000 rating. The best score on the blue layout the Open Women will play was a 2-over par 72. Lesson here: get the birdies early and hold on tight.
Extended Forecast
The weather for the OTB Open looks great this weekend! Warm temperatures Friday will give way to slightly cooler conditions Saturday and Sunday as an upper level trough moves through the region. Fortunately, no rain is in the forecast this weekend. Gusty winds could make for some interesting results on Saturday.
Friday: Afternoon highs will top out around 87°. North-northwest winds around 5 to 10 mph will be possible, shifting more out of the west as the day wears on.

Saturday: Highs will warm only into the upper 70s. A few clouds will hang around with a the aforementioned upper level trough in the region. Westerly winds of 10 to 20 mph will be likely, with gusts as high as 25 mph possible.

Sunday: Temperatures will rebound some into the low 80s. Winds will shift out of the southwest and subdue some to 5 to 10 mph.
How To Watch
Follow livescoring on UDisc Live. For video round coverage, see our previous post: