Final Round Recap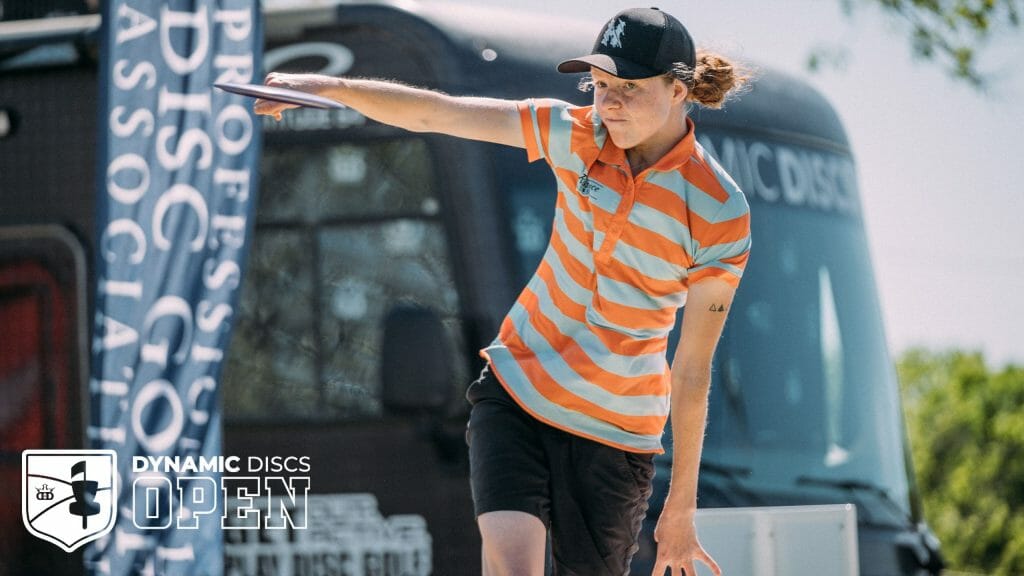 The red on Sundays is certainly working out for Hailey King.
In a scene not unlike what he saw unfold on the Open side just a couple of hours earlier, a player who led the event almost from the first tee on Wednesday was unable to close out at the Dynamic Discs Open over the back 9 of Emporia Country Club.
Catrina Allen trailed Hailey King by one heading into the final round Saturday, but slow putting in the gusty conditions allowed Allen to retake the lead with a two stroke swing on hole 5 when King two-putted for bogey. Through the next five holes, Allen and King matched each other blow for blow, birdie for birdie, bogey for bogey, and, in the case of hole 8, big putts to save par after finding OB.
Hole 11 at ECC has caused some controversy surrounding Allen in years past, and while there were no issues this year, it did still provide the drama.  Still ahead by one, Allen forced her drive into the wind but was unable to have her disc turnover, instead hugging the left side walk and finding OB. King found Circle 2 off the tee and tied the score in first with a simple par after Allen was forced to pitch up for bogey.
King took control from here. A short upshot caused Allen to bogey hole 14, giving King the outright lead. King followed it up by sticking her drive into C1X on the next hole. Allen's drive was a bit wide right on the slightly slopped hole, and had her disc stand up after hitting the grass and rolled OB in an almost unheard-of way. King hit the tester from circle's edge for a three stroke swing in two holes.
To close things out, King stuck the island hole 16 with a forehand while Allen's more straight backhand shot was batted around in the air, getting an air bounce down, and hitting the water short. Even with King missing her C1X putt she got another stroke added to her lead.
King added one more birdie on hole 17 to move to 2-under for the round and would finish in first place at the event at 15-under par total, six strokes ahead of Allen's second place total of 9-under par. For the tournament, King led the division in fairway hits and finding both C1 and C2 in regulation. Her strokes gained from tee-to-green was just north of 25, good for second place, five strokes less than Allen. King was third in strokes gained putting at 5.91, almost six strokes better than Allen. King has won both PDGA National Tour events in 2021.
As King was pulling away from Allen, the battle for third between two players from Tennessee was heating up. Heather Young was on the chase card making the move on Macie Walker, who was third coming into the day. Young's C2 birdie on hole 16 staring down the water momentarily gave her a two stroke cushion over Walker for third, but Walker responded with her own birdie on 16 to keep the difference at one. Young's got the needed birdie on hole 17, the third easiest hole to par on Saturday, but Walker used her distance advantage to get an eagle look, which she threw-in from C2. With the women tied in third, Walker still needed a big moment for it to stay that way, as her approach on hole 18 rolled close to the OB line long. After pacing out the distance, she hit an uphill, C2 step-putt on the elevated basket to save par and match Young for third place at 5-under par total. Young shot the hot round on Saturday with a 4-under par to move up two spots on the leaderboard and take one of the two Throw Pink Women's Disc Golf Championship qualifier spots. Walker previously qualified for TPWDGC at the Jonesboro Open.
Walker is not currently registered for an Elite Series event until August's Idlewild Open, and Young is also off the main tour until Pro Worlds in June. The Volunteers will be facing off at the Tennessee State Championship in early June.