Round 2 Recap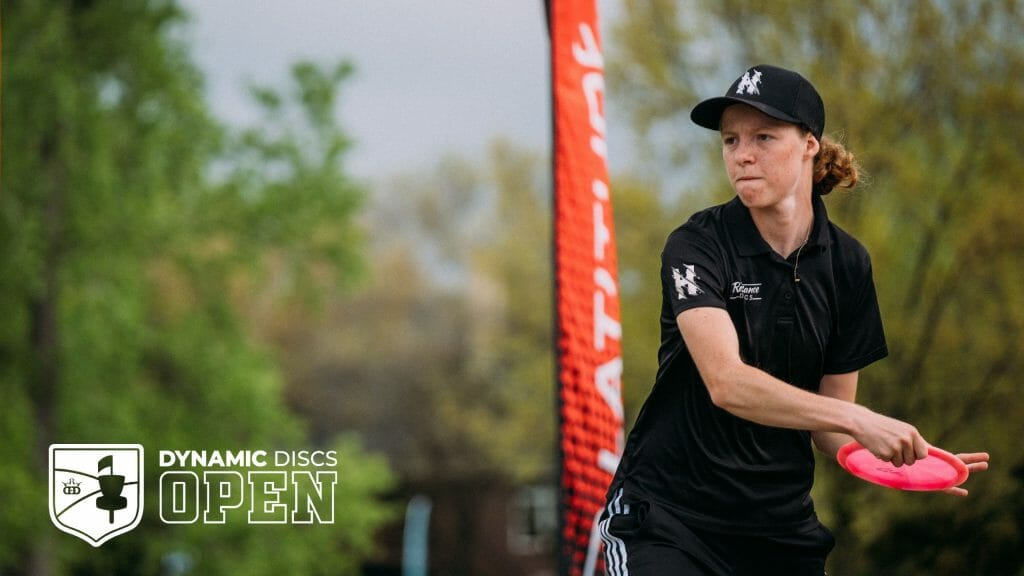 The winds were a bit up in Kansas, but with no rain to deal with during round 2 of the Dynamic Discs Open the Open Women's division responded with several hot rounds on Jones Gold.
Catrina Allen holds onto her three stroke lead and remains in first place, pushing her total to 11-under par after a 6-under par round. Besting her hot round on Wednesday by one stroke, Allen shook off a double-bogey on hole 6 and went 5-down on the back 9, including a birdie on hole 18 to finish the round. She's first in finding both Circle 1 and Circle 2 in regulation for the tournament, and currently sits at 19.66 strokes gained on the field from tee-to-green, five and a half strokes better than the next closest competitor.
Hanging right with Allen is Hailey King, whose matching 1005-rated, 6-under par second round keeps her in second place at 8-under par. She leads the division in birdie percentage, 44%, but was held back on Thursday by OB strokes that led to two double-bogeys. King has only played in Emporia once before at the 2019 Glass Blown Open. That year her best effort at Emporia Country Club was a 955-rated, 3-over par third round.
Macie Walker, on the other hand, has never before played on these courses, and she continues to keep her spot on the lead card. Walker is in third at 2-under par total after an even par today. Walker will need to be able to clean up the 33% putting from inside C1X (eight two-putts) if she wants to hold off charging players, such as Kona Panis and fellow Tennesseean Heather Young.
Panis moved up into fourth at even par with a 2-under par round in which she started with four consecutive birdies, the only FPO player to start 4-for-4.  Young is in fifth at 1-over par after going 4-down on the back 9 Thursday.
Going 5-down on the back 9 and notching three C2 makes was Maria Oliva. Her 4-under par round moved her up 11 spots into sixth at 2-over par.
Heard
"Maybe around hole 16 I told myself I really got to dig deep. I felt, not physically, but mentally I was catching myself out of the zone. The way I felt the first few holes, I was really feeling it. And then as the day went on I could tell I was kind of going over here a little bit instead of staying focused." – Catrina Allen, on a long day of disc golf that started at 8:30 am.
Statline
In the 2019 Glass Blown Open, Catrina Allen held a nine stroke advantage after round 2 with two remaining rounds to be played at Emporia Country Club. Paige Pierce would whittle down the lead, gaining three strokes in round 3 and five in round 4, before eventually losing to Allen by one. Allen and Pierce were tied heading into hole 18 of the final round, and Allen earned the win with a birdie after finding Circle 1X off her drive.
Highlights
Catrina Allen lacing a drive on hole 1.
catrina allen hole 1 drive rnd 2 ddo