A little bit of landscaping went a long way in my practice routine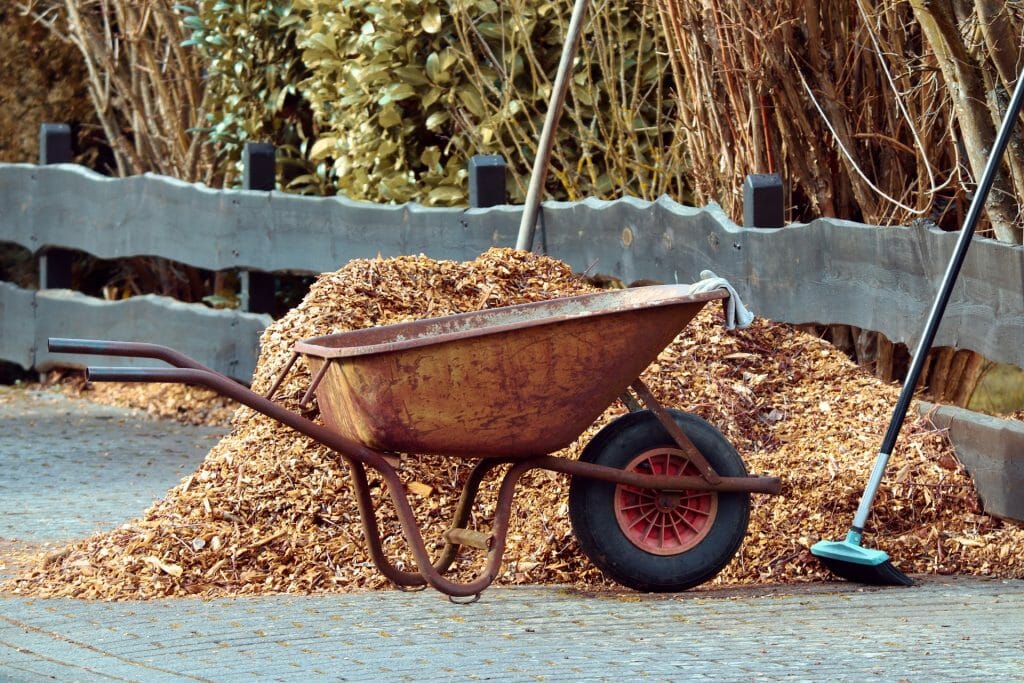 For years as an intown resident I bemoaned my lack of adequate personal outdoor space to set-up a practice disc golf basket.
My one bedroom apartment barely had enough space to store my bag without feeling cramped, so even a foldable target to take to the park was out of the question.
When my wife and I moved into our first home, I became one of the fortunate with a yard and enough room for a practice area. I am rarely able to get out and enjoy full rounds of golf anymore, so being able to pick up discs and at least toss a couple putters for five minutes felt like such a privilege and I immediately procured an inexpensive basket.
Unfortunately, my enthusiasm for backyard putting had waned within the first year at our home. This year will mark four years since we moved in and I still wasn't feeling my home putting experience.
A quick description of my situation and how it went down hill.
Our backyard is accessed by a side door in the kitchen that leads to a patio beside the house, and the yard area runs the length of the house but is not very deep. A shed also takes up a bit of space which cuts down on usable area. A fence is at the end of the house so this entire area can be closed off, which is important because I feel guilty being outside if I don't also let my dogs run around with me. I'm basically working with a long and narrow strip of land that is not completely open.
Here's how things started to deteriorate. With the two aforementioned dogs, it is basically impossible to grow grass in any decent form without it getting torn up first. Being in Georgia, that means a lot of exposed red mud. I am not a good putter, so my practice putters get covered in mud. Then normally my dogs would be covered in mud when our neighbors who also have two dogs would let theirs outside at the same time. Our dogs like to bark incessantly at each other through the fences and it just becomes a loud mess that made everyone annoyed and retreat indoors.
I'm not much of a handy or home project type person, but over the last couple of seasons I've tried to upgrade some of the issues in the backyard. We added some extra planter areas with some greenery along the fences and a small pebble path to the shed to cut down on some of the muddy areas. It was a half-assed effort though and the basic problems still persisted.
I couldn't enjoy a minute practice putting because all I could focus on was all the work that I should be doing on the space instead of putting.
This year I bit the bullet and decided to just mulch over all the grass in the backyard. I figure at least covering the mud would keep the dogs cleaner and it also seemed more efficient as we have a soon-to-be-walking infant. I called up a local tree removal company and got a free truckload of wood chips dumped in my driveway. It look me a couple hours over a couple weeks to finally wheelbarrow all the chips into the backyard but I did it. And so far, it's cut the excess mud down to close to zero.
When doing the wood chips, I also decided to tear up some old wooden garden beds that looked terrible and replace them with beds built with stone pavers. There was still some extra pavers left over that I thought could be a nice aesthetic update around the base of my practice basket.
After a couple fresh bags of pebbles for the path and some weeding, I'm left with this much improved practice area. No, I never bothered to take before pictures because there was nothing worth looking at.
The state of the backyard in general and the practice area is far from perfect. I didn't bother to weed before dumping the mulch so plenty of grass pokes through. All the concrete needs pressure washing. I still have empty planters on the fence and on the patio. It all feels incomplete but for the first time in four years everything at least feels intentional.
And all this allows me to finally enjoy putting in my backyard. I'm not constantly worried about the dogs and discs getting muddy and I don't get preoccupied by outstanding tasks in the corner of my eye. I think all in on this "project" I spent less than $300 on stone, pebbles, and garden supplies, and maybe six hours in all spread out over a couple weeks.
As a result of this I have used my basket more in the past month than I have throughout the entire pandemic. I would dare say even that in the right light my little putting spot is downright handsome.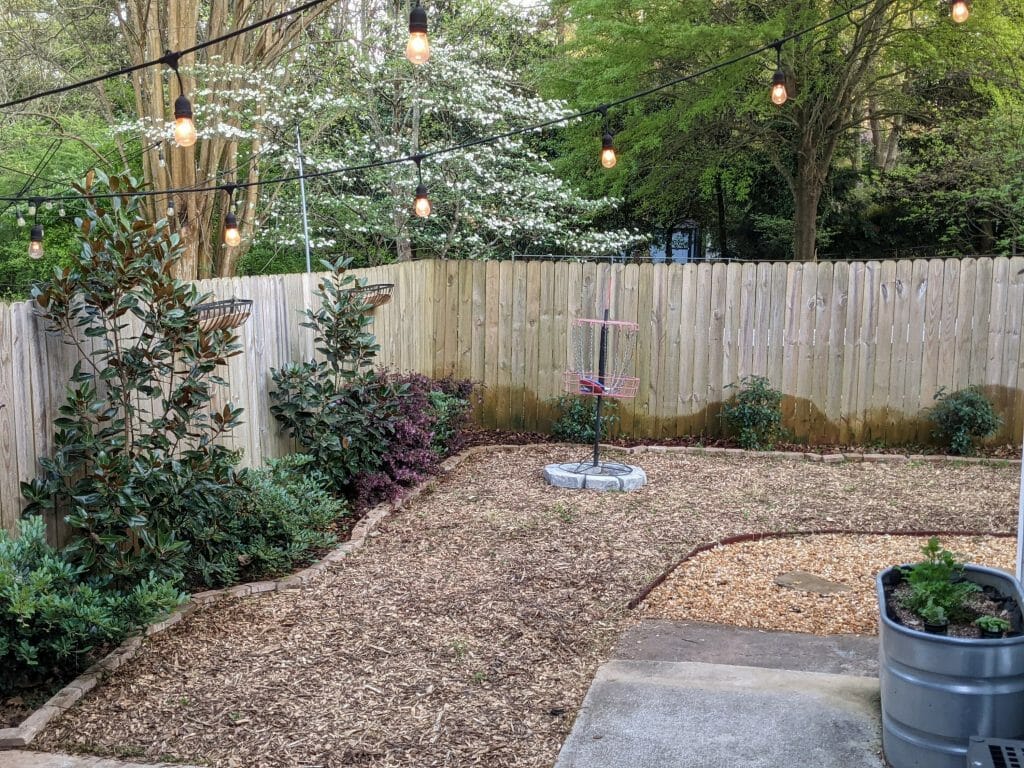 I still don't think my putting has improved over the past month but my quality of life sure feels like it has. This whole process sits firmly in the Things I Should Have Done years ago folder.
If you've lost that spark to get out and practice at your house, take the time to spruce up your space. A simple mental reset can go a long way.
Now it's time to rehab that off-brand Costco basket. I'm thinking fresh paint, new chains, maybe a custom wind sock…