Short courses are fun, great for beginners, and easy to build.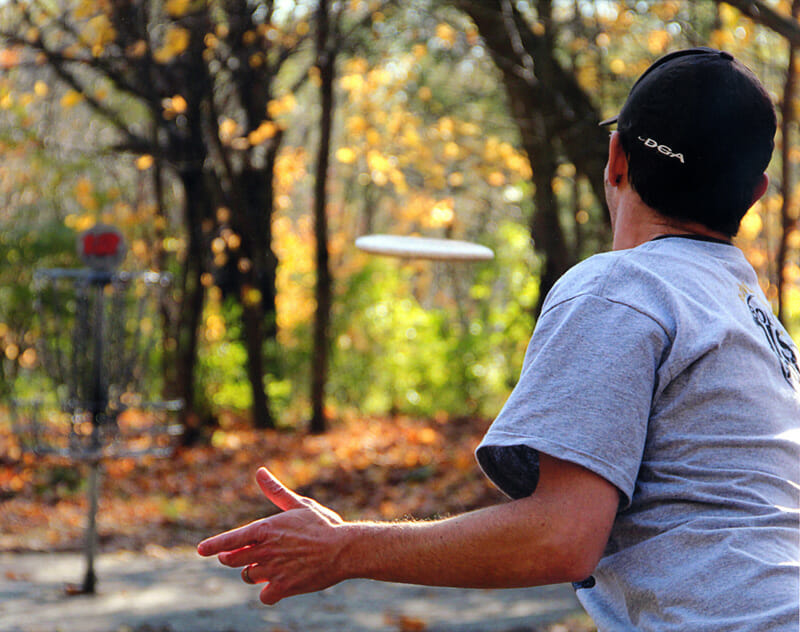 Years ago, I took a vacation to spend time with family. It was difficult to sort out what I could live without in order to fit my disc golf bag into my luggage. There was no way I was going to miss the opportunity to cross a new location off the fledgling list of states I've played in. My cousin tells me he knows just the place where we can get a round in while I'm in town. We arrive at the course, full bag on my back, and as I look out to horizon from the tee on hole one, I catch a glimpse of the basket. A mere 157 feet away. I hear chains all around me. Checking the scorecard, I realize this is not the shortest hole, with the longest registering barely over 200 feet. My cousin looks at me and asks, "What disc should I throw?"
This was my first experience with what are commonly referred to as "pitch and putt" courses. A pitch and putt course typically has a small footprint and short distance holes that do not require long or technical drives. As the name implies, you pitch one up and putt it in. Simple as that.
In the realm of modern course design, longer holes appear to be mandatory, bringing along a level of challenge and focus that not everyone is prepared for. Many seasoned disc golfers might feel that pitch and putt courses offer little to no value and commonly overlooking them when choosing where to play. To be honest, standing on the tee of that tiny course, the elitist disc golfer in the back of my head was wondering how I will razzle dazzle my cousin with a well-planned flex line softly landing in the fairway. Or, in most cases, sending bark through the air as my disc strikes a tree.
However, small pitch and putt courses belong on our lists of favorite courses as much as any other venue that we hold in high regard, and I am going to tell you why. They are good old-fashioned fun! While I felt a little ridiculous carrying a full bag of discs that day with my cousin, we had a fantastic time. Let's break down the elements that made it such a great experience.
Non-Stop Action
The nature of these courses provides the chance for a bevy of throw-ins and chain grazing. Make a side game with your friends where whoever hits the most metal from the tee gets a special bag tag until the next round. Many seasoned players will have an opportunity for an ace on nearly every hole, creating an action-packed round everyone will enjoy.
The fact is that even highly skilled players don't always want to cut their teeth on a gold level layout. Sometimes, you just want to ace run everything. Pitch and putts offer that leisurely option.
Great for Families and New Players
Pitch and putt courses are like the miniature golf of our sport, and who doesn't enjoy a trip to the miniature links? Short courses can be enjoyed by people of all ages and skill levels without the discouragement of trying to toss it 400 feet down the fairway. If you have a child or someone new to the sport, take them to one of these short courses and watch their eyes light up as they lay one under the basket on the first throw. Families can enjoy the game without an in-depth knowledge of its nuances, such as hyzer angles and wind play. Seriously, these courses are great for everyone.
Making Connections
In most cases, there is a very relaxed atmosphere at the smaller courses. People are there for a good time with friends and family and let go of the need for a great score. Since the courses are generally compact with a larger blend of patrons, you will find more social interactions take place. Whether it's just a friendly greeting to fellow throwers or maybe the option to give someone a little advice, it feels more like a backyard barbeque than a round of golf. In fact, there are eateries and breweries that have installed courses on site, which genuinely brings the BBQ vibe to life. These courses are great for novice and putting leagues that bring everyone together.
Small Footprint
The relatively small space a pitch and putt course occupies delivers advantages. You can play a round in minimal time. Families appreciate this at a time when children's attention spans are becoming shorter than their throws. These courses are perfect if you only have a small window of time between obligations.
Additionally, the small amount of land required means that these courses can be put in higher density urban areas, creating more accessibility for the game. Imagine an extra small disc golf course managed similarly to miniature golf in your hometown. I would gladly pay a few bucks to spend an evening with friends and family throwing putters under the lights.
Minimal Installation Requirements
Pitch and Putt courses are quite possibly the easiest to install. A modern championship level course requires an enormous amount of time and effort to design and build. Long, 600 foot fairways aren't always naturally available, creating the need to remove trees and foliage to shape a path through the woods. Smaller courses can be built in much less time, simply because there is less space to clear out or shape. Building on that, technical design elements that can further complicate putting a course in the ground are not nearly as essential with tiny courses. Typical course elements, like tee pads, are not crucial and can even be left natural considering most of the drives do not require tremendous power where solid footing can make or break the shot. With creativity and a little hard work, pitch and putt courses can be installed quickly to share with the local community.
Supports Growth of the Sport
When you combine the aforementioned elements of pitch and putt courses, you'll realize they lend themselves very well to the growth of disc golf. The rapid expansion of the sport has been a hot topic over the last year as we have seen greater demand for equipment, courses, and media content. We should be trying to match that by taking advantage of the small footprint and ease of installation short courses offer.
Imagine how great it would be if a vacant lot downtown had a micro nine-hole course you could throw on your lunch break. The example of breweries adding small courses to otherwise unused space shows the potential for businesses to add a unique offering to customers. A temporary mini course could be set up in a couple hours for special events around town. Courses located in high density population areas put a spotlight on the sport and provide opportunities to thousands of people nearby. And the beginner-friendly aspect allows relief for congested courses by providing venues for new and seasoned players alike to hone their skills.
Going to a league night can be daunting for a new player but novice-level leagues could be conducted on small courses to help break down that barrier of entry to the sport. Altogether, small courses are a tremendous resource for the sport as it continues to develop and become a mainstream activity.
***
Recently, I found myself at another course with an extremely short layout and a forgiving par. People from all walks of life filled the course with laughter, excitement, and conversation as we meandered through the 18 hole offering. I now look back at that day with fondness of the great time my group had running every throw at the basket and enjoying each other's company. Our well under par scorecards are still a topic of conversation that brings a smile to our faces.
The next time you are scanning your favorite app for courses in your area, do not dismiss those that seem unchallenging. Pitch and putt courses offer great experiences that can get a rookie hooked on the game or give seasoned players a break from the norm. It is important we embrace these little courses for their recreational purpose and infinite amusement. Do yourself a favor and take some friends and putters to one near you.