The PDGA thought plenty about other options, drawbacks.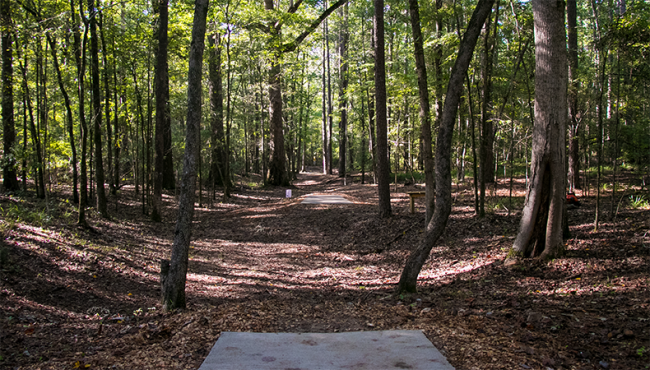 There has been tremendous and mostly negative feedback regarding the format of the inaugural 2022 PDGA Champions Cup, which is set to feature four rounds of stroke play followed by a match play tournament for the top four finishers. 
As Tournament Director, I was not directly involved in the planning of this format despite my title. However, when offered the role, I was informed that the format would not be traditional stroke play and presented multiple format options, including the one that was ultimately selected. I signed off on the format, after suggesting a number of alternative formats that were ultimately vetoed.
Many have asked why formats would switch during an event. Why can't they? Both formats are approved for PDGA play at any level based on the competition manual. At this time, there are no rules, regulations, or standards preventing either format at any tier of play.
But it seems the question is "why would you?" as opposed to "why can you?", which is fair. The Board of Directors approved the concept presented to them. The Majors Committee, led by Nate Heinold, presented this format to the board and they approved it. The Majors Committee felt strongly that in order for this event to stand out, something about it had to be different. "Oh, it's just another event with a major title" didn't have the spark like a different format did.
I've heard some ideas about how the PDGA could make the event stand out while maintaining a traditional stroke play format. While nice in theory, I have yet to hear a single differentiating factor that really makes sense. I've heard "since it's the Champions Cup, it should only feature Major champions." That would eliminate 13 of the top 20 men in the world but would include players like Harold Duvall (currently rated 906). It would eliminate 14 of the top 20 women but include players like Vanessa Chambers (currently rated 792). That's not a shot at Duvall or Chambers, but imagine the outrage if Eagle McMahon and Hailey King weren't invited.
Other ideas I've heard to make it stand out would be to have a rotating trophy (the Champions Cup itself) or host a dinner that celebrated Major champions. Those are nice, but not enough to distinguish the event: we can still do them regardless of the format.
One idea I suggested was that we follow a USDGC qualification model based on National Tour points. Unfortunately, with the uncertainty of 2021 events due to COVID-19 and players' touring schedules already mostly decided, it's unfair to change the qualifying rules now.
Ultimately, we could not think of a way to make this event stand out without a unique format. Even with the changes, this will clearly be the fourth and least prestigious of the open majors. There's, of course, no history to give it meaning.
Other alternative formats were considered. The most consistent comment I've heard is to make the tournament purely match play. This would absolutely would check the "different feel" box. However, there are big challenges.
If you set up a match play tournament, half of the field would be eliminated after two rounds of play. Disc golf is not to the point where a player can travel 12 hours, pay a $250 entry fee, practice for a few days, and then get knocked out after 12 holes. Golf can manage it because they are playing for millions of dollars each week. Also, the one funky thing about match play is you can shoot the best score out of all 64 players and still lose. To me, that's too random of a model to decide a major champion.
The "easy" solution, as many have pointed out, is pool play. You do 16 groups of 4 (and perhaps 4 groups of 4 women) and play a round robin, with the top player from each pool advancing to a match play bracket. This removes some of the flukiness, for sure. However, it would mean that 75% of the field is cut after three days, and I'm not sure how you meet PDGA payout minimums, which require 40% of a field to be paid.
Do the 75% now play an extra round to decide who finished 17th through 26th? Is there a loser's bracket to do this?
And how do we decide who the 80 qualifying players are? Is it NT points (see concerns above)? Is it world ranking? Is it player rating? And when some of those 80 players don't sign up, what's next? How do you alert the 24th alternate person on the qualification list that it's their turn to sign up? How long do they have to make a decision?
At some point, you have to have a field prepared for the event. What happens if someone registers and then backs out of the event a week before due to injury? Does that spot get filled, and by whom?
Other hybrid options were also discussed. How about three rounds of stroke play and a cut to an eight person match play? This was the most heavily debated of all the formats that didn't make the cut. The main reason we voted against it was that there are still players who finish in the top 40% and will be paid serious cash (it is a major, after all) that only played three rounds. That doesn't seem like a fair test worthy of a major for someone to get a top 10 finish. Also, for the player that signs up knowing they have almost no chance of finishing in the top four, we are now reducing their experience by one round of play.
In the end, we landed on the format that was announced. And I think this will be the hardest event in disc golf to win. You have to play four rounds on a championship course against the best players in the world. You are going to have to emerge in the top four.
And if you are skilled enough to get to that point, you then have to beat, twice in one day, heads up, two of the same people who just accomplished the same task. If someone finishes in 4th after four rounds of golf in that field and then beats two other people heads up over the course of two full rounds, that person is deserving to be a major champion.
Ask any PGA golfer what would they rather do: win six events or win a major? They will say a major. Ask them which major, and they will usually say the Masters, a few will say the US Open, and a lot of the non-North American players will say the British Open. Likely none will say the PGA Championship. But winning the PGA championship is still superior to winning six regular tour events. It's still an honor to be the fourth best major.
The Champions Cup is going to be captivating to watch, it's going to look amazing on whichever media platform covers it, and it's going to set a precedent for future events to follow. As I was reminded this week, the USDGC was the first tournament to ever drop the two-meter rule. Now, look at that rule and how little we see of it.
I can't wait to see you in Augusta in April of 2022.