Could distance tracking come to professional disc golf?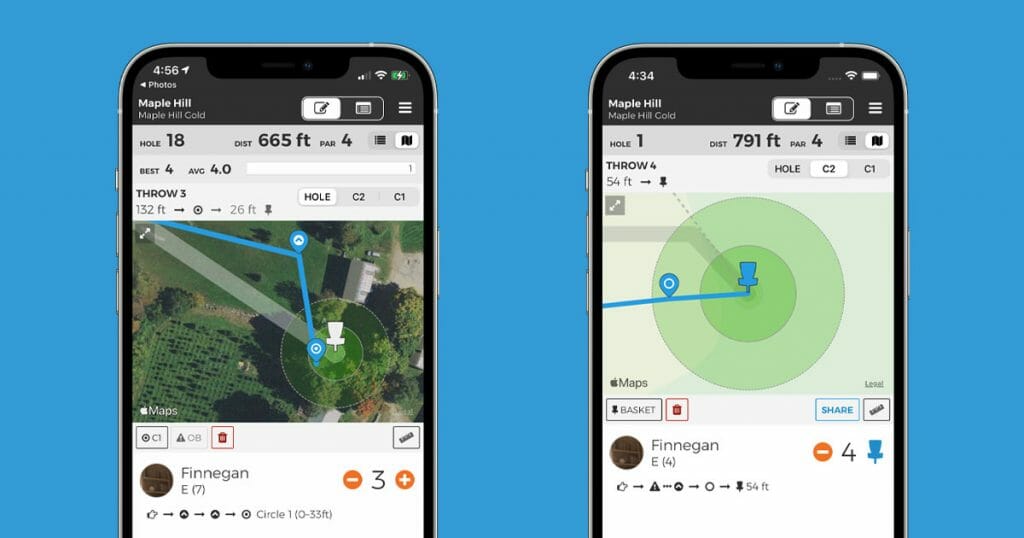 UDisc, the scorekeeping and course finding disc golf app, announced today a new map scoring feature that allows users to use GPS to track their shots during a round.
The new "Map Scoring" option, only available on courses with mapped layouts, lets you visually plot your shots on each hole, either in real time, on the next tee, or edited in after the round.
"Essentially, this is the culmination of a multi-year project," said UDisc Marketing Director Steve Hill. "When we redid the app and introduced the full stats scoring — your fairway hits, your Circle 1, your Circle 2 — it was always meant to build towards this, because we wanted to be able to paint that more accurate picture."
The ability to track the distance of each individual shot — enabled by GPS location data — suggests a tantalizing next generation of disc golf statistics, where you could calculate which players make the longest drives on par 5s or hit the most putts from 30 to 40 feet. Long-term, the goal is to get players familiar with the new map-focused shot tracking with an eye on eventually adding shot distance tracking to professional disc golf score tracking through the company's UDisc Live platform.
"What we found was that it was a lot more difficult to prep scorekeepers how to keep the full stats on UDisc Live before it was on the app," said Hill. "But when it came out on the app and more people had the ability to do it in their casual rounds, it made shot-by-shot scoring at UDiscLive events so much easier."
"We would hate for something to get messed up on Paul McBeth's stats because of a lack of familiarity with this scoring system," he added.
There's no timeline for when UDisc Live will add distance tracking to professional disc golf events. Expect future updates to the app first that start to aggregate some of the distance data when it is entered — like average drive or approach distance. Currently, the map scoring feature doesn't display the shot distance data in the scorecard, but it does do automatically notate Circle 1 and 2 hits when the shot is plotted inside 20 meters of the basket.
"We want to be able to give players the ability to analyze their game a little bit more," said Hill.
Previously, UDisc had a manual shot distance tracker, in which you can set a start and end point for each throw. The new tool uses the information from mapped holes, including the tee location, to automatically calculate distance to each shot that's mapped.
The Map Scoring feature is available in the latest UDisc app update. More information about how to use the feature is available in UDisc's FAQs.