Innova: "Our support for him is unwavering."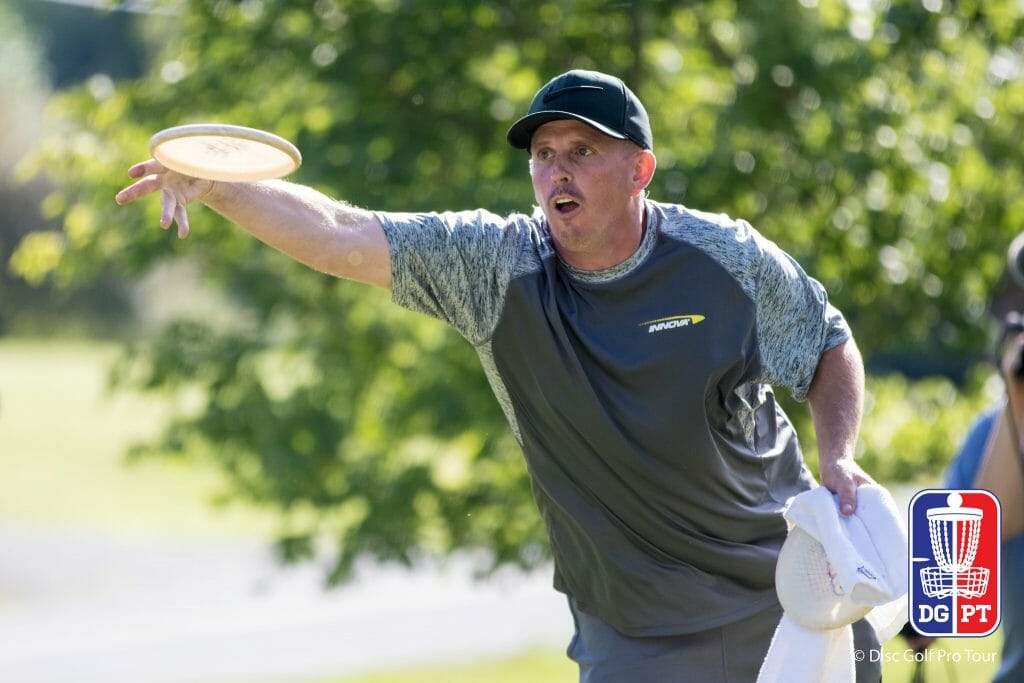 UPDATE 10/6: Josh Anthon announced via Innova Discs' social media that he will be covering up the tattoo.
A renewed discussion of Josh Anthon's tattoo that reads "white pride" has ignited a social media firestorm around Innova Disc Golf's sponsorship of Anthon, including calls for a boycott of the company.
A thread on the r/discgolf subreddit, which now has nearly 2,000 comments, resurfaced a 2017 Smashboxx podcast interview with Anthon where host Jon Van Deurzen asked him about the tattoo.
"It's something I got when my friend passed away in 1999," said Anthon. "I was 17 years old. And I'm not making excuses for it, and it wasn't nothing racist. It's just like when you see someone that has brown pride on them. And it was white pride, as being proud of what I was: white.
"Would I have gotten it again? No. But it's on me still, it's there, and it's something that I did as a kid."
The large majority of comments on Reddit expressed outrage about Anthon's tattoo and Innova's support of Anthon. "White pride" is an expression that is typically used by white supremacists and white separatist organizations.
Numerous people have reached out to Innova to voice complaints about their sponsorship of Anthon, and others have avowed to stop using Innova discs.
Uggh, just found out that @InnovaDiscs sponsors a white supremacist – Josh Anthon. Was just about to order from them for the upcoming tourney I'm hosting and…now I'm not.

What are the best non-Innova replacement discs for my Mako3, Shryke, and Destroyer?

— Kyle Weisbrod (@kdubsultimate) September 28, 2020
Innova has not replied to comments on their social media pages about Anthon but issued the following statement from co-founders Harold Duvall and Dave Dunipace to Ultiworld Disc Golf:
Josh was 17 years old when he got this white pride tattoo. To Josh, it was a memorial for a friend who passed away. Since then, he's answered questions about it with an unwavering response… he's not racist, but the tattoo was a mistake. If given a second chance, he wouldn't have got it.

We offered Josh a sponsorship because we supported the man he wanted to become…a husband, father, and competitor trying to be the best person he could be. He's doing all he can to be that man.

Josh's story is new to some, not so new to others. His is the human story. As long as Josh continues to be the best man he can be, our support for him is unwavering.
Innova has stood behind Anthon through other controversies over the years. In 2014, Anthon pleaded no contest to charges in a hit-and-run accident when a man was struck and killed by Anthon's RV. He was sentenced to four years in prison but was released early in 2017. While in prison, he earned a General Education Degree and became a Christian. Innova took "baby steps" with their support of Anthon after his return to the disc golf course.
"He's a guy that made a terrible mistake, you know, and by all accounts — we don't even know what happened. I know that it was a mistake, but I'm sure he put himself in a spot that he didn't want to be in," said Innova Team Manager Jonathan Poole back in 2017. "But he's worked his way through that. He's done everything that was required of him…It's hard to imagine anybody watching him and listening to him — watching him on the course, watching him engage with friends and family and fans in and around the course, and then watching him speak publicly the other night — to me, the proof's in the pudding right there who we're really working with. He's a great guy.
"You look at the respect he has with so many people inside the game. We're inside the game, and we look at things a little differently than the fans on the outside are gonna look at it. We're gonna be a little more in tune and listen to the friendship side of it and really get to know it."
Since then, Anthon has been reinstated to the Star Team, the company's highest level of sponsorship. He has won 49 events in his career, winning $155,000 in tournament prizes, and has finished on the podium at multiple world championships, most recently finishing second at 2018 Pro Worlds. Anthon could not be reached for comment by press time.
There has also been criticism of the Smashboxx hosts, Van Deurzen and Terry Miller, for not pressing Anthon more about his tattoo in their 2017 interview. After Anthon's answer above, Miller said, "Good enough for me," which he called a "poor word choice" on tonight's episode of Smashboxx.
On Reddit, Van Deurzen wrote, "SmashBoxxTV doesn't support or condone racism in any way shape or form. We have worked hard and been a part of an inclusive community for 20+ years. Anyone that knows us or has followed us and our work in the DG community can attest to that. We have worked recently with the [Disc Golf Network] to promote [Black Lives Matter]. We have championed the FPO and their coverage for years. We have donated our time and money to causes to help promote the inclusion in this sport. We are very sorry that this was handled this way during the live podcast. We will work on becoming better hosts and handling uncomfortable situations and topics better in the future."
Josh Anthon has only played in one PDGA-sanctioned tournament in 2020, finishing third at the Shelly Sharpe Memorial back in January. His Tour Series Boss is sold out in the Innova Factory Store.