Support -- but no formal sponsorship -- coming from the company, team manager says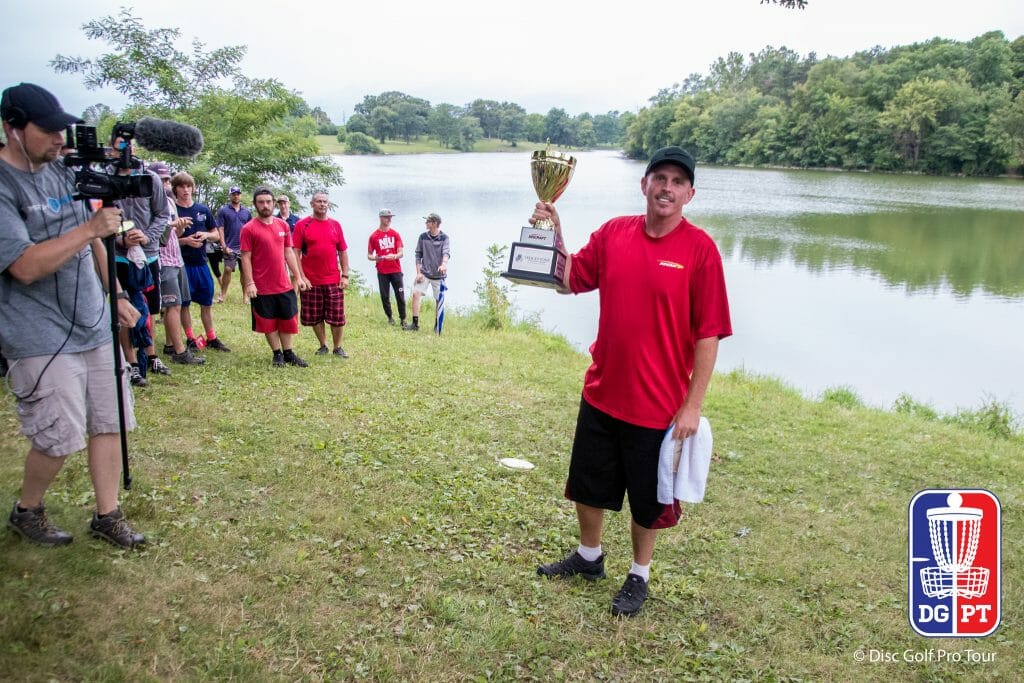 Josh Anthon's dominant victory wasn't the only surprise to come out of the Ledgestone Insurance Open. That he showed up to the event wearing an Innova Discs jersey also raised eyebrows.
The Northern California pro was sponsored by Innova from 2002 until his arrest in 2013, which was related to a fatal hit-and-run. Now back playing tournaments after serving two and a half years in prison, Anthon does not have an official sponsorship deal with the company, Innova Team Manager Jonathan Poole confirmed to Ultiworld Disc Golf. But the two sides have been discussing a reunion.
"We're taking baby steps here," Poole said. "Josh is not — he's not formally on the team, although we've always supported him personally and we've supported him with gear and things this year. But when we met face to face in Augusta [during PDGA Pro Worlds], we pretty much agreed then that we needed to kind of ease into it, and that's what we've done. There isn't a formal arrangement like there would be with some of our other top athletes."
Poole said that the company has been in contact with Anthon since the beginning of the season, but that if he were to return in an official capacity that it would likely not happen until next year.
"I know that he's wearing Innova and he's throwing our stuff, and he's told me that he had no intentions of changing that whether we sponsor him or not," Poole said. "It's just one of those super sensitive things where we want to do what's best for him, first and foremost, and what he believes is best for his family. If that means, you know, keeping things low key and informal, we're prepared to do that. If he wants to be a formal part of the team, I think that is something [where] we probably wouldn't look at a full reinstatement until 2018 just because he's a Star Team-caliber player, and the way that it works these days — with Tour Series discs and social media promotion and all the things we like to do for our Star Team members — it's not like, 'OK, Star Team, you're in. Let's go.'"
A message to Anthon was not immediately returned, but he expressed his desire to rejoin Innova during an interview on last week's SmashboxxTV podcast.
"I've been in talking with them since I've gotten out," Anthon said. "There's never been no hard feelings, and hopefully in the future I'll be back on the team and back there officially. Whatever decision they make, I'll support."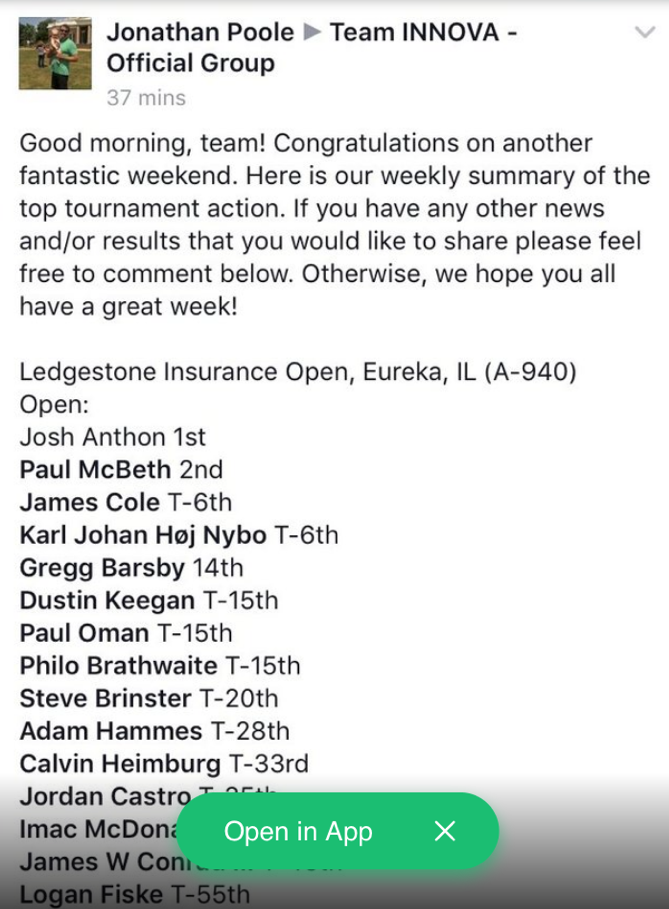 The intrigue regarding Innova's relationship with Anthon amped up slightly after an unknown team member leaked a screenshot of a private Innova Team Facebook post to Reddit's r/discgolf subforum last Monday morning. The now-deleted photo showed Poole congratulating the company's team members on their Ledgestone performances and listed Anthon among that group.
Poole confirmed the screenshot's legitimacy, but said Anthon's inclusion in the post was an indication of professional respect and loyalty as opposed to confirmation that he is a full-fledged team member.
"I guess when I included that in my weekly team summary, it's as much because he's always been part of the family," Poole said. "If he does well, we're gonna acknowledge that he does well. Unless he's throwing for somebody else, to me he still deserves the right to be mentioned, because he's been an important guy for us for a long time."
On that same note, Poole said that if Innova did end up working with Anthon in a more formal fashion, the company would rely on its longtime relationship with the player as opposed to worrying about negative feedback or any possibility of losing business from people who are against the move.
"He's a guy that made a terrible mistake, you know, and by all accounts — we don't even know what happened. I know that it was a mistake, but I'm sure he put himself in a spot that he didn't want to be in," Poole said. "But he's worked his way through that. He's done everything that was required of him…It's hard to imagine anybody watching him and listening to him — watching him on the course, watching him engage with friends and family and fans in and around the course, and then watching him speak publicly the other night — to me, the proof's in the pudding right there who we're really working with. He's a great guy.
"You look at the respect he has with so many people inside the game," Poole continued. "We're inside the game, and we look at things a little differently than the fans on the outside are gonna look at it. We're gonna be a little more in tune and listen to the friendship side of it and really get to know it."
If the time does come where the two sides reach an agreement, Poole emphasized that it would be a joint decision.
"Our heart was broken for everybody involved when he was going through his situation, but we're not gonna stop loving the guy," Poole said. "We're not gonna stop caring for the guy. We're not gonna stop supporting the guy in whatever way we feel like we can. But at some point, those discussions become a 'we' thing, not an Innova thing. He has a seat at the table, too."