While taking time away from tour, Walker shares her thoughts and photos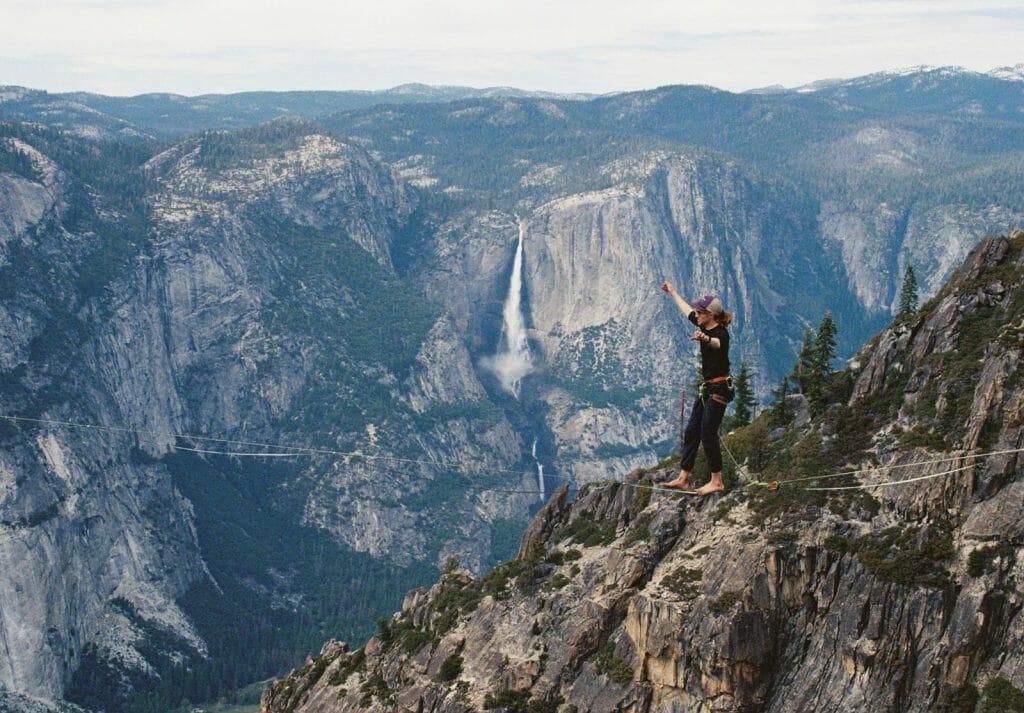 Innova Star Team Member and Pensacola, Florida native Madison Walker is taking some time off of the tour for right now, but it doesn't mean she's out of the game.
While catching up with Walker, she shared her thoughts on the state of women in disc golf, a rather chilling story, a few of her favorite pictures, and some of the many interests she uses to keep the basket chains from being a different kind of chain altogether.
---
Ultiworld Disc Golf: What is the biggest change in the sport that you've observed over your career so far?
Madison Walker: I don't know if it's because I'm hyper-aware of women's disc golf because I'm an advocate, or if there really has been a big change, but women's disc golf has made huge strides. This does not mean it's time to rest or slow down, or that all problems are solved.
On the elite level, there are huge numbers of women rated above 900 and 950, whereas when I first started touring six years ago, being above 900 was a feat, and being above 950 meant you were one of the top five women in the world. More and more women are coming out to tour events and playing up, and I feel like I meet new regional women every single weekend while on tour. Tournament directors are taking the time to thoughtfully design and install women's tees, the Pro Tour has given FPO primetime media spots, and USWDGC had a record number of location bids in 2020.
At other levels of the sport, women are flourishing. I see full women's cards at local events, I see huge active women's leagues in major disc golf areas, like Portland and Michigan, I see more and more women coming out to clinics, and I sign autographs for little girls just starting out more than ever! Women's Global and organizations like Throw Pink are household names, and more women than ever are taking leadership roles in their local disc golf communities! It's a good time to be a woman in disc golf, and I say this with a HUGE nod to all the women who have worked so hard to get us here — Val Jenkins, Des Reading, Elaine King, Juliana Korver, and all the other women who have continued to show up.
UWDG: What about for you? What has changed about your experience of the game?
MW: I had a bit of a weird start in the disc golf world. I started touring before I really knew what the competitive aspect of the game entailed. A lot of people start local, work up to bigger regional events, and eventually, when they feel comfortable, start touring at the elite level. Then there was my situation. I jumped right in, signing up for 2014 Pro Worlds with my only experience beforehand at a few B- and C-tiers. Next thing you know, I was on tour full-time with Paige Pierce starting in February of 2015, and as cool as it seemed at the time, it set me on a weird course. Jumping into the scene so quickly didn't give me that good, accomplished feeling of working hard for something you love and earning it. Being a touring professional just fell into my lap, and my mental space showed that suddenness. I took a lot of it for granted, and my brain didn't have time to catch up with my ego that was just trying to have some fun.
Since then, I have been forced to take the time to put in work and truly learn how a Frisbee flies. I have had multiple injuries — physical and mental  —  that have forced me to essentially start over and re-learn how to approach the game of disc golf. I have had to figure out my form, my style, my routines, and my mental strategy while out on the road competing, and for years, having to do that didn't leave me with much room to do the most basic of things and be grateful. I finally started feeling settled into my game in the middle of 2019, and for the first time, I had the space to feel thankful specifically for my occupation of professional disc golfer, instead of just identifying with how much I enjoyed traveling for a living.
And in some sort of cruel cosmic joke that the universe sometimes seems to enjoy playing, I was hit with a season-ending injury at the peak of my game in August of 2019, days after winning 2019 Pro Worlds Mixed Doubles with Zach Melton. Still trying to figure out what I'm supposed to learn from all this, but I'm trying to focus on enjoying the process more than the desired outcome.
UWDG: How do you think the sport is doing at attracting other women to the game? What could be done better?
MW: I think there is always more we could be doing. But there are so many people who have made women's disc golf their focus, and that care and dedication is making noticeable changes everywhere you look. The people putting in the work are doing a great job carrying the load, but we need all hands on deck.
On the professional level, I would love to see more of the Open men be outspoken about supporting women's disc golf. I would love to see more MPO players out watching FPO rounds, throwing and promoting women's signature discs, putting on women's only clinics, and mentioning FPO in their interviews and on their social media. When everyone's favorite MPO players become vocal advocates and outspoken fans, I think the rest is history. I would also love to see more commercials on the live coverage with women disc golfers. All it takes is one commercial for a little girl at home to see someone like her playing disc golf, and boom, it's normal and it's an attainable goal. Finally, I hope that local tournament directors take notes on FPO course design and consider integrating it into their own layouts. Women's tees make the course more fun, more competitive, and more scoreable, and that WILL get more women coming back.
On other levels in the sport, I feel so good about what's happening locally. I get messages all the time from clubs, putting leagues, and event directors about what they can do for attracting and retaining women, and some of my common responses are lowering initial entry/membership fees, having extra prizes for best women's score, and incentiving women for bringing their friends. Also, I know everyone has seen things that make women feel uncomfortable participating in a majority male sport, and when you do, STEP UP! You don't have to be in a leadership position to say something, and say it loudly. For those putting in the work, big ups, and for the women stepping into leadership positions, BIGGEST UPS.
UWDG: What would you say to a woman who might be on the fence about going pro?
MW: Everyone is different, and a few years ago I would have told women to jump in at a high level even if they weren't ready; however, I now know too much too fast can be a deal breaker for getting a woman to come back. For those charismatic women that are super cool with being out of their comfort zone, DO IT! Sign up for the pro division at a high level event and enjoy the ride! It will be a crash course of information, but do it regularly, and you will improve shockingly fast. For the women that aren't ready to jump off that cliff, start competing locally and do it often! Play as many B- and C-tiers as you can, regardless of what division you are playing in, and if possible, play up! If you are comfortable in Intermediate, try a few weekends in Advanced. If there are no other women at your event, play in the men's division closest to your rating. The experience on the course with people who are better than you is the key to learning how to round out your game and how to feel comfortable in competitive scenarios. And remember, I've been doing this for six years, and I STILL get butterflies on my first putt of the round EVERY. SINGLE. ROUND.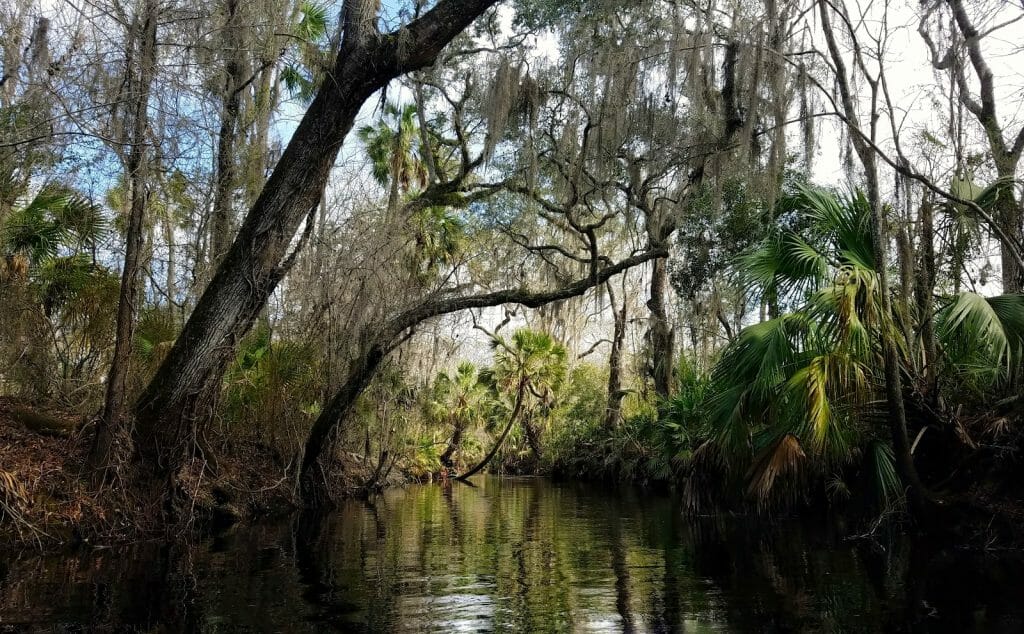 UWDG: You're from Florida, right? How do you think that coming up playing in that area prepared you for being a professional tour player?
MW: I'm from Pensacola, way up in the Panhandle in the first county outside Alabama. When I first started playing, PDGA events were not a thing in my area. I played only Southern Nationals events, and didn't buy a PDGA membership for almost a year after competing fairly regularly. There were not any championship level courses in my area, and to be good at disc golf, you needed to be able to throw 250 feett and scramble in scrubby forests. When I hit Portland Worlds in 2014 and played my first practice round at Milo and followed it up at Blue Lake, my mind was blown. I didn't know disc golf existed in this plane. But being good at technical shots in the woods and feeling comfortable scrambling with a forehand and many overhand shots allowed me to be competitive regardless of lacking a backhand or a distance shot in my bag.
UWDG: Do you have a strange story from the course? Something weird you saw, or something that happened to you?
MW: Literally every round I play with Zach and Calvin Heimburg is strange, and watching them is always weird.
But for real, my first year on tour, fresh out of Florida, I was playing the Pendaries Village Open in Northern New Mexico at a mountain course situated at 7,500 feet of elevation. Mind you, I had never played much more than 500 feet above sea level at this point — the highest point in Florida is 345 feet. It was the last weekend of April, and we were playing our first competition round, enjoying T-shirt weather for the first handful of holes. I was on the struggle bus, having only had one practice round at the extreme elevation and trying to grasp how my Tern was flying like a beefcake Destroyer, and why my putters weren't even getting to the basket. I was trying to craft my game play, when all of a sudden, the wind picked up out of nowhere and the temperature had to have dropped 30 degrees. I was back of box, and after everyone teed off in the freshly gusting wind, I lined up my shot. Before I could start my approach, I felt something sting my cheek, and when I paused, the sky opened up and thick, wet, stinging ice blobs started pouring from the sky onto all of our bare-skinned arms and legs. I had no umbrella, no hat, no gloves, no nothing. Just me, a helpless Floridian, and the elements, literally on top of a mountain. I felt like a cat in a bath, and before I could get over the shock and move into grief, the hail/sleet stopped and the sun came back out. It was unreal, and the most out of my element I've ever felt on a disc golf course. Close tie to the nine holes of random snow we played in at Jonesboro in 2018.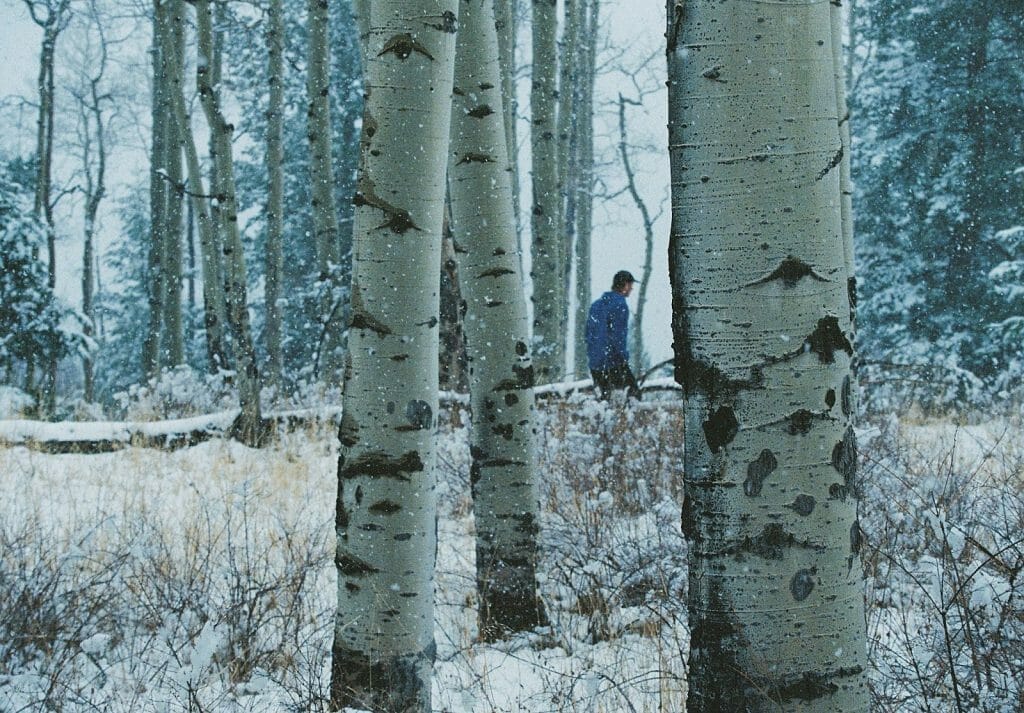 UWDG: People talk about their Dream 18. I'm interested in your Nightmare 18! Can you think of a few holes that would go on your most frustrating course?
MW: Oooooh, I'm about to roast some people! The Las Vegas Challenge Adidas course from a couple years back comes to mind. Any course with multiple baskets on hills with greens sloping towards out of bounds is a big no-no for me. Also, OB inside the circle once or twice during a round is okay, but it's garbage when it's a regular occurrence. A great example of a bad green is hole 3 at Sunset Hills during Ledgestone.  Veteran's Park in Arlington, Texas with no fairways and forced blind sky hyzers over grabby bushes with two-meter rule in effect was, in my opinion, particularly unpleasant. Some of the holes from the Country Club at Glass Blown Open last year made me feel hopeless, especially watching the FPO field chip up 60-100-foot upshots while being forced to play multiple 400-foot par 3s.
UWDG: Do you catch yourself needing to get out of the touring mindset? What do you do to get away from plastic and chains for a while?
MW: Honestly, I think that is my strongest skill in disc golf, is not thinking about disc golf.  I am a woman of a million hobbies, and I have no problem with coming up with ways to get my mind off tour when I need to. Paddling, hiking, camping, fishing, music, biking, reading, bird watching, foraging, artwork, crafting, you name it, I'm into it. I love being outdoors, and I love learning about all things flourishing in the outdoors, so it makes it easy to find activities when you're surrounded by what you love! It also makes it easy for me to get out of my head in the middle of a bad round by hanging out off the fairway flipping logs looking for creatures. Fun fact, after I started doing this myself during rounds, I decided to see if it helped other people. Now, while not on tour, every time I see Calvin struggling on the course, I text him and tell him he has to send me pictures of five cool things during his round. Examples of cool things: mushrooms, insects, flowers, salamanders, frogs, etc. It sometimes works, but some days I can't do anything to keep him from sucking.
UWDG: What's your favorite state in the US for Disc Golf? What about for natural beauty?
MW: For disc golf, Virginia is best, HANDS DOWN. East Tennessee, North Carolina, and the entire New England area are also killing it. Also, can't forget about how much I love DeLaveaga.
For natural beauty, I can't even begin to decide. Oregon, Montana, Washington, Utah, Wyoming, New York, California, Florida, GAH! I'm in love with the natural beauty of the United States!
UWDG: I love your Instagram. I've heard you say before that if you're not playing, you're taking pictures. Do you have a favorite pic you've taken?
MW: I am @oldmadandthesea on Instagram. I chose this username right as Instagram for Android started in 2012, when, at the time, I was obviously reading a lot of Hemingway. Since then, I've grown up a lot and started making better decisions, like reading more female authors. But seriously, my Instagram has always been more of a place for my thoughts and photos than it has been for advertising and growing a brand, like a lot of people use it for these days. I feel so strange using it as a marketing tool, and let me tell you, trying to use it in that way feels forced and awkward every time I try it. It feels silly to feel so connected to what I post on a dumb app, but like I said, it's more about loving this as an outlet for authentic expression and sharing than it loving a convenient way to sell you my newest signature disc. (Speaking of, keep an eye out for a lightweight fairway driver with my name on it reeeeaaal soon!)
But yes, you are correct. If I'm not playing, I am constantly taking pictures. Also, if I am playing, I'm still constantly taking pictures. I pretty much always take pictures all the time, it's truly excessive. And it's not like I'm not doing anything of high quality, I only specialize in using my crappy little phone camera or my mom's crappy old film camera. I've been budgeting a nice camera for a really, really long time, but the salary of a professional disc golfer has not let me afford the luxury of a fancy camera. Or maybe I have prioritized the purchase of a used mountain bike and a fly rod over said camera. Who knows? Maybe one day.
Favorite photo: it's an expired film photo of some pitcher plants at my favorite bog behind hole 9 of one of my home courses.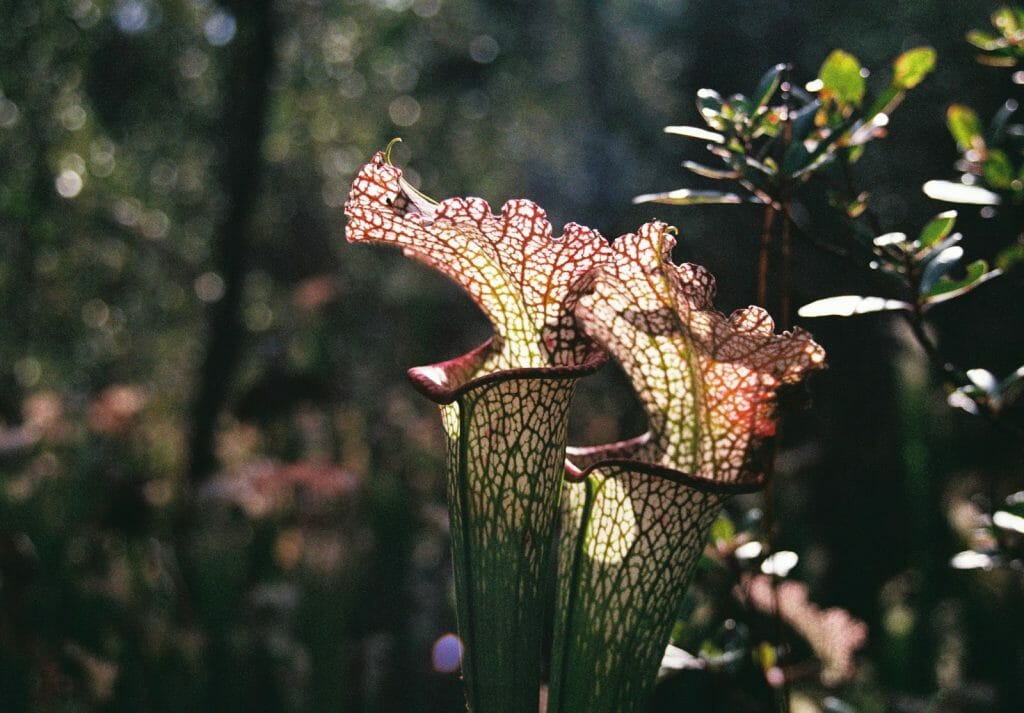 UWDG: You've also said music is a big deal for you. Do you have something to play with on tour? Have you played with other disc golfer/musicians you'd like to shout out?
MW: I played piano for 11 years, which gave me the ability to be able to plonk around on various musical instruments with my friends since I was a youngster. Besides nature, music has felt like one of the most defining factors of the human I am today. I grew up posted in front of MTV watching music videos, I used to make mixtapes with my karaoke machine/tape player as a kid, and my first favorite CDs were Alanis Morissette, Prince, and No Doubt. I started sneaking in to local indie shows starting at 15 and was living for music festivals as soon as I was allowed to go alone. In college, I spent every Friday afternoon after class on my bed with my huge fancy headphones downloading music and exploring new bands, and even as a biology major, I took classes like Jazz Improvisation and Ethnomusicology as electives. I still create and believe in the power of a good mix CD, and my biggest purchase (besides my car) in the past few years was a refurbished 1978 turntable and receiver with enormous matching wooden 1981 speakers. I have toured with a banjo in my tiny Honda Fit for the past three full seasons, and have had the pleasure of jamming with Peter McBride around a campfire or two. If you ever need a playlist, my Spotify is under 'Madison Anne Walker' and trust me, I gotchu dawg.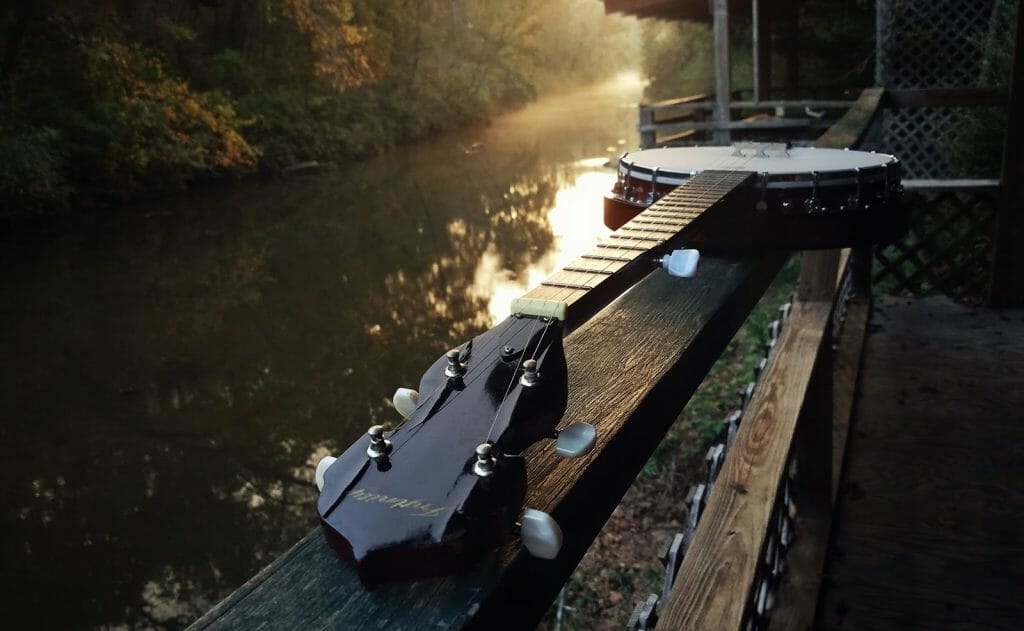 UWDG: What are your plans for the rest of the season?
MW: In August, I announced that I would be cancelling my 2020 tour because of issues I have with touring during a pandemic. It's also a blessing in disguise, because I am still on the back-end of nursing my finger injury from 2019. I am having serious competition FOMO, but my current life situation has made things a little easier while social distancing from an RV park with one of my best friends in Montana. While here, Montana local and one of my other BFFs/fellow hot goose, Erika Stinchcomb. and I plan on releasing some disc golf video content. I also hope to have some of my artwork made into stamps and will ideally be selling some sweet limited released discs before 2020 wraps! Aside from disc golf, I plan on doing at least two more overnight float trips on whitewater rivers, getting on a highline in Utah, and spotting my first Golden Eagle in the wild!