Prepping for a big tournament.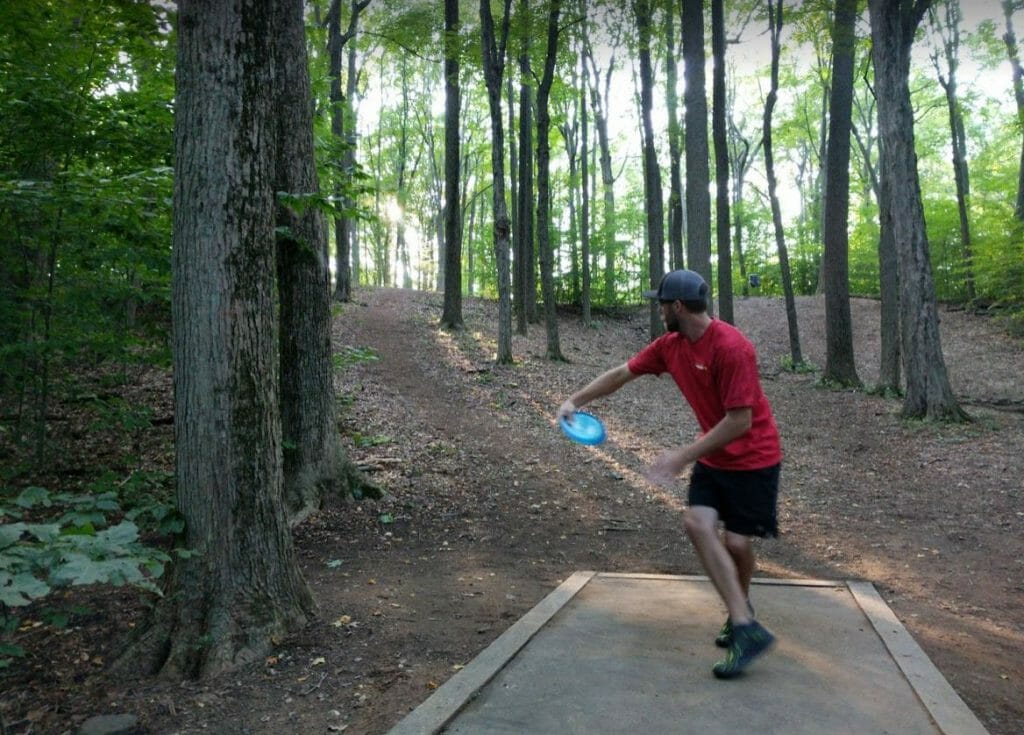 Thursday, 8/20/20, 6:11pm – West Hartford, CT
Tomorrow, I have the rare privilege of playing on a feature card with some of the best players in the sport at my home course, Wickham Park in Manchester, Connecticut. Simon Lizotte, Steve Brinster, and Cam Messerschmidt will join me on the card.
Most years, the Greater Hartford Disc Golf Open (GHDGO) is an A-tier nestled into the Northeast tour circuit including the Maple Hill and Smuggler's Notch tournaments. As opposed to past years, this year Wick has been smoothed out from 22 to 18 holes, including a few that were merged together to increase the difficulty. In past years par rated about 970; I am rated about 970. I think the new layout will play harder.
I thought, given my role around here as a tips writer, that I should share some thoughts on the weekend, including the work I've been doing to get ready.
Practice
I put in a few rounds of practice golf over the past couple weeks (I am a teacher, mercifully on vacation), but the fact is I play competitive league rounds here all the time; I know this course up and down. So the practice was slanted towards those new holes that I am not familiar with. I brought a few extra Roadrunners to practice the second-shot roller off Hole 5, ran down the hill to retrieve them, and threw them again. I brought a few extra Firebirds to practice the forehand roller on Hole 9 (in its alt position which we don't use in league), and eventually gave it up when I realized that it isn't the line for me. The point is, just playing the course isn't practice. Practice is deliberate and purposeful and limited in scope. Hopefully, the practice shows in the 6-8 specific shots that I put the extra work into.
Today, the day before round one, I went out with just some putters and mid-ranges to give the arm a break. I walked each hole, stood on the tee pads that I've stood on a million times, and visualized what I wanted to happen. Then I walked to where the drives "should" land, practiced the up-shots, and then practiced a few putts from the most likely areas. Hopefully the rest pays off.
Traps
There are three traps that I'm going to be on the lookout for this weekend. I'd like to think my past two year's experience has taught me a couple things:
– Being more accustomed to one-round C-tiers, I'm not used to playing with tee times. Cards go off every ten minutes, and you are expected to check in right as the prior card sets out. That means there are ten minutes spent looking down off the 600' pro tee of Hole 1. That ten minutes is that baffling kind of collapsing time that I'm sure we are all familiar with from some experience in our lives (the moments before you walk down the aisle, the moment the phone finally rings after a big job interview) where the first nine minutes take about an hour, and the last minute is over in a second.
You wait and you wait and you feel yourself getting cold and you feel yourself sensing four different wind directions and you feel yourself wondering if you should switch discs and you feel yourself pacing and you feel yourself yawning but it's not because you're super relaxed, it's because you're breathing short and not getting enough air… and then you hear your name and it's time to throw.
It is a tense time, at least for me. So this year, I'm keeping my phone on me until it's time to throw, and I'm setting 5-minute timers in those last ten minutes. The first five minutes, I am going to sit by my bag and go through my tee shot discs one by one. I'm going to hold them, and I'm going to visualize how they will look in flight. In the second five minutes, I've got a short, light stretching routine (that I practiced yesterday, with a timer) that will help me feel loose and ready, and more importantly give me something to focus on besides the collective ~140 rating points I'm giving up to my cardmates.
I am also used to playing in the Northeast, which means most courses are relatively short and wooded, and not much more than par-54. Suffice it to say, experience has taught my brain that a 2 is good, a 3 is fine, and a 4 is bad. This course, however, has at least eight holes that are or could reasonably be called par-4s, mostly due to length. Now, Simon is going to birdie basically all of these, probably easily. I am going to have to work to make par. The trap to avoid here is the Try Harder Trap, which is a fool's game. Is it realistic to think that the added adrenaline of playing feature card, of playing a "big" tournament, is going to suddenly add that much needed 50' to my best drives? Of course it isn't. I'm going to be throwing the same shots tomorrow that I was yesterday, and I have to accept where they are likely to land. I need to be on the lookout for those moments after another (good!) 4 when my brain starts to panic and I start to feel jittery and like the round is getting away from me…nothing for it but to just focus on the next shot. I just need to recognize and control the emotion.
Focus Points
One thing that I think gets golfers into trouble is a lack of a plan to keep the mind focused out on the course. I suspect that many people think, "I'll just focus… harder," which is a good start to an incomplete strategy. Focus on what? Try focusing harder on a vacuum, and I guarantee you only negative thoughts are going to fill that void. Give yourself something positive to focus on. Here are mine:
On every backhand shot, I'm focusing on two things. First, I want to keep my thumb pressed into the disc. When I get nervous, I tend to "cheat" for extra distance by rolling my wrist and forcing a slight anny. I don't want that; my discs fly better when they're thrown with real commitment, so I want my thumb pressed, my wrist angled down almost like en garde with an epee. I'm also going to focus on keeping my chest up, which helps me follow through.
On every forehand shot, two more things. First, I'm going to focus on activating my swing with my hips, not my arm. Second, I'm going to focus on following through by letting my arm out in front of my body, palm up, instead of "t-rexing" it.
On every putt, wouldn't ya know it, two more things. First, I'm keeping my weight forward, on my right foot. I have a tendency to try and find extra power by rocking back, lifting my toes up… those putts always end up releasing with too much wrist-flick and bend hyzer around the basket. Second, I'm keeping my eyes completely locked on the chain link that I want to hit until the disc comes to rest, hopefully in the basket, hopefully having struck that exact link.
Those are all focus points with strong visuals that I can hold in my mind while blocking out everything else. If I can keep my mind focused, I can trust that the execution will be there. If I'm playing with real focus, I know I can put together a good round, one shot at a time.
I'll be back tomorrow to think back on round one and look ahead to round two. Wish me luck!