Will players be thinking about a Worlds redemption?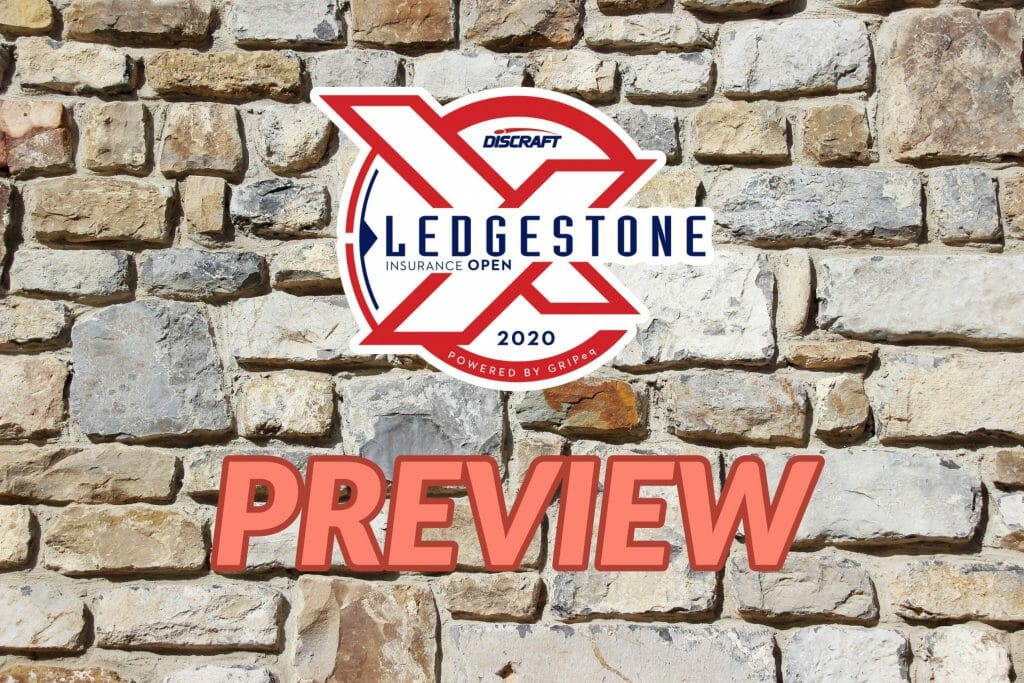 The glitz, the glam. The hustle, the bustle. The bright lights, the big city. If you can make it in Peoria, you can make it anywhere.
At least that's what Ledgestone Insurance Open Tournament Director Nate Heinold keeps telling everyone.
We're back in Peoria, Illinois for the Ledgestone Open, the tournament which usually boasts the biggest payout, and some of the most… passionate… conversations about course design and how the game should be played. Regardless of how you feel about the courses, there is no denying that Ledgestone often produces some of the most exciting finishes and play we see all year.
This is our first four round elite event of 2020, and as some of you know, it can get a bit toasty in the Midwest in August. Under normal circumstances, most players will have their tournament legs under them by this point of the season, but given the general *vaguely gestures at everything,* the lack of tree cover at Lake Eureka and Sunset Hills, as well as the intense mental challenge that Northwoods brings, we can expect the elements to play a big role in how things shake out.
For better or worse, a significant portion the conversation around Ledgestone is focused on the payout, the courses, and the TD. So, why fight it? Let's lean in and have a frank discussion on what makes Ledgestone, Ledgestone.
This year the anticipated added cash is $110,000, with a goal of $50,000 raised for St. Jude Children's Research Hospital, which is pretty amazing no matter how you slice it. Ledgestone is one of the few high profile tournaments with a high profile and explicitly stated charitable mission, which should be applauded. The added $110,000 is, frankly, remarkable, and has drawn a predictably strong field. Most of the top players are in attendance. Notable no-shows are Eagle McMahon, and the 2018 champion, Nate Sexton.
What We're Watching
How much are players going to be thinking about this weekend as a redemption to last year's Pro Worlds, played on the same courses almost exactly a year ago. Outside the eventual champs — McBeth and Pierce, who also won last year's Ledgestone — Emerson Keith was a major player on the MPO side, and Ricky Wysocki was able to pull things close during the final round. Pierce pulled away during the final round of Worlds, and Catrina Allen's putting struggles really caught up with her.
The Open Women's division is back to playing first thing in the morning. Will the time switch change anything for the women? Or will years of playing early mean a return to the norm?
Past Winners
Ledgestone Open Past Winners
| Year | PDGA Tier | Open | Open Women |
| --- | --- | --- | --- |
| 2021 | DGPT ES | Ricky Wysocki & Calvin Heimburg (tie) | Paige Pierce |
| 2020 | A/DGPT | Ricky Wysocki | Catrina Allen |
| 2019 | A/DGPT | Paul McBeth | Paige Pierce |
| 2018 | A/DGPT | Nate Sexton | Jessica Weese |
| 2017 | A/DGPT | Josh Anthon | Valarie Jenkins |
| 2016 | A/DGPT | Paul McBeth | Catrina Allen |
| 2015 | NT | Simon Lizotte | Catrina Allen |
| 2014 | A | Nikko Locastro | Catrina Allen |
| 2013 | A | Devan Owens | Catrina Allen |
| 2012 | A | Nikko Locastro | Sarah Hokom |
The Course
Sunset Hills: FPO – 7,539 feet, par 61 Caddy Book
Northwood Gold: MPO – 9,299 feet, par 64 Caddy Book
Lake Eureka: MPO – 9,665 feet, par 63 Caddy Book
As some may have noticed, for MPO,  Ledgestone is no longer just a couple laps around the Lake Eureka course, and Jeremy Koling is pumped.
"With the addition of Northwoods Gold, I believe the Ledgestone Insurance Open joins the Green Mountain Championship as the two leaders in multiple venue disc golf events," Koling said.
"It not only enhances the dynamic of this event, it enhances the tour by further displaying the beauty and importance of skilled technical disc golf. The design presents an insanely difficult challenge, testing the players' power, precision and angle control. Combined with Lake Eureka, there is no challenge you won't face at this tournament. There's elevation, wind, water, woods, scary greens, distance, OB, par 3s, 4s, 5s and even one par 6.1 To win this event you have to be an excellently well-rounded player. If someone comes out on fire and holds their composure throughout I wouldn't be surprised to see the eventual champion win by double digits. It should be a ton of fun."
FPO will only be playing Sunset Hills, a course which has proven to be eminently scoreable for the top players in the FPO field. Sunset features plenty of OB, but won't probably stretch and challenge the top level players in the same way that the Open division will be tested at Northwood. The course has been lengthened by around 500 feet compared to last year, which may be enough to change the dynamic, but only time will tell.
MPO will play Northwood Gold during rounds 1 and 2. For the final two rounds they'll be between the ropes at Lake Eureka.
Forecast
High pressure located to the north of Peoria, IL will keep conditions calm for most of the Ledgestone Insurance Open. A cold front will work across the region Saturday and Sunday, leading to a few forecast changes for the weekend rounds.
Thursday: A temperature around 66º to start the day will warm to around 86º by the afternoon hours. An easterly wind of 5 to 10 mph will be possible.

Friday: Much of the same conditions are expected. Highs will top out in the mid to upper 80s with an easterly wind of 5 to 10 mph possible.

Saturday: A much more diffuse weather pattern will set up. This will lead to temperatures warming close to 90º. Wind conditions should remain very calm. Perhaps an occasional southerly breeze from time to time. An isolated shower or storm can't be completely ruled out as a cold front begins to approach the region from the northwest.

Sunday: The aforementioned cold front should work through the region Sunday morning. This will lead to a chance of isolated showers and thunderstorms. Afternoon highs will drop back into the mid 80s. However, northerly winds of 5 to 10 mph will be possible, with higher gusts likely. 
How to Watch
It'll be the usual suspects on hand. The Disc Golf Network will have live coverage for all three rounds, and the final round will be simulcast on the DGPT YouTube channel. JomezPro will have MPO lead card post produced coverage, Central Coast Disc Golf will cover chase card, and Gatekeeper will be on third card duty. GK Pro will have FPO lead card post produced coverage. Alyssa Van Lanen will be on site behind her camera as usual, and UDisc Live will have live scoring.
As always, keep your eye on Ultiworld Disc Golf for all the latest and greatest in news and analysis.
---
not really but hole 12 at Northwood plays that way ↩