Opening Rounds Recap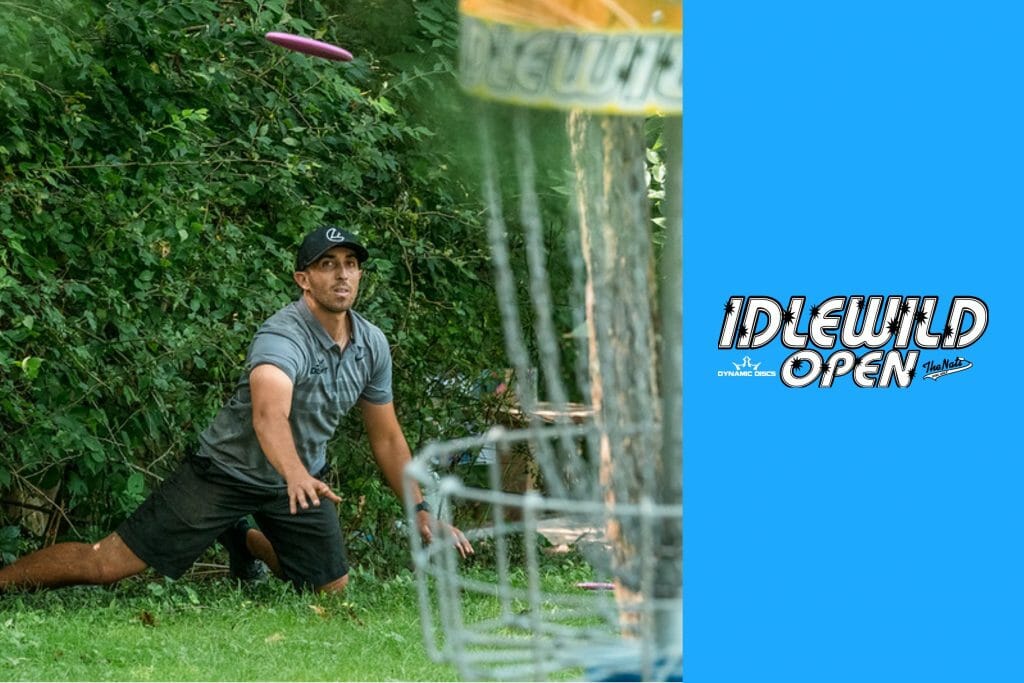 The major swings that come at the Idlewild Open showed up on day two, and while some of the leaders held onto their lead card spots, the rest of the top 10 saw major movement.
Eagle McMahon was looking ready to set a course record on Friday, and ended the day with the lead at 11-under par, but a series of miscues near the end of round 1 bled into round 2, and he's back in a tie for sixth place at 15-under par total. It started with an overaggressive run at the green on hole 16 Friday, which preempted a double-bogey on hole 18. His second round started slow, and his back 9 was an uninspiring 1-over par.
McMahon is still first in finding Circle 1 in regulation, second in C2 in regulation, and fourth in C1X putting, but ranked 55th in fairway hits.
Due to McMahon's lackluster finish to round 1, Paul McBeth was in second place, only down by one stroke, heading into Saturday. Round 2's front 9 from McBeth was 6-under par, including back-to-back C2 birdies and a bogey, and helped offset the sluggish back 9. He finished with a 9-under par round to move into solo first place at 19-under par total. He is tied with McMahon in C1 in regulation and C2 in regulation, but is hitting fairways and scrambling better.
Also keeping his lead card position for the final round and moving up a spot on the leaderboard into solo second is Jeremy Koling. It's easy to continue harping on Koling's background with wooded North Carolina courses, but when you watch his forehand abilities navigate trees it's impossible not to keep coming back to his comfort level in the forest. He matched an opening round 9-under par to end day two at 18-under par total.  He leads the field in finding C2 in regulation.
Patrick Brown dropped 11 spots into a tie from 14th after tossing an age-defying 9-under par to open the tournament. While he didn't miss inside the circle on Saturday he had trouble getting into scoring position, finding C1 in regulation on less than a third of the holes played.
Saturday's hot round 10-under par moved Jordan Castro up 14 spots into a tie for third and a lead card appearance for the final round. He's sitting at 16-under total after turning it on for the final two-thirds of the course during round 2. After recording a double bogey on hole 5 Castro was 1-over par for the day. He would go a bogey-free 11-under with two eagles to close out the round. His 7-under score on the final six holes was the best golf from anyone during round 2.
Adam Hammes also had a successful moving day, jumping eight spots onto the lead card and into a tie for third after posting a 9-under par. Hammes was sitting at 11-under heading into the final hole, which would have had him tied with Koling if he finished with a par. Instead a double-bogey and a two-putt set him back, yet still in contention. Like he is known to do, Hammes had three C2 birdies, as well as an 80-footer for birdie on hole 11.
Statline
Even with its reputation as a challenging course, Idlewild consistently gives up aces. With James "Snappy" Cole (hole 9) in 2017; Jake Hebenheimer (hole 11), Brian Earhart (hole 9), and Matthew Blakely (hole 3) in 2018; and Emerson Keith (hole 3), Ed Ward (hole 3), and James Conrad (hole 9) in 2019, all carding pole-in-ones, Idlewild has never gone a tournament without an Open ace since joining the DGPT in 2017. There are no aces through the opening two rounds.
---
The lead card of McBeth, Koling, Castro, and Hammes tees off at 2 pm Eastern on Disc Golf Network and DGPT's YouTube.