Fajkus takes down a thriller in FPO; Wysocki looks dangerous in MPO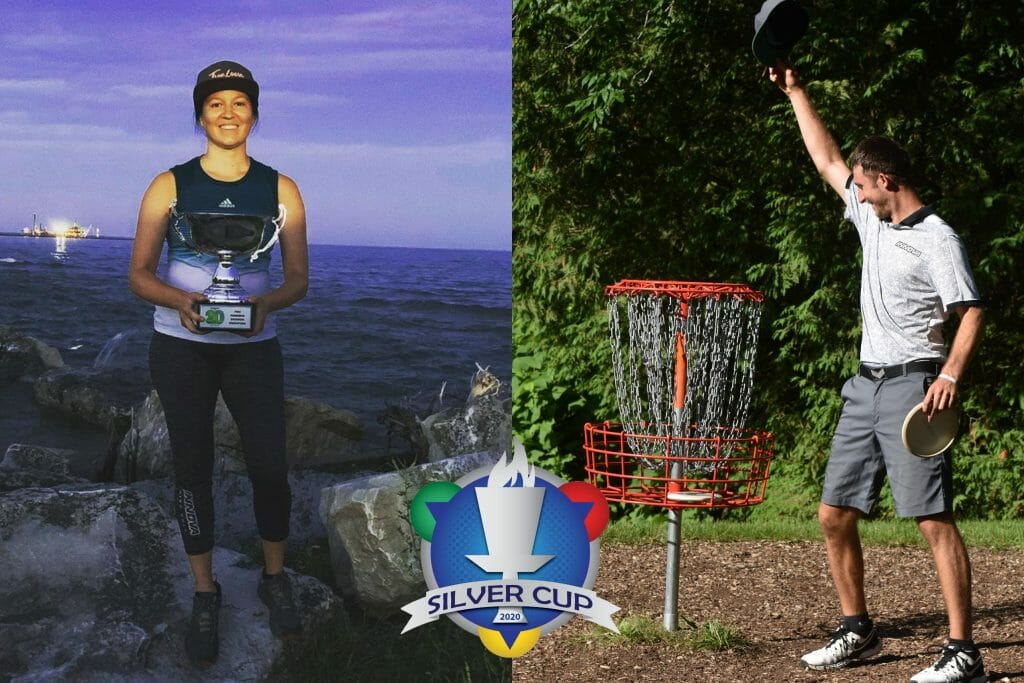 For being a Disc Golf Pro Tour Silver Series event, Silver Cup XX punched above its weight.
We knew the player registration lists were looking stacked heading into the weekend, and the elite fields delivered with lead changes and drama all three rounds.
Open Women
Coming off back-to-back dominant wins, eyes were on Paige Pierce going for her first Silver Cup win. A second round rated over 1000 made it look like she'd be back atop the podium, but scores were close and the lead would not be easy to keep.
Starting the day three strokes behind Pierce in third, Lisa Fajkus would play the steadiest of the leaders and work her way to a third win of 2020.
Fajkus first took the lead on hole 4, but would continue to rise and fall all day. Three players would hold the lead during the final round — Fajkus, Pierce, Hailey King — with six outright lead changes, not counting shares of the lead.
After Pierce fell off the pace during the round, she forced her way back into contention with a 60-footer on hole 16 and 80+ footer on hole 17, both for birdie, to tie Fajkus with one hole to play. Just before Pierce's 80-footer on 17, Fajkus had duffed her upshot to leave a Circle 2 look to save par. She would bogey.
Maybe still juiced from the big putt, Pierce early released her tee shot on hole 18 into the cabbage to the left of the tee pad. Fajkus threw her drive center cut and continued to down the fairway to finish off the par 5 with a birdie. Pierce would be in scramble mode and have to settle for double-bogey, moving her down to fifth place.
Fajkus was perfect on Sunday from C1X, and finished second overall in C1X percentage, 89%, for the tournament. She was also second in finding C2 in regulation.
Missy Gannon was the only player under par during the final round and would tie King and Ellen Widboom for second place, two strokes behind Fajkus.
Hole 18 wasn't the only trouble for Pierce on Sunday. On the five holes to start the back 9, Pierce went 7-over par, and that included a birdie on hole 13.
Deann Carey, who aced the island hole 16 at the Dynamic Discs Open, can't stop throwing the disc in. She eagled hole 18 with a 206-foot throw-in the complete her tournament.
Heard
"Not at all. Checked it on 18. I knew I was playing good, that's all." – Lisa Fajkus, when asked if she was checking UDisc Live on the crazy day of scoring.
Lead changes
Silver Cup Lisa Fajkus Hailey King Paige Pierce
Open
It was really anyone's game on the MPO side of the competition. Scores were similarly tight heading into the final round, with Ricky Wysocki one ahead of Calvin Heimburg, and James Conrad just behind him. More than 35 other 1000+ rated golfers were ready to pounce if birdies weren't falling for the leaders.
Wysocki would take care of Heimburg after distancing himself from the Floridian for good with an eagle on hole 9. The eagle was part of a six-hole stretch where Wysocki would go 7-under par, and culminated with an outside-C2 birdie on hole 13, his second long distance connection of the round. Wysocki finished four strokes ahead of second place Heimburg in the victory.
It was a complete performance over three rounds from Wysocki, which we haven't seen consistently over the short season. He played at or above his rating each day, was 96% from C1X, and finished second and first in finding C1 and C2 in regulation, respectively. He was bogey-free over his final 34 holes.
Adam Hammes shot the hot round of the event, a 13-under, on Sunday to jump nine spots into a tie for third with JohnE McCray, Conrad, and Emerson Keith, who also made a final day push for the podium.
Heard
"I think it's taken me a couple of weeks to get my mental game where I want it to be. This win is a sign of that. The only thing in mind was winning and getting some confidence heading into the big events later this season." – Ricky Wysocki on the strong showing Sunday.