Picking the best combined layout from last year's Elite Series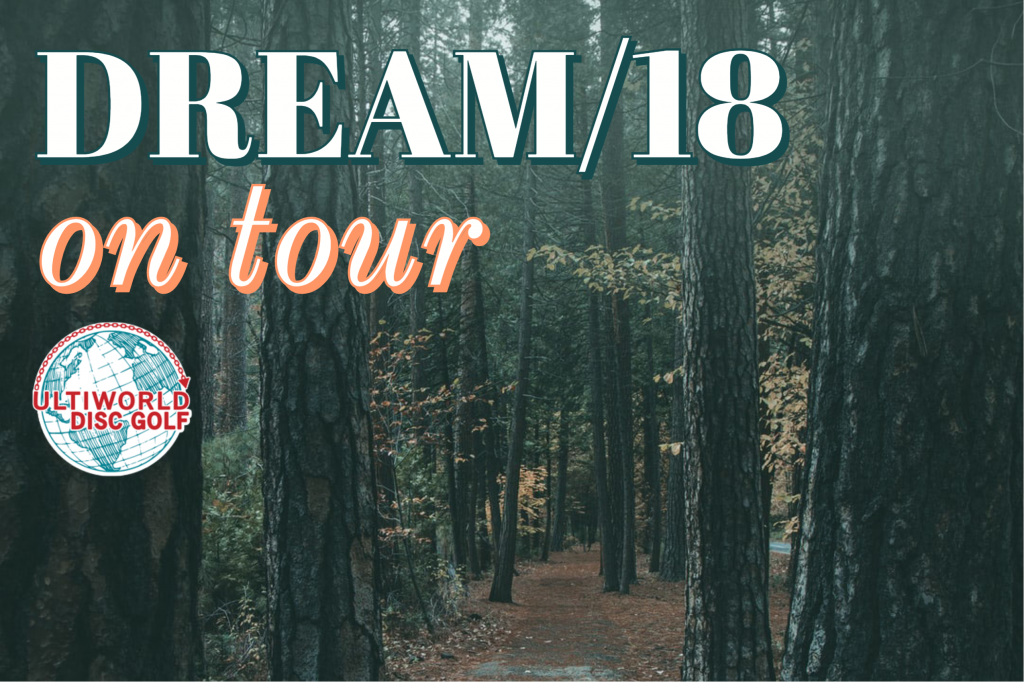 Through the front 9 of this Dream 18 round, you've already played 6,928 feet of course and have yet to encounter a Par 3 hole. For our purposes, let's pretend there's a dream bar, or a dream convenience store on this dream property. Go order yourself a dream beer…ok we'll stop. Let's get back to the golf.
A quick reminder of the rubric:
Courses must have been played by either the MPO or FPO divisions on Tour. The Tour is comprised of the Disc Golf Pro Tour (PT), PDGA National Tour (NT), and PDGA Majors (M).
The holes are only eligible to appear in the same relative position as they were played on the 2019 Tour. For example, Fountain Hills Hole #1 is eligible only for the Dream 18 Course's Hole #1 votes. Keep in mind that we are considering the tournament-specific layouts, so the numbers may not match up with the way the course plays regularly.
Ties were broken by the writers in very unscientific ways, this is for fun after all.
---
Hole #10 – Brewster Ridge – Jeffersonville, VT
 470ft. / 143m – Par 3
At first glance, hole 10 at Brewster Ridge looks like a beautiful and unassuming hole. It has a tree lined, verdant fairway that gradually opens up from tee to green where you have a basket nestled in some quaint trees. In fact, its beauty is one reason it is included on this dream 18. Yet, when you step on to the tee you see that the fairway starts out quite tight and remember that the straight throw, not to mention a 470 foot one, is the hardest line to execute in all of disc golf. Even if you pure the straight line tee shot, you may end up with a challenging putt that is blocked by one of those so-called quaint trees. All of these features add up to many more bogeys than birdies, so do not be wooed by this attractive hole, it has some serious teeth. -AH
Runner Up: Brazos East
Editors Note: FPO played the 410 ft. tee – the hole scored similarly when comparing across divisions.
---
Hole #11 – Blue Lake – Fairview, OR
670ft. / 204m – Par 4
Have you ever felt the sinking feeling of something inevitable approaching you? That's what it's like to stand on the tee of Number 11 at Blue Lake. As Ian Anderson succinctly puts it, "The drive is a cupcake, but that second shot…" No matter what you do, you cannot avoid the eventual spike line to the green, you just have to try to set up the right spike line for your skillset with your tee shot. If we're being real with ourselves here, this hole is an anomaly. We should hate it on the grounds of being too gimmicky, but the proposition is as simple as the tee shot itself – make your bed, then ring chains from it. Watching people sweat something so theoretically rudimentary is much of the reason that this hole is so entertaining. -JT
Runner Up: Iron Hill
---
Hole #12 – Northwood Park – Morton, IL
1050ft. /320m – Par 5
Think about your three favorite woods courses. Now imagine the most difficult par 3 on each. Finally, string them together to make the par 5 of your dreams. Can you see it? It's still easier than hole 12 at Northwood Gold. Conceptually, the path to birdie is remarkably clear: throw three, near-perfect shots and drain a circle's edge putt. Be prepared, however, to scramble aggressively because bogey comes into play quickly when you miss a landing zone or nick a tree.1  In a sprint-to-the-finish, deuce or die world, the gem of Northwood Gold is a refreshing change of pace. -PA
Runner Up: WR Jackson
---
At the 2019 World Championships, hole 12 yielded only 4 birdies out of nearly 400 total attempts – Eagle McMahon with a C1X putt, James Conrad and Tristan Tanner connected from C2, and Chandler Fry threw it in from 100 feet. ↩
Bonus Content for Dream 18 On Tour – 2019 Edition: Back 9 is only available to Ultiworld Subscribers
Already have a subscription? Log in
Whether you visit Ultiworld for our reporting, our podcasts, or our video coverage, you can help us continue to provide high quality content with a subscription. By becoming a subscriber, not only do you receive benefits like bonus content and full article RSS feeds, you also help fund all of Ultiworld's coverage in general. We appreciate your support!