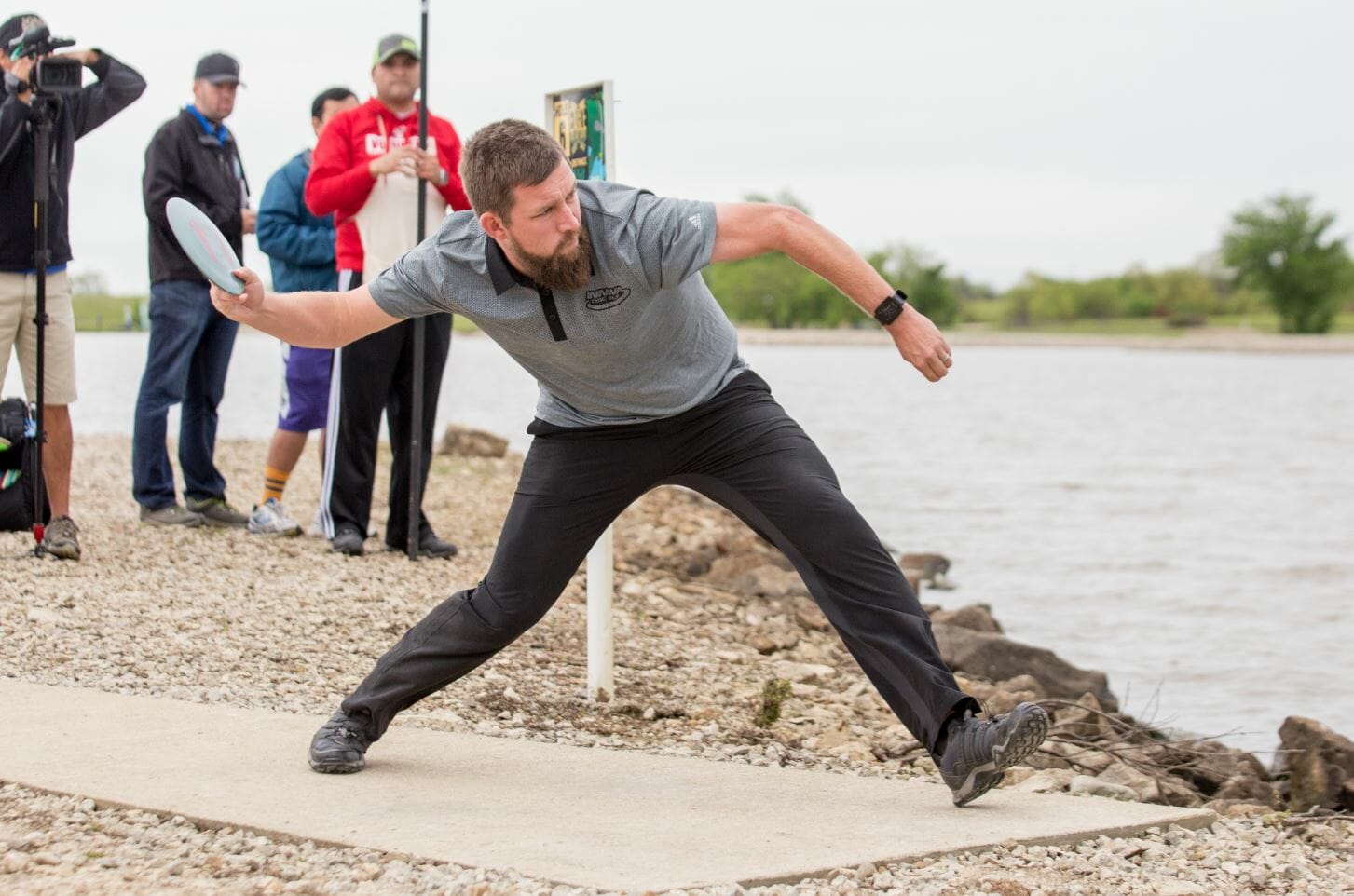 Ultiworld Disc Golf's coverage of the 2020 Las Vegas Challenge is presented by Innova Discs; all opinions are those of the authors. 
You can bet on this: this season is going to be a fun one.
Catrina Allen has fired a warning shot across the bow of the FPO division. Despite the growing liability that her putter has become to her overall game in this chapter of her career, she has managed to compensate with surgically precise tee shots and a never-say-die mentality as she claimed the 2020 Las Vegas Challenge crown with a one-shot victory over Eveliina Salonen on Sunday.
Allen began her final round in similar fashion to round 2, birdieing the same four holes on the front 9, and tacking on an additional birdie on the island hole #6 with her 3rd C1x conversion from mid-circle. Catrina's early 4-for-5 stretch saw her jump into the lead as she took the box on #7, though she would quickly cede that lead back as the putts began to falter in the mid-round. Ultimately, her 64% C1x stat today represented the high water mark for her tournament, as she converted more attempts in the final round (6) than the combined total from her previous two rounds (4).
Salonen was the player squarely in the crosshairs, beginning today with a one throw advantage. After the back-and-forth front 9, Salonen missed a chance to take a stroke on hole 11 to widen the gap to 2. Nevertheless, she was bogey free at 4-under-par and would remain that way until Hole 14, where a two stroke swing tied the match and raised the stakes.
The lead card in general did not have a particularly stellar putting conversion rate. Out of 14 Circle 2 attempts from the foursome, none found the chains, and nobody was able to out putt Catrina's 64% C1x mark, which doesn't bode well if you're chasing. While both Henna Blomroos and Paige Shue deftly avoided too many bogeys, their inability to knock down enough birdie looks to keep pace meant that time ran out and odds ran long for late-stage heroics in Vegas. Blomroos would nudge Shue back to 4th place and finish only one stroke behind her fellow Finn Salonen.
To see how the final moments played out, you'll have to tune into the coverage on The Disc Golf Guy YouTube channel. But I'll set you up here — two holes to play, tied, and this year, no overtime. One Finn summed up her placement with "Feels good after some struggles" and the other said simply "feels fine, but not great." See if you can figure out who is who, and get your popcorn ready for the upcoming FPO season.
In the later MPO final round, Nate Sexton held off a red-hot Garrett Gurthie to come away the winner by two strokes thanks in part to landing two massive 60-foot birdie putts on back to back holes early in the back nine.
Those two putts came just as Gurthie missed a pair of Circle 1 putts. Suddenly, a tight battle — Gurthie actually took the lead on hole 4 and was tied through 8 — had opened up to a Sexton three-stroke lead with six holes to play.
The damage was done. Gurthie birdied three of the last five holes, but Sexton padded his lead with a birdie on 15, making his bogey on 18 a non-issue as he walked away with a big early season win.
"Overall my game feels great," said Sexton. "I wasn't sure what to expect after the long offseason. Really excited to get what is for sure the third best win in a nearly 17 year professional career."
Sexton's signature consistency was on display this week, but so was a heavy dose of power disc golf on a course that demands it. He led nearly all week long, even as bombers like Gurthie and Simon Lizotte chased him, only losing at least a share of the lead for three holes in the front nine of the final round.
Ironically, it was his eagle on hole 7 — the hole that Garrett Gurthie aced in round 2 — that got him back atop the leaderboard. Gurthie had to "settle" for a birdie.
"7 is a tough get," said Sexton. "GG just went a little left — really his first miss of any kind as he had been parked on every hole basically."
That ignited a tough stretch for Gurthie, who took six straight pars as Sexton retook the solo lead and set himself up for the win.
Elsewhere on the lead card, Ricky Wysocki continued his strong play, carding a 12-under par 49 and claiming a spot on the podium. He was a bit too far back to ever really challenge for the win, but it's obvious that he is feeling good and playing well. He put down a ridiculous 7/7 C1x and 6/11 C2 putting performance in the final round.
That was nearly as impressive as Simon Lizotte's hot round (-14), in which he had a look at birdie on 17 holes. He cashed them in, too, going 8/8 from C1X and 5/7 from Circle 2, including a 60-footer. He finished in fifth place, five shots back of Sexton and one stroke behind one of the tournament's big surprises: Tristan Tanner.
The Colorado native put up a bogey-free 10-under final round, one of the day's best scores. He only missed out on the podium because of Wysocki's excellent 12-down.
Kevin Jones, Oskari Vikström, Philo Brathwaite, Eric Oakley, and Calvin Heimburg rounded out the top 10.
You can watch coverage of the tournament on Central Coast Disc Golf (MPO lead), Gatekeeper (MPO chase), and GK Pro (MPO 3rd card).