Blazing front nine starts defined the day.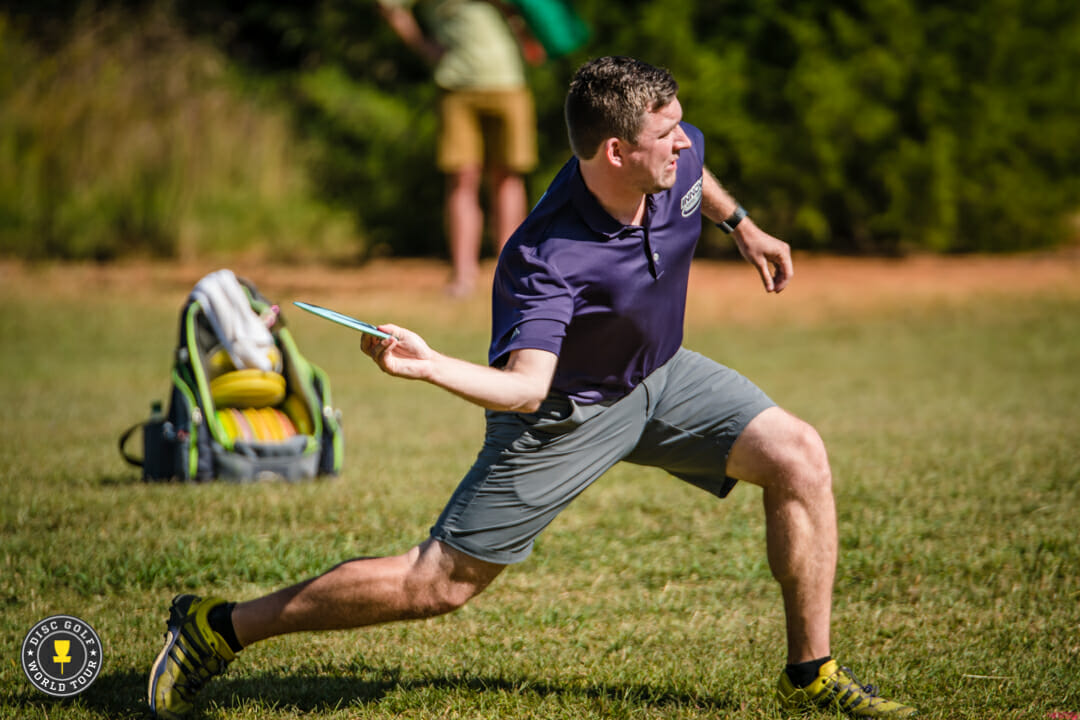 Ultiworld Disc Golf's coverage of the 2020 Las Vegas Challenge is presented by Innova Discs; all opinions are those of the authors. 
Hot hands deal early in Sin City.
There's no room this year for winter weather and off-season rust: come out swinging or be left behind. Starting fast out of the gate is clearly the vibe of this season, as evidenced by how both MPO and FPO divisions attacked the front nine of the Infinite Discs course at the 2020 Las Vegas Challenge. Despite not finding a home on either the Pro Tour or the National Tour this season, and despite some of the biggest names such as Paige Pierce, Sarah Hokom, Paul McBeth, and Eagle McMahon opting to begin their campaigns next week at the Memorial, the hawkish huckers in attendance are providing plenty enough firepower to make you forget that this is not the official Tour opener.
In FPO, it was all Kona Panis in the early going. She was within Circle 2 or better on the entire front 9, adding two "parked" marks to her stat sheet and making all four of her C1x attempts during that stretch.
"I don't think I've ever been 5-down on that course even in practice, so that was huge, and once I finished 2-down…being able to be [under par] is awesome, that felt so good," Panis said after the round.
Her first stumble came on Hole 11, where a double bogey temporarily derailed the hot start before she was able to take control and ride the wave to a 967-rated opener.
"This is the first time this year that I've come out for the first round and not felt nervous," she said. "I don't know if it's because I've worked on my backhands and forehands so much this offseason, so I felt like I wasn't worried for those upcoming shots." That newfound confidence has her currently tied for third with Catrina Allen and Callie McMorran, two back from the lead.
One stroke ahead of Panis is defending champion Paige Shue, whose patience was tested in Round 1 with a substandard performance off the tee, getting inside C2 or better for birdie looks on only seven of the 18 holes (39%). Saved by her 6/7 C1x putting numbers, Shue bided her time and earned three birdies with those putts and finished bogey free, positioning herself one throw off the clubhouse leader.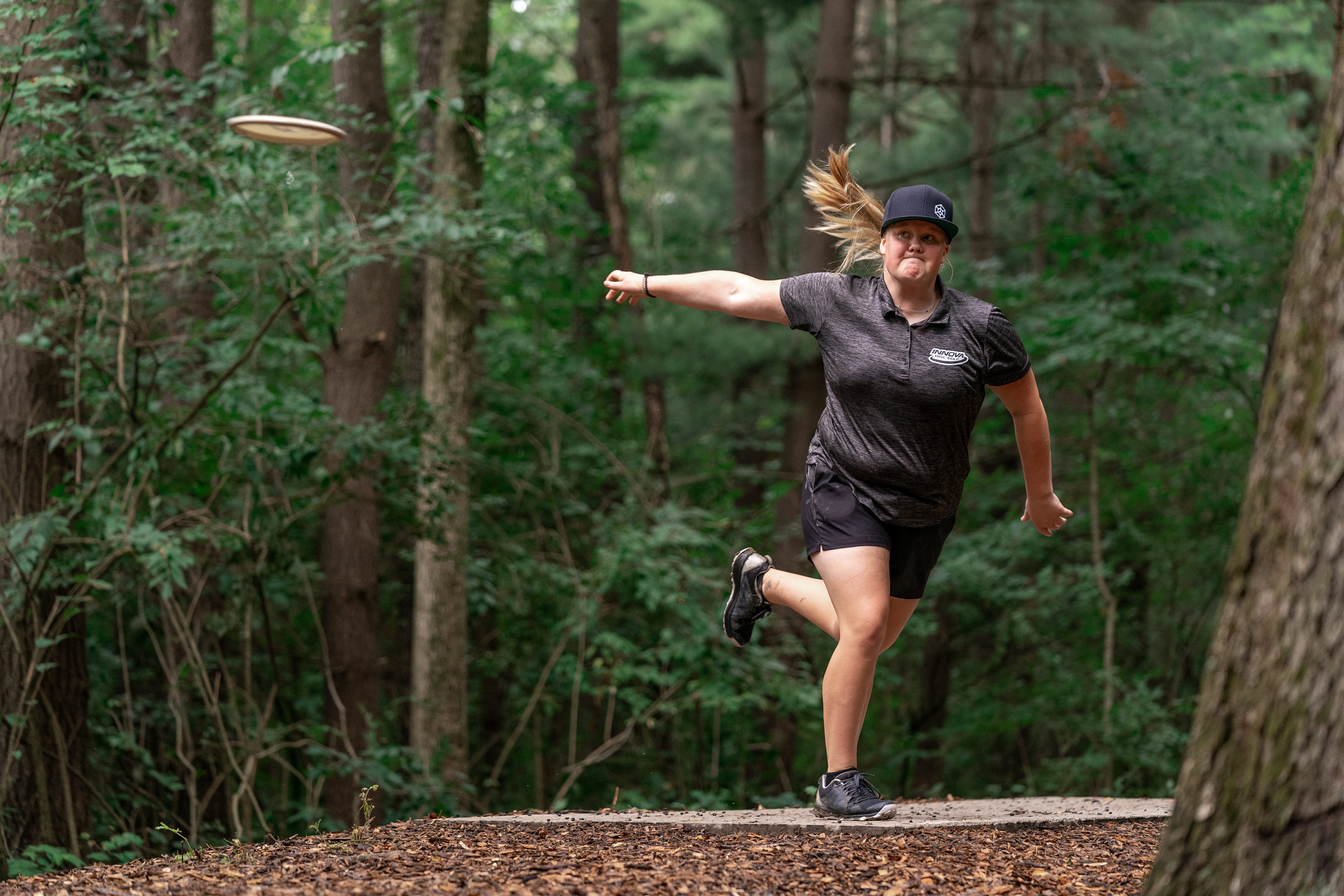 That clubhouse leader is none other than Eveliina Salonen, who collected four birdies and only gave one back on the front 9, separating herself with a C2 smash on the dangerously mounded green of #15 on the Infinite Discs course. While her putting (60% from C1X) was less than impressive, her four park jobs in the first eight holes of her US 2020 campaign more than made up for it.
Rounding out the lead card for the Disc Golf Guy's FPO coverage of round two is Catrina Allen, bumping Callie McMorran to chase card. Starting where she left off last season, Allen led the field in airway hits (78%) but also found some of the same struggles on the putting green that have plagued her career of late (57% C1x). However, the numbers don't tell the whole story there, as the confidence on her stroke is improved even if the putts aren't finding the chains more often just yet.
Watching the MPO scoreboard through the course of the round was to watch several players waves crest high on the front 9, only to collapse into the beach on the back. A tad dramatic? Maybe so, but emotionally that was a common refrain as players filtered in from their rounds. There was much talk of missed opportunities, especially from Emerson Keith, who began his season with an 8-for-9 birdie showing on the front 9.
"I was really happy with my start, and then I kind of just fell off at the end…I think it's the wind that makes that [back] 9 harder, there's also more OB right next to the basket on all of those holes, so I think that factors into it," he said.
"I'm not happy with how I played. On the front 9? Great. Happy. On the back 9? Pretty awful, so I have a lot to catch up on," Keith continued, glancing at the UDisc scores. "I anticipate I'll be off the lead by a minimum of four, someone is going to shoot real hot today. It's too easy out there."
Keith hit the number right on the money, as it was Nate Sexton's 1072-rated 13-under bogey free clinic that propelled him to a two-stroke advantage over the rest of his cardmates.
Sexton's scoresheet is a perfect encapsulation of the way the day generally went. The front nine played easier — four of the five easiest holes by average score were on the front nine — and allowed for more scoring opportunities with the putter, which Sexton was happy to oblige by cashing five C1x and one C2 putt en route to a "perfect plus one" score of -10 thru nine holes. Sexton's hyzer forehand on what may be the worst hole on tour, the triple island #6, led to an eagle putt to give him the extra mark under par.
"Felt some nerves out there being my first tournament action in a few months," said Sexton. "Really happy to be able to persevere and come out with the low score."
Joining Sexton on the lead card tomorrow, which will be covered by Central Coast Disc Golf, is defending champion Calvin Heimburg, who bested the featured "Past Champions" card of Ricky Wysocki ('17), Philo Brathwaite ('16), and Nikko Locastro ('12 and '14). Heimburg's well-rounded effort featured only a single bogey, the result of an OB tee shot on #14, and a pair of missed birdie looks inside the circle that would have had him tied for the lead.
The other two gentlemen joining these multiple-time Tour winners were the talk of the clubhouse…well, at least if you flew in to dodge the frigid Illinois or Minnesota weather.
The Prairie State representative Luke Samson, who carries a 987 PDGA Rating, earned the highest rated round of his career (1053), and only his fourth round above 1030. But all four of those rounds have come within the last four months, showing a clear upward trend in his game.
Shockingly, the Minnesota frontrunner is 967-rated Josh Miller, hailing from Robbinsdale and sporting a Blue Ribbon Pines jersey. Miller picked apart the Infinite Discs course in the mild winter afternoon, finding himself inside of C2 or better on 17/18 holes. A flare up of the dreaded 3-putt on #16 lowered his C1x stat to 77%, but he casually collected himself and dropped a hyzer over the low trees into the protected green of #17 to reclaim that stroke and knock Alex Russell, one of the potential breakout players of 2020, to the chase card for round two.
Russell, who did not miss C2 or better in regulation today, picked his opportunities and made the most of them. When asked whether the back nine required players to be more choosy, Russell said, "Very true. I think I played for par on two holes, maybe even three [holes on the back 9]. So I did kinda slow down after the 8-for-9 start but I wasn't really stressing it because those were 3s [pars] that I was counting on."
Speaking to his mindset, Russell said, "Just shoot good shots. You're always gonna throw more shots. Just keep grinding it."
With 54 holes left to determine the final pre-season competition in the new decade, including two rounds on the longer and more punitive Innova course, grinding will most definitely be required.