One Ultiworld writer followed Lizotte and Casey White for a behind the scenes look at what goes into the filming process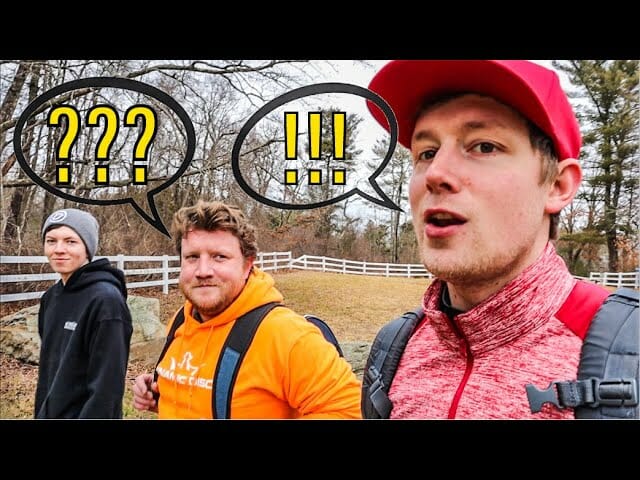 One of the true joys of the 2019-2020 offseason has been the return of Simon Lizotte's vlogs, oftentimes co-starring Massachusetts native, Casey White.
Programming note: If you haven't seen any of the vlogs stop reading and check out Simon's YouTube channel. Once you're back we can proceed.
I messaged Simon and his vlogging partner, suggesting that we hit up a course in southeast Massachusetts to play a round, have some fun, and see what happens. What followed was easily the best day of my disc golfing winter.
We settled on playing at Sunnymeade DGC in Middleboro, Massachusetts. Sunnymeade is one of few publicly-known, privately-owned, open to the public courses in southeastern Massachusetts. The course is best known for having a 50/50 mix of excellent holes, fun holes, pretty holes, and holes that could be better. Most holes offer two pin positions with Prodigy baskets. Greens are short, blues are long.
If you want to know about what actually happened during the day, check out the video. It was a lot of fun, and as we all know, the value and fun of a day on the course goes beyond and is more important than what the scorecard or highlight reel might suggest.
At the risk of beating Iowa for sheer corn production, isn't the real ace run the friends we made along the way?
What Goes Into The Making Of Simon Lizotte's Vlogs is only available to Ultiworld Subscribers
Already have a subscription? Log in
Whether you visit Ultiworld for our reporting, our podcasts, or our video coverage, you can help us continue to provide high quality content with a subscription. By becoming a subscriber, not only do you receive benefits like exclusive articles and full article RSS feeds, you also help fund all of Ultiworld's coverage in general. We appreciate your support!