Mora wins 2020 Singapore Sling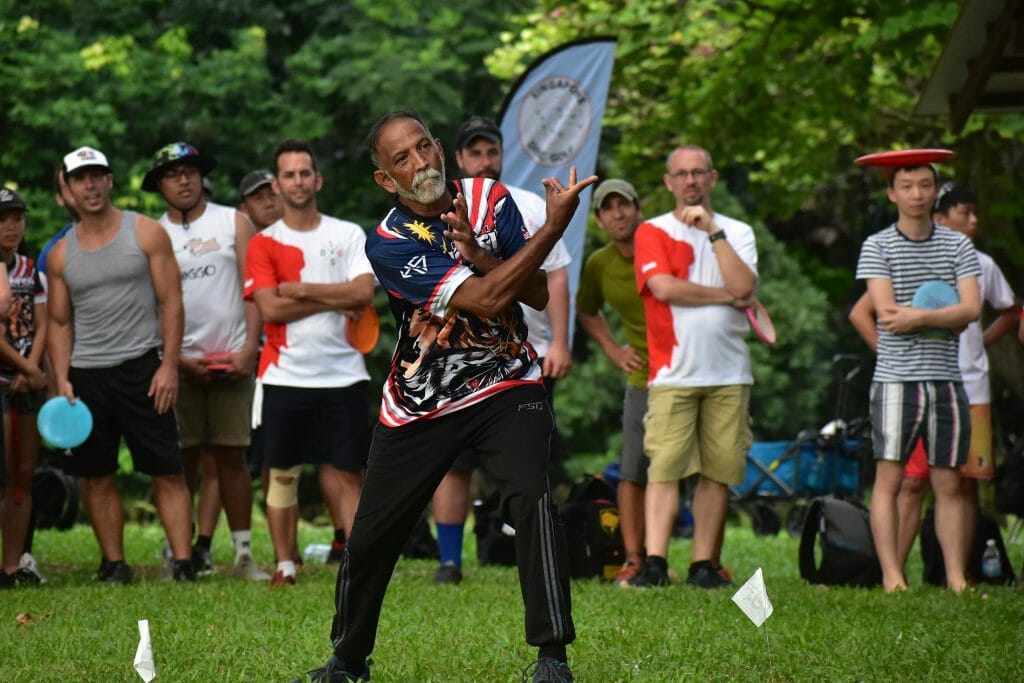 SINGAPORE – You would have to look long and hard to find anyone in Singapore being slothful. It is one of the most industrious places on earth.
The island city/state has had to scrap, hard, right from when the Parliament of Malaysia voted 120-0 to expel it from its federation in 1964. The 280-square mile nation had no resources, an under-educated population that was rioting in the streets, and no one to trade with. The story of how it grew from that predicament into one of the world's most developed countries is one of determination, organization, and planning.
Singaporeans just get things done. When their rapid economic development used up all the available space? They created more. The island is now 23% larger than it used to be. With space at a premium, something like disc golf was always going to be a hard sell. It's a challenge that Louisianan expat Lance Dubos knows well.
"I was president of the ultimate players association here in 2006," he said. "We bought 10 traveler baskets and started setting up pop-up courses anywhere we could around Singapore. Then in 2018, a member of Nparks (the national parks board) went to New Zealand and saw disc golf there. They approached us for a demonstration. After that, they offered us West Coast Park as a venue."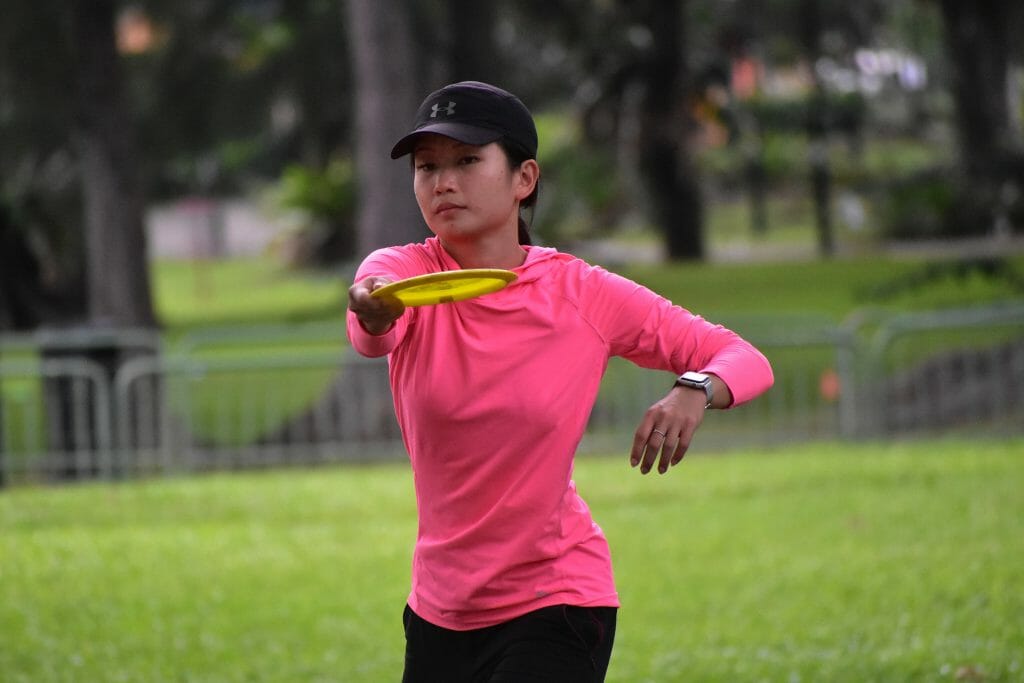 West Coast Park, part of that 23% of reclaimed land in Singapore, was the host for the country's third PDGA tournament, Singapore Sling 2020, in mid-January. The park, with ornamental lakes, lush fairways and stands of new growth forest, remains a pop-up venue for Singapore Disc Golf for the time being. "If we keep up a good safety record we can work toward a permanent course," said DuBos.
With 56 registrations, numbers had more than doubled from last year's event. In the Open field, it was the same contenders from the previous days Shipwrecked in Malaysia tournament. Ron Turner had made the border crossing to continue his cross-strait rivalry with David Morra;  while Joel Pallari, Adam Abrahamsson, Richard Kollar, and British half-of-famer Derek Robins continued their travels to play against a small crew of locals. Katka Boďová couldn't find any FPO rivals however, so joined Redha Fahmi and Joni Luumi in the advanced division for a replay of their battle from the day before, along with Aussie Tarron Anderson. Eric Grover looks like he still needs to present an ID when he enters a nightclub, let alone play MA40, but he made the switch from the Open division the day before to join Charles Czepyha, Shipwrecked winner Howard Peck and Aussie Carl Choo.
Indicative of the state of the Singapore disc golf demographic too, was the existence of an intermediate division. That and both men's and women's rec divisions combined to make up more than half the field. The relative youth of most of these players was a healthy sign of where Singapore disc golf might be in a few years.
The rivalry between the two highest-rated players in the region, Kuala Lumpor-based Ron Turner, and Singapore-based, US Coast Guard Chief Warrant Officer, David Morra, was the main talking point. Turner took the honors last time the two met in Singapore and Morra was keen to defend what has become his home course. It was the Swede, Abrahamsson, who got out of the gates early though.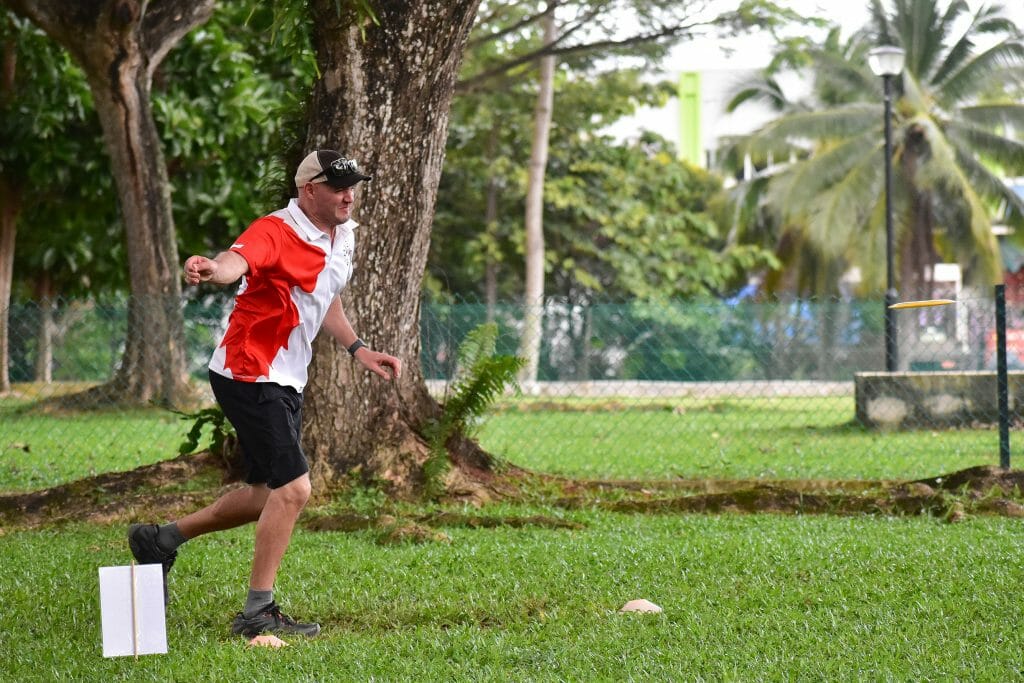 "Abrahamsson was on my card and I saw him birdie the first six holes on a course he has never played before. So I was starting to feel the pressure early," said Morra. "I threw a careless OB on the second hole and was 1-over par for the first three. But on the next two holes I faced circle's edge putts. I took extra time on these and converted them both. This got me started on a birdie run for the next seven holes."
Morra and Turner were tied for the lead at 7-under after the first round. They were joined on the top card for the final round by Derek Robbins on 5-under, with Abrahamsson and Pallari on 4-under. After par on hole 1, Morra birdied holes 2 through 5, including both the par 4s (holes 4 and 5). Turner and Robbins both found OB on hole 5. Which gave Morra the cushion he needed.
"I almost made it interesting on Hole 13," Morra said. "I threw OB on my second shot. Then Ron hit the basket on his second shot. That would have been an eagle throw-in and tied us up if he'd made it. But then I birdied the final hole 15."
Morra took the win; three throws ahead of a threeway tie for second between Abrahamsson, Turner, and Pallari.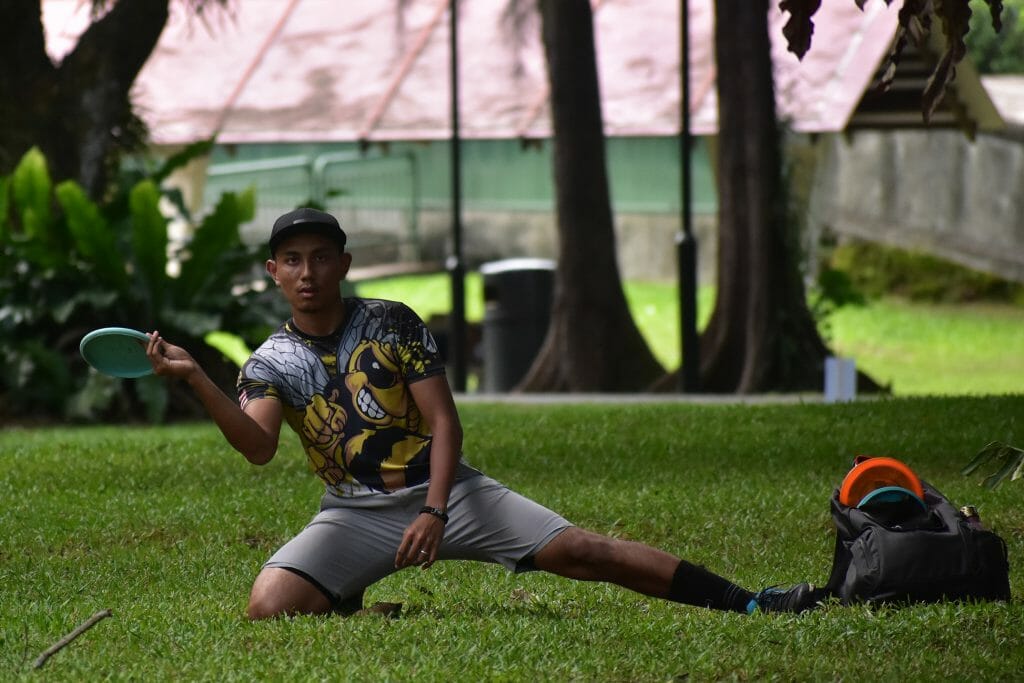 Joni Luumi and Redha Fahmi repeated their one-two placings from the day before in Malaysia in the advanced division, with Katka Boďová and Tarron Anderson sharing third place. Freed of organizing duties from the day before, Eric Grover had a tight battle with Charles Czepyha before prevailing by one throw in the MA 40, with Howard Peck in third place. Finn Jussi Kosonen took the MA2 division ahead of local  Visa Oksa and Malaysia's James Lai. Malaysian Jenna Jiaxin Tan had a comfortable 10 throw win in the FA3 while local Hugo Manning took out the MA3.
"I was very pleased," said DuBos after the event was over. "We had great weather. The players all abided by the safety protocols. There was tight competition – with a much higher level of play compared to last year. Plus, we had lots of good public interaction."
As the presentations finished and the crowd started to disperse. I saw that same industriousness of the Singaporean character show itself again. The local players packed up baskets, broke down the staging area, pulled down signs, and made sure we'd left the park exactly as we found it. I just wondered aloud about getting a taxi back to my hotel and before I knew it Javier Lim had called me a Grab ride-share, walked me to the pick-up, and I was on my way.