Pallari and Boďová win in Malaysia­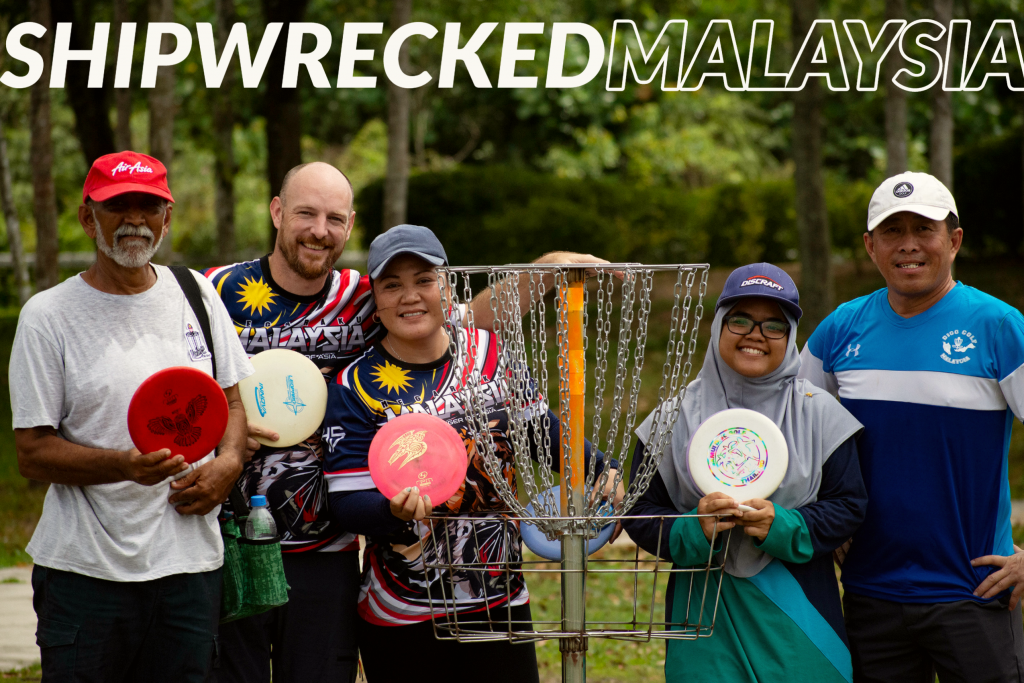 The idea of a formal Southeast Asian disc golf tour is gathering momentum with every passing year. Tournaments in the region have sprouted in a sequence that spreads through January and February and involves five countries. With Vietnam and Cambodia already in the books, the first of the larger four tournaments was held at the Bale Club in Johor Bahru, Malaysia on January 18.
When the Shipwrecked Malaysia organizer, Eric Grover, arrived in Malaysia in February of 2018 there were no courses and no other disc golfers that he could find. Not quite two years later the country has seven courses, 42 PDGA-registered players, and hundreds more playing recreationally. Much of this growth has been due to Grover's infectious passion for the sport, and most of it is happening in the place he lives and works – the sprawling metropolis at the very southern tip of the Malay Peninsula. Johor Bahru is just across the Johor Strait from the Island City/State of Singapore and they share strong economic ties as well as a disc golf scene with some building cross-strait rivalries.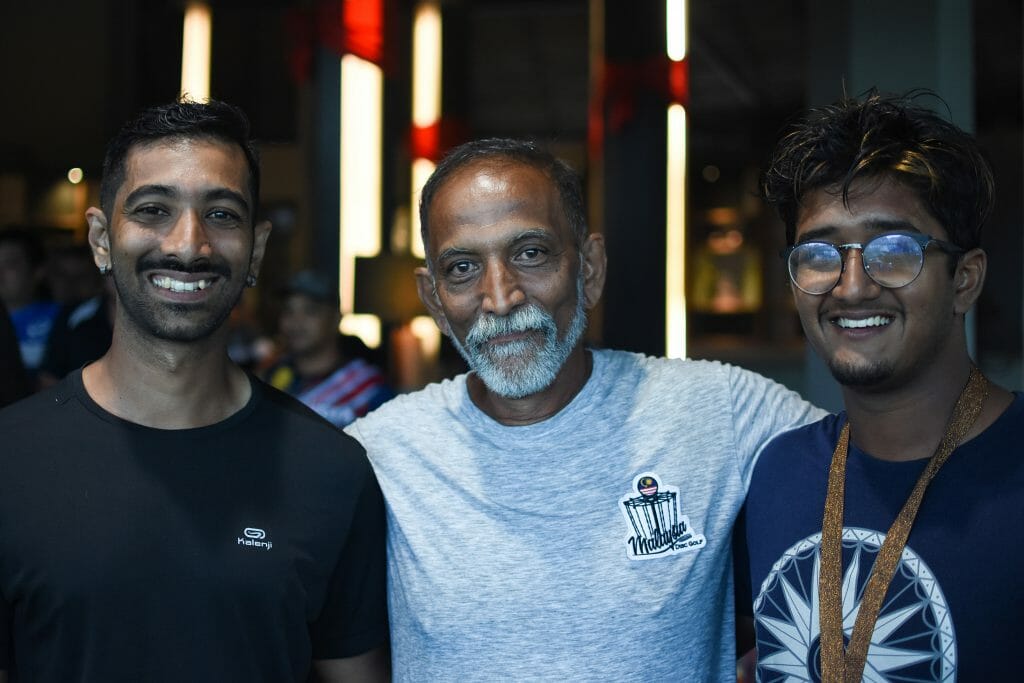 The equivalent tournament last year had 38 players. Registrations this year jumped to 54. This included a number of the growing band of disc golf travellers that are making SE Asia a disc golf vacation. They came from Great Britain, Finland, Australia, Slovakia, Sweden, and the United States to take on a strong field of expats and a growing local talent pool.
"Our numbers have steadily increased with each tournament we've held," Grover said. "And this one is now at full capacity. I'm most pleased with the fact that we've got 11 women playing, and that six of them are locals. Sure, we've built six courses here in the last year and a half and are working on our seventh, but that's not worth anything if you don't have the players, and people have embraced disc golf here like nowhere else I've seen."
It was one of these locals, fast-improving Advanced player Rehda Fahmi who stole the show in the morning, shooting nine birdies in a row to be leading all comers, regardless of division, in the first part of the round; stitching-up the short technical holes with his powerful and accurate forehand before slowing slightly in the last few of the 15-hole layout. Wandering Finnish pro Joel Pallari carded the only score (a provisionally 1017-rated 9-under par 39) better than Fahmi, displaying a solid putting stroke from range.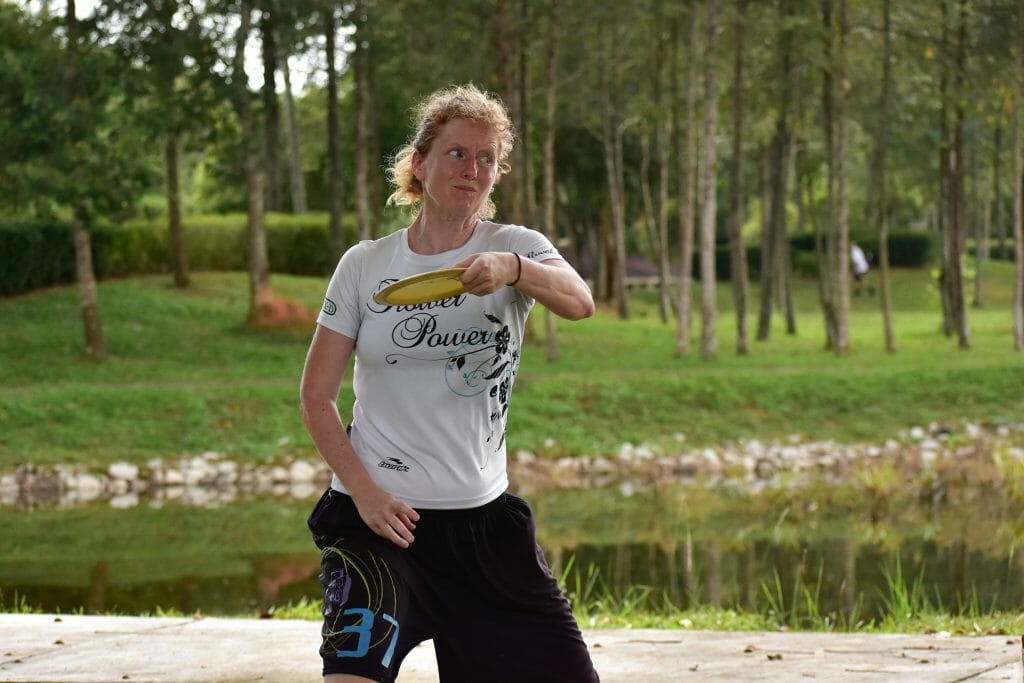 After the morning rounds it was Pallari with a three throw lead in the Open competition over the highest-rated local pro, Ron Turner, with Swede Adam Abrahamsson one throw back in third, and Turner's main regional rival, Singapore's David Morra, a further throw back in fourth. Slovakian Katka Boďová was making easy work of the FPO field with a massive twenty five throw lead over local Jenna Jiaxin Tan. Two throws adrift of Fahmi in MA1 was Finn Joni Luumi, with Aussie Tarron Anderson a further two throws back. Leading FA1 was local teacher Nabilah Ahsanuddin, with an eight throw lead over compatriot Rosalie Pili. Coloradoan Howard Peck was in charge of the MA40's, with a three throw lead over one of two Lai brothers in the event. James. Another local Jean Poignee lead the juniors by five throws over Wataru Fox. The MA4 and FA4 were decided in the single morning round with Casey Volden and Rebecca Morra taking the respective wins.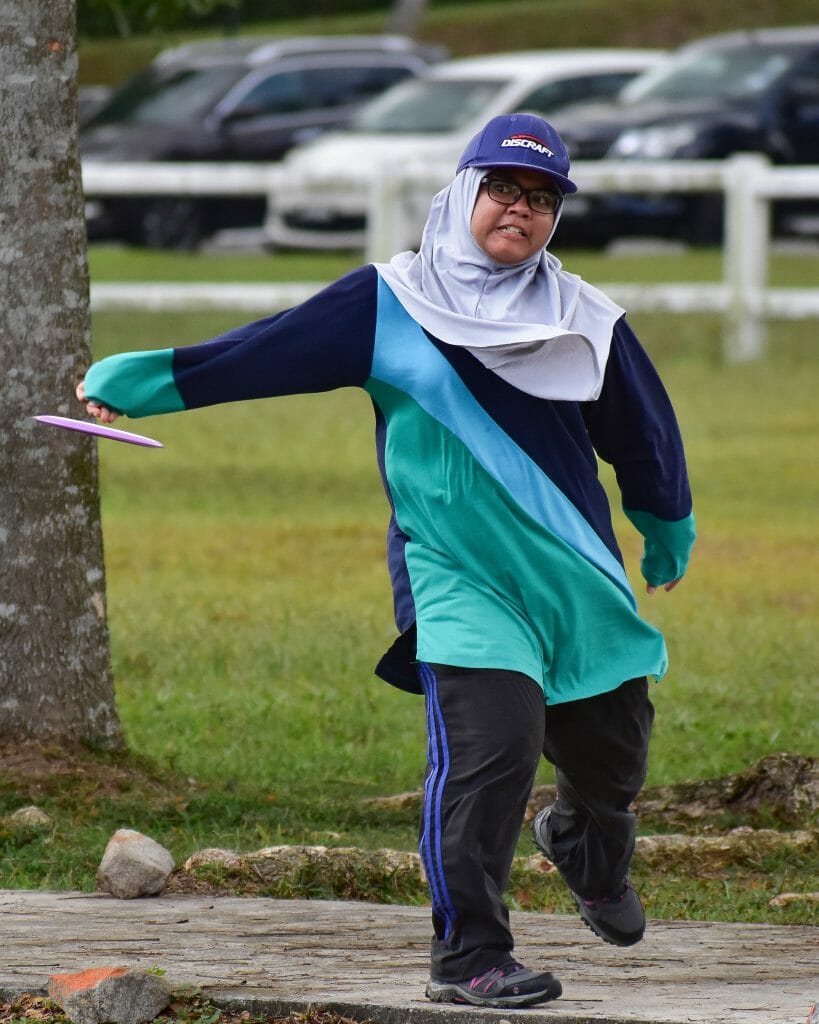 Giving some relief from the heavy humidity of the morning, a slight breeze cooled the Bale Club in the afternoon as a weather change came in from the Malacca Straight to the west. Pallari's four throw lead looked safe as he stuck to his game plan.
"On the second hole everyone else got their drives inside the circle when I hit a branch and had a 20 meter putt that I had to shape around a tree. When I made that putt, it gave me a confidence boost," Pallari said. "My plan was just to make a safe shot and give myself a chance for birdie, rather than trying to park every hole. I promised myself not to get angry if I missed the occasional putt and I believe I held on to that promise. "
At about 3 pm, with most cards having at least half a dozen holes to play, the rain came; it came down hard. The classical tropical downpour didn't affect Pallari though. "I pretty much know what happens when my hands and discs are wet, thanks to many rounds I've kept playing through the rain in the last couple of years," he said.
Pallari increased his lead by one in the afternoon round and then dropped just one throw in the final nine to take out his first win in Malaysia after three years of visiting. Only two throws separated the chasing pack of Turner, Abrahamsson and Mora, but they couldn't reel in the Finn.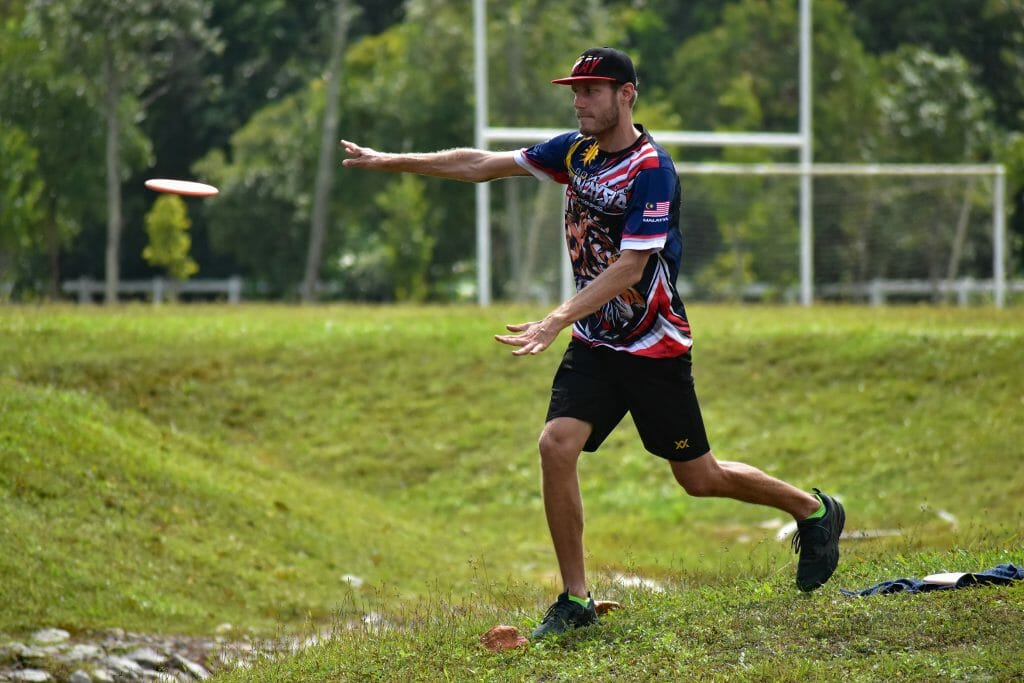 A disappointed looking Rehda Fahmi couldn't hold his good form in the afternoon, throwing seven more shots and allowing visiting Finn, Joni Luumi through to take the win in MA1. Katka Boďová threw three worse in the afternoons rain but still pulled away for a dominant win in FPO while carding an impressive 3-under par for the day. Nabilah Ahsanuddin improved by four throws in the afternoon rain to easily take out FA2. Despite dropping a throw to local James Lai in the afternoon, James Peck held on for a three-throw win in MA40. Jean Poignee increased his lead by one throw to win the juniors by six.
As far as club houses go, they don't come much better than the Leisure Farms Bale Club. The multi-sport and leisure facility is attached to a larger housing estate and the disc golf course fits neatly into its lush grounds. The winding river and small lake create an aesthetically pleasing challenge for all ability levels. As the presentations wound down under the Bumbung Panjang (long roof) of the main clubhouse, players packed and traded car and bus seats for the journey back across one of the two causeways into Singapore for Sunday's Singapore Sling.
In her brief acceptance speech, Katka Boďová commented on how much nicer it was to be in Malaysia and not trying to play in "the snow and the rain." A sentiment echoed by her Slovakian compatriot, Richard Kollar, who said later, "JB (Johor Bahru) is in my opinion the best place to play disc golf in the world in the European wintertime. Yes, New Zealand has better courses, Thailand has more tourist attractions. But the variety of courses, the facilities, and, most importantly, the local disc golf community here are fantastic."