Brathwaite gets Bacon Belt no. 3, Hokom successful on first try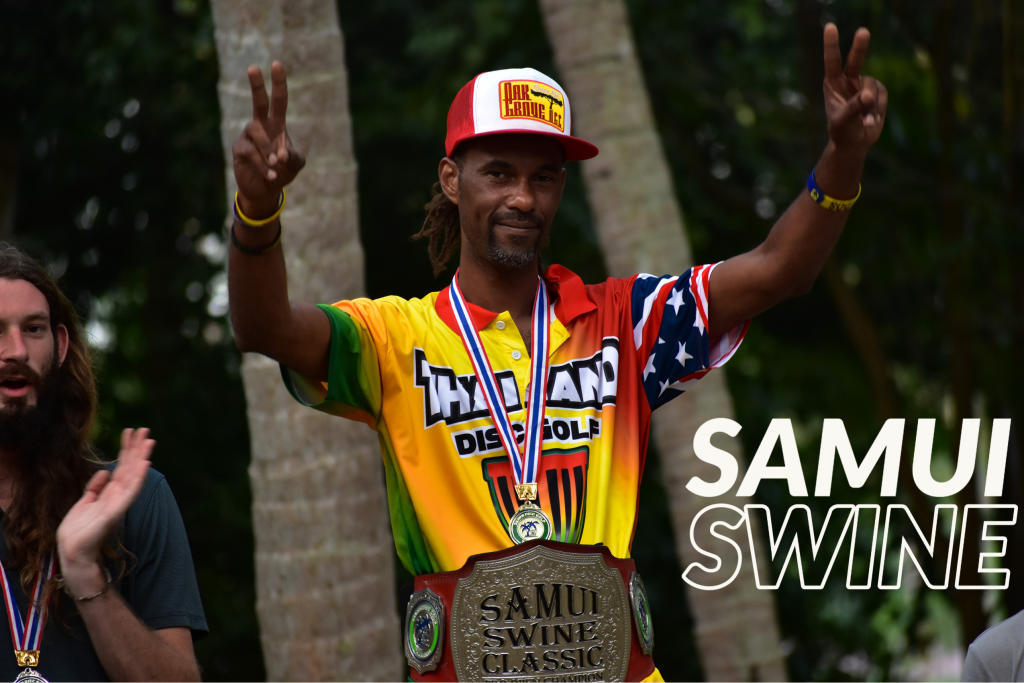 "Can you give me a precise time you'll be there," asked Terry Miller.
I laughed, not because I thought "The Disc Golf Guy" was being pedantic. It was a reasonable request. What amused me was the sheer incongruity of that statement on an Island like Koh Samui, Thailand.
Every arrangement or set of directions here seems to pull-up just short of being definite. "This is roughly where it is, you'll work it out," the island seems to say. Road signs appear to be purposely camouflaged to blend in with the jumble of other visual noise; street entrances are not obvious, and many roads just don't have names. For a road that goes between the beach and the waterfall? The people on the beach will call it the waterfall road and the people at the waterfall will call it the beach road. There's been road works on the main road just near the Samui Disc Golf course all week; with no set of traffic cones or lollipop man directing the traffic flow – instead it's, "here's half a road, you guys work it out."
They say it was Nicolaus Copernicus that first hinted at the idea of a relative universe in the early 1500s. It makes me wonder if he hadn't been to Koh Samui. The culture has a slow but inexorable effect on one's psyche. As if the island puts a firm but gentle hand on your shoulder and compels you to slow down, observe, combine and connect. To join the flow. From the traffic, to ordering food, and playing disc golf in the heat – push too hard and you'll end up frustrated and no closer to what you want.
"Just google 'Samui Disc Golf,' you'll find it."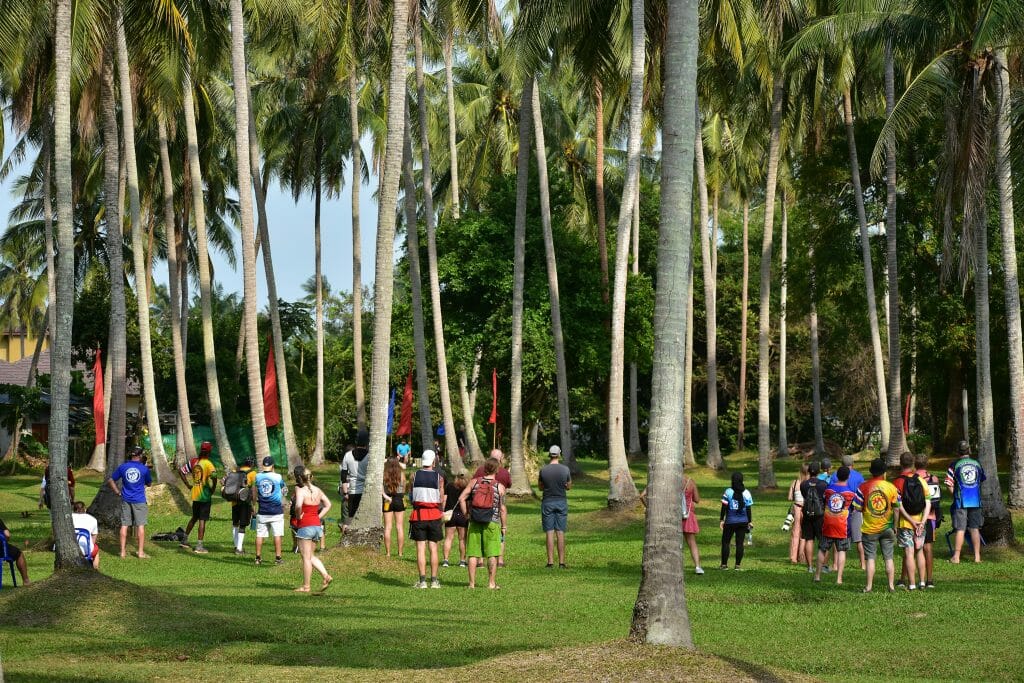 Nigel Mills has been here for fifteen years and that's how he directs you to his course. It is easy enough to find though. Take Soi 5 inland off the ring road, turn right at the large "Frisbee Golf" sign and drive for a little while down the street with no name. You can't miss it.
Samui Disc Golf might be missing a street address, but as soon as you walk in to the covered courtyard, with the kitchen and pro shop on one side and the tee pad of hole 1 on the other, you can see it has something that most other courses don't. A convivial meeting place that serves food and drinks most of the hours the course is open. It's a place to swap stories and build the bonds of friendship that keep the loyal band of players coming back here year after year for the Samui Swine Classic.
This year it was a field of 146 made up of 88 amateurs spread over eight divisions and 56 pros in four divisions competing for a purse of over $7,000 USD. In the open field, the Hyzenbrownie podium of  Weston Isaacs, Philo Brathwaite, and James Conrad had been joined by Nate Perkins, with Joel Pallari continuing his tour that started in Malaysia. Paige Pierce had decided to return to the island for her first competitive hit-out since her resumption with Discraft. She had some strong competition from Sarah Hokom on her first trip to Asia, local talent View Georgiou, and the inventive shot maker from Canada, Briana Ainsley.
"I've decided I'm just going for everything," said Ainsley, who'd been entertaining her doubles partners in lead-up league nights all week with her range of rollers, forehand, and overhead shots.
On the Friday, Isaacs picked right up from where he left off the week before. Carding a 15-under par 58 in round one to take a one-throw lead on Brathwaite, the pair of them opening a five and six-stroke gap, respectively, on Perkins and Conrad. Pierce threw a provisionally 1003-rated, 9-under par 59 first round, which was equal third best on the day. Pierce was one-throw ahead of Hokom, who carded a 994-rated round herself. The two US-based pros opened an immediate 12 and 13 throw gaps on Georgiou and Ainsley; meaning that the contest in FPO separated into a fight for first and second and a separate battle for third and fourth.
"It was nice having some holes we can reach," said Hokom after the first round. "Don't get me wrong, I like the longer courses we play later in the season too. But it's nice to tune-up on a course like this."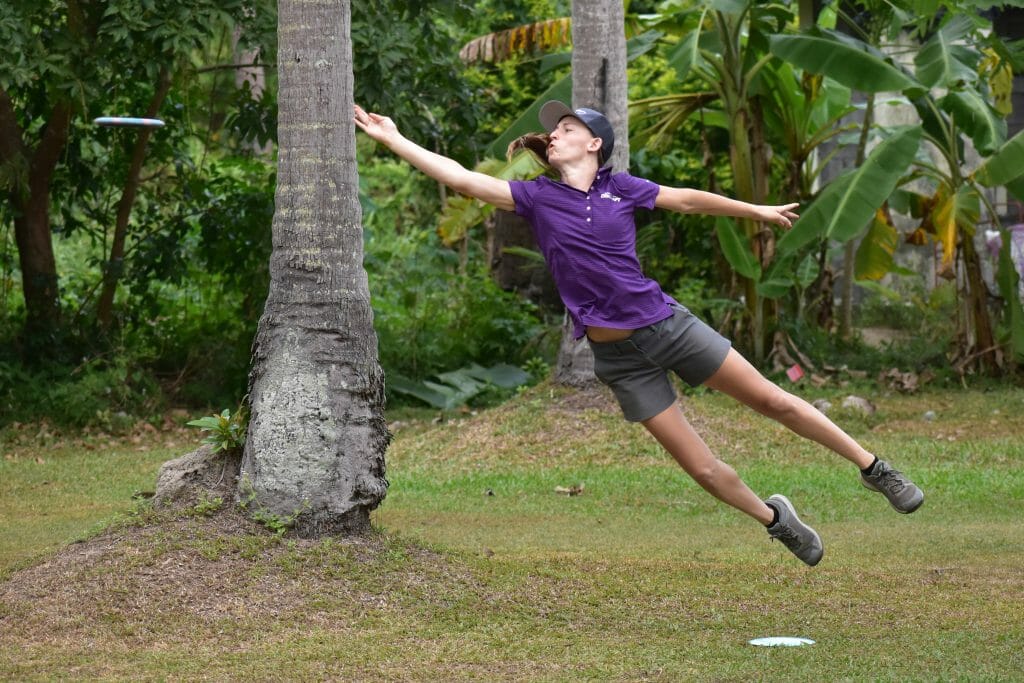 Set in the grounds of a working coconut farm, the Samui course spreads across flat green meadows from the clubhouse, alternating between moderately-wooded and wide-open fairways. Maybe it's the way they gently sway in the wind, or it's the thin, grey trunks, but coconut palms seem to pose no threat. They don't give-off that foreboding, "we're going to eat your discs" kind-of aura like a dark, silent stand of pine trees.
That's a complete illusion though. Coconut palms will knock a disc out of the sky equally well. The short island hole 3 was an example of how this friendly looking course could work you over if you aren't dialed-in off the tee. Both Pierce and Brathwaite had their moments on this hole during the tournament.
Weston Isaacs was the first of the top pros to see what the coconut palms can do to errant drives as his run of good Thailand form ended abruptly during the second round. His 62 dropped him out of serious podium contention. Conrad gained one throw on Brathwaite, who now held a five-throw lead. One throw back from Conrad was Perkins.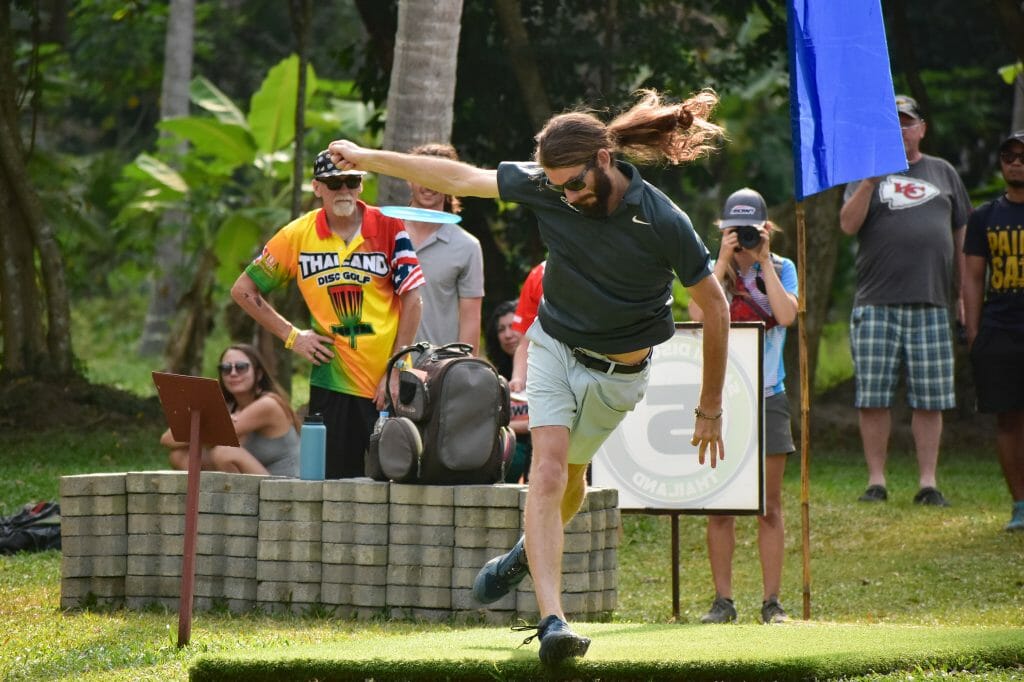 "I've been working on being more positive. Just enjoying being here with the people and this beautiful place. But man, those couple of putts," said Brathwaite, doing his best to shake off the errant putts that might have seen him going into the last day with a commanding lead.
There was a six-stroke difference in the wrong direction between Paige Pierce's first and second rounds. "Just too many mistakes," she said. "You can't afford bogeys on this course and I had too many."
Hokom, on the other hand, matched her score from round one to move to a four-throw lead over Pierce. Georgiou and Ainsley both threw 69s to remain one throw apart.
In the first half of the last round. Brathwaite had stretched his five-throw lead over Conrad to seven. Then came the dreaded hole 3, a double-bogey and a three-throw swing in Conrad's favor. On the very next hole, probably the most technical par 3 of the course, Conrad laced his putter down the twisting fairway to circle's edge. Brathwaite hit a mid-fairway tree and had a tricky layup to save par. Conrad, however, could not convert.
"If James had made that putt on 4, I'd have been three up with seven holes to play and anything could have happened," said Brathwaite. "But he didn't, and I went on a birdie run after that."
Brathwaite pulled away to a nine-stroke win over Conrad, who held off Perkins for second by one throw, with another throw back to Isaacs.
Despite her lead, Hokom had some mental battles in the final round.
"With four holes to play, rationally I knew I was safe," she said. "These are holes I'd birdied each time around, so I knew Paige would have to start acing them to win. Even so, I found myself thinking, 'What if I seven-putt this hole.'" She laughed, "That's just the way my brain works."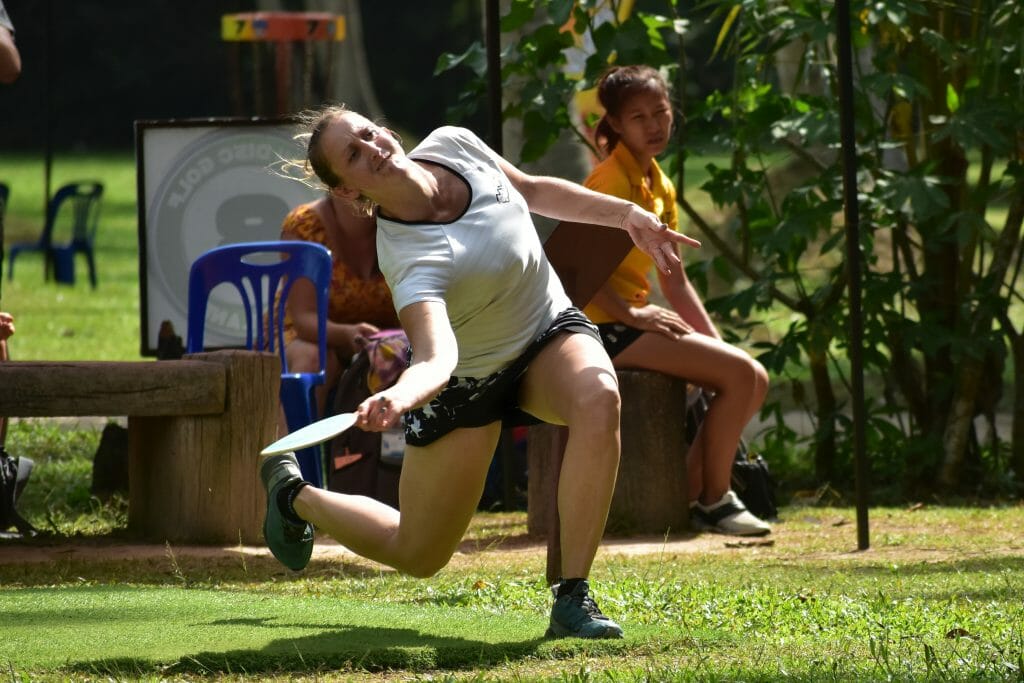 There were no seven-putts and Hokom, despite having to move one of the local dogs off her lie to mark her winning putt, never looked in trouble. As Pierce pointed out after, if the two women had just played hole 3, the margin would have been similar, with Hokom taking 13 throws on the hole compared to Pierce's 23. Hokom's consistency was remarkable, having shot an 8-under par 60 each round.
Local View Georgiou won the battle for third, besting Ainsley's final round by two strokes to increase her margin to three.
In the MP40 division, Finland's Marko Mustasilta took the win. Geoff Hungerford racked up his 100th career win in a career that spans back to 1985, in MP50. In MA1 it was another Finn, Marko Mustasilta, who took out the division.  In FA1 it was Malaysia's Hareesa Shahaini, who, playing while seven months pregnant, averaged 80 points above her rating to take a seven throw win over Croatia's Maja Šimenc. It was a close battle in MA40 with Arttu Pelgonen winning in a division where two throws separated first to fourth. It was another close battle in MA50 and another Finn, Markku Tohni, who beat out local expat Charles Czepyha by one throw. Larry Burnett won the MA60, Gregory Festian won MA2, Jan Autio won MA3 and Malaysia's Jean Poignee won the juniors.
After his winning putt had dropped. Philo Brathwaite stood marking his card on a disc, surrounded by an expectant ring of well-wishers and media, waiting for the celebration to begin. He was all business for a few minutes then the joy seemed to swamp him. It was clear that this win, on the island he's visited many times and among the people who are dear to his heart, was a special one.
"Look at my record," he said later. "They don't come around too often. Every win is special, but to do it here, and against James? He's a beast man. Yeah this one means a lot."
"This whole trip has been life changing," echoed Hokom later on the podium. "My senses have been on overload, but my game has been solid and I'm happy to have shot a consistent score each round."
As the entire field of disc golfers joined in the post-tournament tradition of making a line that snaked back onto itself so that everyone in the event shook hands, fist-bumped, or hugged everyone else in the event, it was clear that the Swine Classic is a perfect way to finish the South East Asian Tour. The band fired up and, as is another tradition in this event, Philo took over on drums and belted out a few numbers.
In 12 months, the sport in South East Asia has grown exponentially, at a speed that is probably not sustainable. But, in the next few years, the half dozen tournaments that make up the South East Asian Tour, are destined to become more substantial events and attract a growing band of travelers.
Anchoring the whole show, in the biggest gathering of them all, will be the Samui Swine Classic.