Win in Laem Sor ranks high in Tennessean's career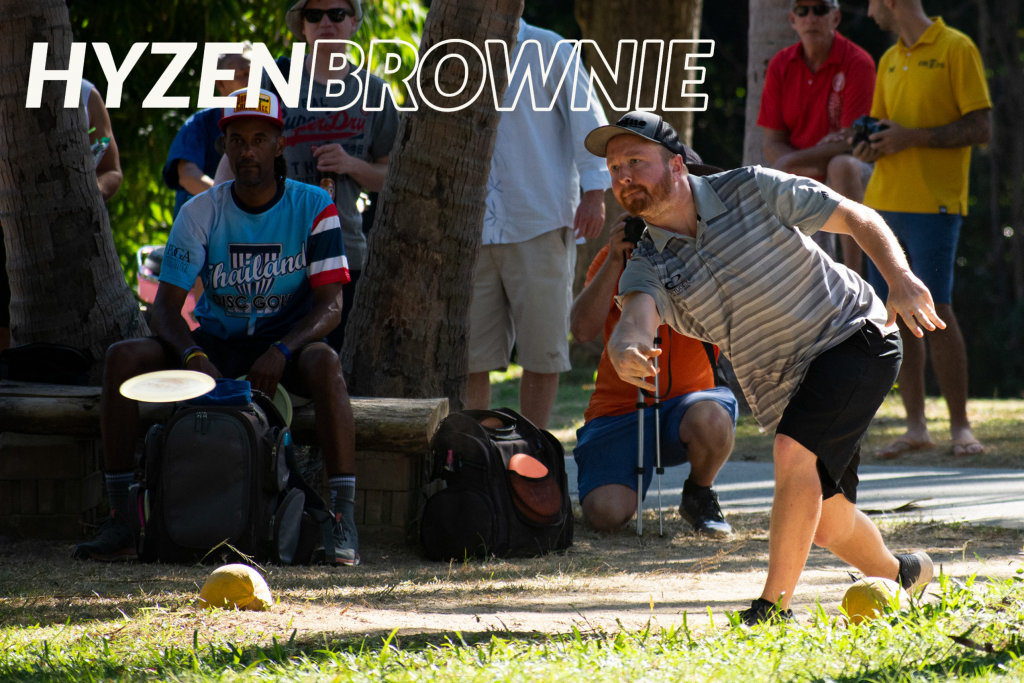 The focus of disc golf in Asia traveled 600 miles up the Malay Peninsula, to its narrowest point, and then 50 miles offshore to the east, to the Thai island of Koh Samui for the next two tournaments of the nascent South East Asian tour.
It's a two-week disc golf experience on the island that is becoming increasingly popular with travelers; with a smorgasbord of tournaments, leagues, glow rounds, parties, feasts, and music that culminates in the A-tier Samui Swine Classic VII Presented by Innova.
The beginning of all the fun however, is the 5th Annual Hyzenbrownie Open "King Of The Island" 2020  – a PDGA C-tier.
Both tournaments are held on privately-owned courses: the Hyzenbrownie at Dave Lehmann's Laem Sor Beach Disc Golf and Acoustic Café near the southernmost tip of the island and the Swine Classic at Nigel Mills's Samui Disc Golf course near Mae Nam in the north. As tournament week hits, among the wide-eyed first-time tourists, leathery expats, backpackers, and sunburned Russians visible on the streets, disc golf caps, T-shirts, and bags can be spotted everywhere. Yet talk among the disc golfers isn't of Laem Sor or Mae Nam. It's simply 'Nigel's' or 'Dave's. As in:
"Where are you playing today?"
"Nigel's this afternoon. Going down to Dave's tomorrow."
So Dave's it was for the first weekend. I find that once I've referenced, "Laem Sor Beach Disc Golf and Acoustic Café," there isn't much left to write. The name does most of the descriptive work for me. Dave's place is as you might imagine, a rough-hewn, open-air, timber shack that serves as a bar, pro shop, and club house set amongst coconut palms that overlooks a clear meadow with views down to the azure waters of the Gulf of Thailand. It's a place where you can sit on one of the jumble of chairs, feel the slight cool breeze coming off the ocean and watch the action on hole 9's tee and hole 4's green. The 9-hole course has a mix of light to medium-wooded fairways, wide-open holes, and a back section bordered by a creek and thick rough. As a few players commented, "Holes 6, 7, and 8 have some serious teeth."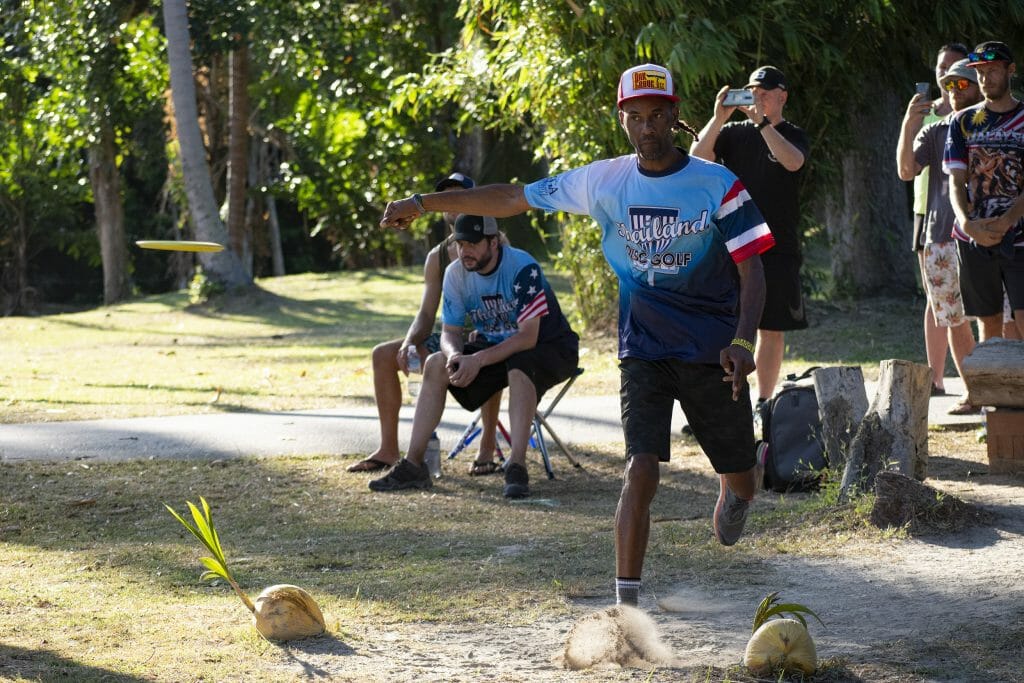 As with every tournament so far on the tour, the numbers were up significantly from the previous year, with a field of 54, made up of 21 pros in three divisions, and 43 amateurs spread across five divisions. The Open field had Joel Pallari and Adam Abrahamsson continuing their journeys from Malaysia and Singapore, while three-time winner Philo Brathwaite was trying to make it four in a row. Weston Isaacs flew out to Thailand on a whim, landed on the island with nowhere to stay, and just winged it from there. Then there was this tall guy with the high jumper's prance and the famous mane who turned heads and left people whispering to each other, star-struck, in his wake – USDGC champion James Conrad had also made the trip.  In the FPO, Slovakia's Katka Boďová had some competition in the form of Canada's Briana Ainsley.
Weston Isaacs has talked of making this year a big one and he certainly started 2020 in the right way. His first round, 15-under par 45 was provisionally 1068-rated and created a four-throw gap from Conrad, with Pallari and Brathwaite five and six throws back respectively. On the second day, Pallari dropped off the pace in round two while Conrad slipped back to share second with Brathwaite, both still six throws adrift of Isaacs.
Most people assumed, heading into Sunday, that with a six-stroke lead and one round to play, Isaacs was going to hold on and break through for his first win in a few years. But that lead quickly evaporated as Conrad threw 9-under par for the first eight holes. Conrad's run included a rare eagle on the par 4 hole 4.
"The last round felt different," Isaacs said. "This is a course you have to attack. That first hole set the tone on the last two rounds. Both times I sawed-off my sidearm, but yesterday I canned the 40-footer and today I hit the cage and got a rollaway. I did feel more nervous today."
It was on the second lap of the nine holes where hole 4, now 13, would play a key part in the drama. With his six-throw lead gone, Issacs put his drive five feet further from the pin than Conrad. He was faced with the choice of running a 45-foot putt with an OB road close behind the pin or laying up for a birdie 3. He chose the challenge and was rewarded with the eagle.
"When you are playing against this level of player, you can't give them putts like that," Isaacs said. "When it went in, I knew I had the momentum back."
Isaacs gained another throw on the card on the next hole and one more on Conrad quickly after to re-establish a small buffer. With two holes to play Issacs held a two-throw lead over both Conrad and Brathwaite. Brathwaite's drive on 17 hit a small mound and the deflection gave him an awkward stance for his approach shot. He overcompensated from the unfamiliar throwing position and his approach skipped long onto the OB path. Conrad threw his drive to a small stand of trees but within 60 feet of the pin and laid-up for his birdie. After landing his drive in the fairway, Isaacs left his approach slightly short and then missed his birdie putt to drop a throw to Conrad. He went into the last hole with just a one-throw advantage.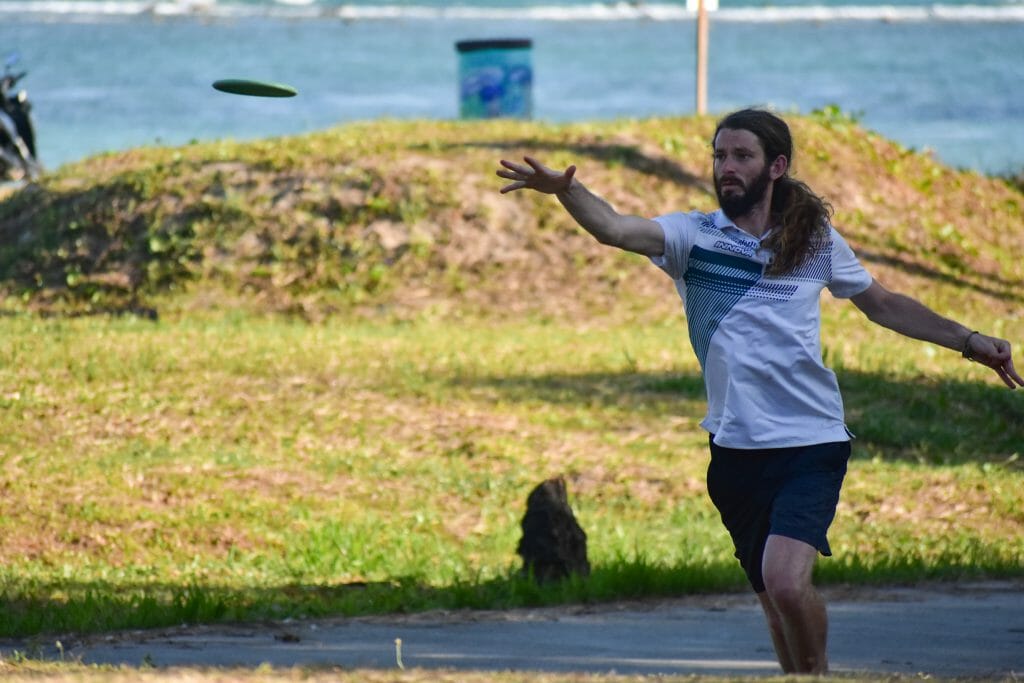 Conrad and Brathwaite put their drives long on the picturesque final hole, with its elevated basket on a sloped mound set against the backdrop of the blue ocean. Isaacs powered a thumber that sliced into the light sea breeze and finished 25 feet short of the pin. Brathwaite canned his long birdie putt, which forced Conrad to do the same to avoid a playoff. Conrad's attempt sailed wide however and his missed putt-back allowed Brathwaite to claim second place. Isaacs laid-up and tapped in for maybe his biggest win.
The win, and the daring eagle putt that gave it to him, was a confidence booster for Isaacs. "It's given me some belief," he said. "That I can perform at this level and match these guys. Now I've just got to keep it going."
"What a roller coaster man," said a disappointed Brathwaite who watched someone else claim the King of the Island title for the first time since 2017. "I went into this round thinking that I needed to be perfect, and I wasn't."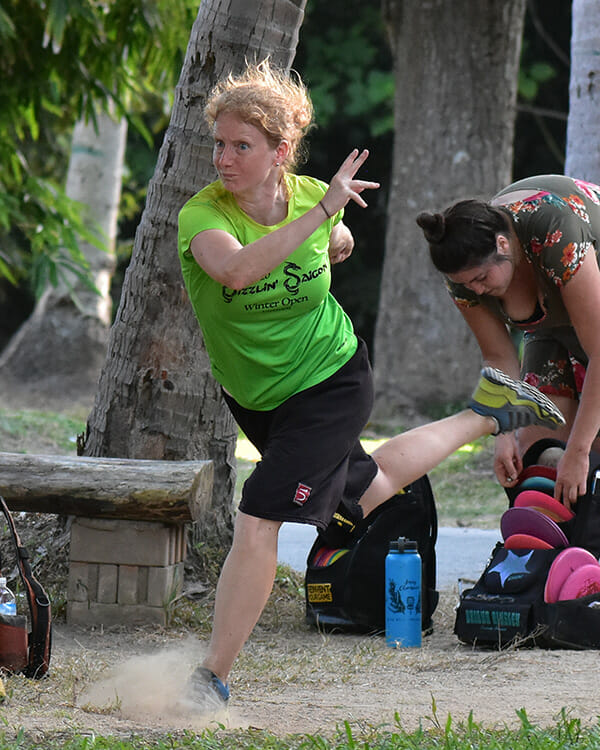 Katka Boďová also took a healthy buffer into the last round in FPO, however, Briana Ainsley succumbed to a bout of food poisoning and was forced to DNF, handing Boďová her third win of the tour.
Martin Doerken, the only other player to equal Isaacs and Brathwaite's 15-under-par hot rounds in the tournament, had a 13-stroke win in Pro Masters. Doerken's was one of the stories of the event. After winning MP40 in 2018 he continued his travels to Cambodia and came close to dying from an acute case of diverticulitis. His tale of survival involves a dash to the border, an emergency helicopter evacuation, a month in a Thai hospital, and a very long recuperation. To cap off a very popular and triumphant return to the event, he aced hole 9 with a ring of chains, and a shout that echoed over the whole course.
Marky Lemke had a one-throw win over Ville Lehtonen in the advanced division while Malaysia's Maria Luisa Bartolome took out the FA1. Finland's Arttu Pelgonen won the MA1 while locally based US expats Charles Czepyha and Marc D'Ambrosi had wins in the MA50 and MA60 divisions respectively.
For some the party started when they hit the island, for others it won't begin until after the last night at Nigel's. But as the sun set, the presentations wound down, the lights from the clubhouse at Dave's took over, and the music rang out into the night, it was clear that for many, the party was tonight and that they'd start thinking about the Swine Classic in a day or two.