The founder talks to UWDG about the evolving nature of its team sponsorships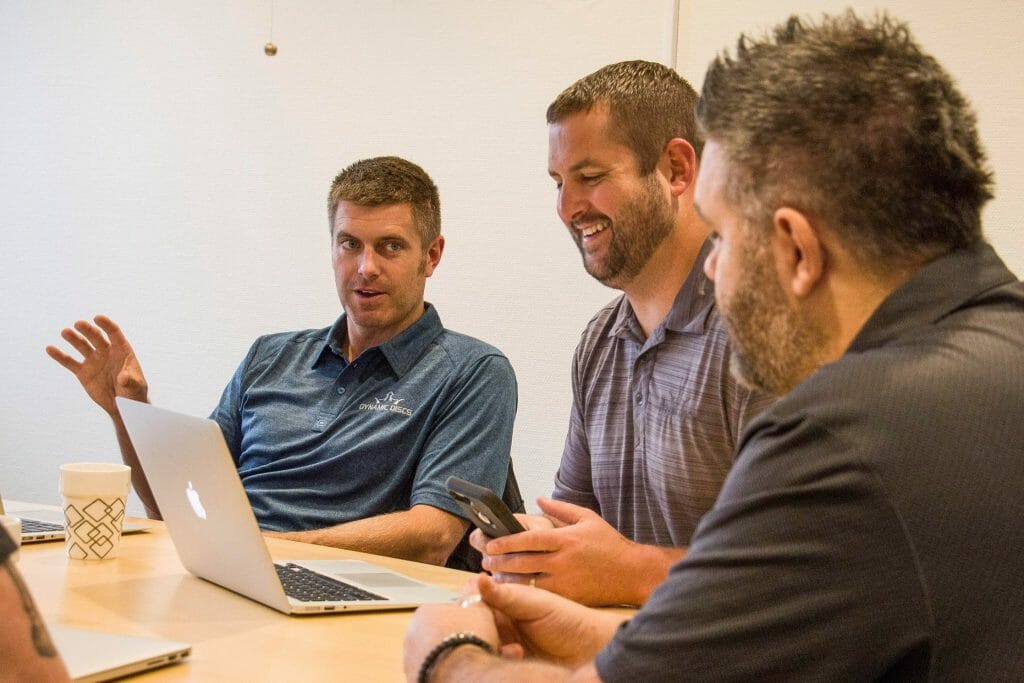 Over the weekend Dynamic Discs owner and founder Jeremy Rusco took to the Trilogy fan page on Facebook to address the rumors surrounding Dynamic Discs and its sponsorship decisions for touring players after a high profile defection from Paige Pierce to Discraft and the company's decision to cut ties with players such as Jordan Castro and Missy Gannon.
"I can assure everyone that the ship is not sinking at Dynamic Discs," Rusco started in his post. "I can also assure you all that this 'chatter' is exactly what we expected. The tour level player expectations have changed and evolved significantly over the last couple of years. While we want to have a large team and family atmosphere throughout our entire team, it is clear that money is what is most important at the tour team level and we certainly understand that. The new standard expectation at this level has made us realize that we needed to make a change to our tour team structure. These changes have been tough to make on a personal level but on a business level, it is what we feel has to be done."
Rusco would go on to say that reducing the overall number of team players will allow DD to more "effectively market, promote, and advertise our tour team players and compensate them accordingly" and that the company will "save the big contracts for the big dogs." He would also assure the supporters that the business was not in danger, and that the holiday season has kept the Kansas company very busy around the warehouse.
Ultiworld Disc Golf caught up with Rusco to talk more about the company's team direction heading into the new decade.
---
Ultiworld Disc Golf: Are you able to share more on how any of the touring or team structures have changed?
Jeremy Rusco: It is clear that money is the motivating factor for touring team members, and we fully understand and appreciate that. In 2020, Dynamic Discs will have fewer members on our Tour Team to whom we provide the greatest amount of financial support. The support to our other team levels will be similar to what it has been, and we will look to expand with more ambassadors and promoters that are actively growing the sport in their local community.
UWDG: Is there an ideal team size or structure that DD is aiming for? How often is this evaluated?
JR: Things are being evaluated and change on a very frequent basis. I suppose that is just business, and I think that we are very agile in how quickly we react or make decisions. We don't have a specific number in mind, but we want to ensure that we can effectively manage, support, and keep a "family feel" for our team. If we have a multi-year agreement with a player, we will fulfill our end of the agreement to the final date of the agreement as long as both parties are fulfilling their end of the agreement, then we'll evaluate our future steps with that player together.
UWDG: How does DD value players? Eric Oakley's extension mentioned his roles off the course as well as play at events.
JR: There are multiple attributes that factor into how we value a player as opposed to a specific formula. What we hope to see from our Tour Team is different than what we expect from our other team levels. Top finishes, social media presence, hosting events and clinics, local influence, and personality are all factors, in no particular order. At the end of the day, we want a team that feels like a family and a family that is doing the right things to Grow Disc Golf and be a positive influence.
UWDG: Has budget reserved for touring players remained consistent year-over-year from 2018-2019-2020?
JR: Ha! This one has exploded on us in recent years! 🙂 I won't get into specifics but let's use some percentages and work from 2016 as the 100% baseline.  2016 = 100% | 2017 = 125% | 2018 = 250% | 2019 = 300%. Things are still a little unclear as to what 2020 will bring, but you can clearly see the trend.
UWDG: Did seeing Latitude 64's change in touring teams last offseason influence DD's decisions this offseason?
JR: No, the change has everything to do with the new expectations and standards for the top-level players. We can only support a select group of players because our marketing, media, advertising, and promotional efforts for our Tour Team can't remain as wide as they have been. Consider other professional sports, and think about how many players they market and promote. Basketball has five players on the court at any given time, and most teams have one to two  players that they market and promote. Baseball has nine on the field, and they typically promote two to three players. Football has even more on the field, and you usually only see three to four marketed and promoted. We were trying to market, promote, advertise,  and support more than 10 players and realized that it was not sustainable for our organization.
UWDG: Can you share any of the new plans for marketing/promoting/advertising tour players?
JR: The new Marketing Director position at Dynamic Discs has already brought some change and will continue to do so. One change is dedicating more individual focus toward each of our Tour Team members. I believe that changes are already starting to become visible, but you will see more as we transition to a new year. Of course, we are very open to hearing from our fans and followers on what they want to see more or less of, but they will definitely be seeing more promotion of our Tour Team.
UWDG: How do you see these decisions affecting fans and potential customers?
JR: Let's set the "business decisions" aside for a moment – I am incredibly grateful and proud of every player that wears DD on their back, whether they're currently sponsored by Dynamic Discs or they've moved on; whether they're a sponsored player, or they aren't. We are thankful for anyone that supports our brand through using our products, watching our content, or even simply cheering for our players. While our sponsored player landscape is changing, my hope is that we have offered instruction or even entertainment to the fans, and that they will continue to stick with us as we work to create more content for them and promote and support some of their favorite players!