Cox looked focused in FPO while Gibson and Dickerson cruised in MPO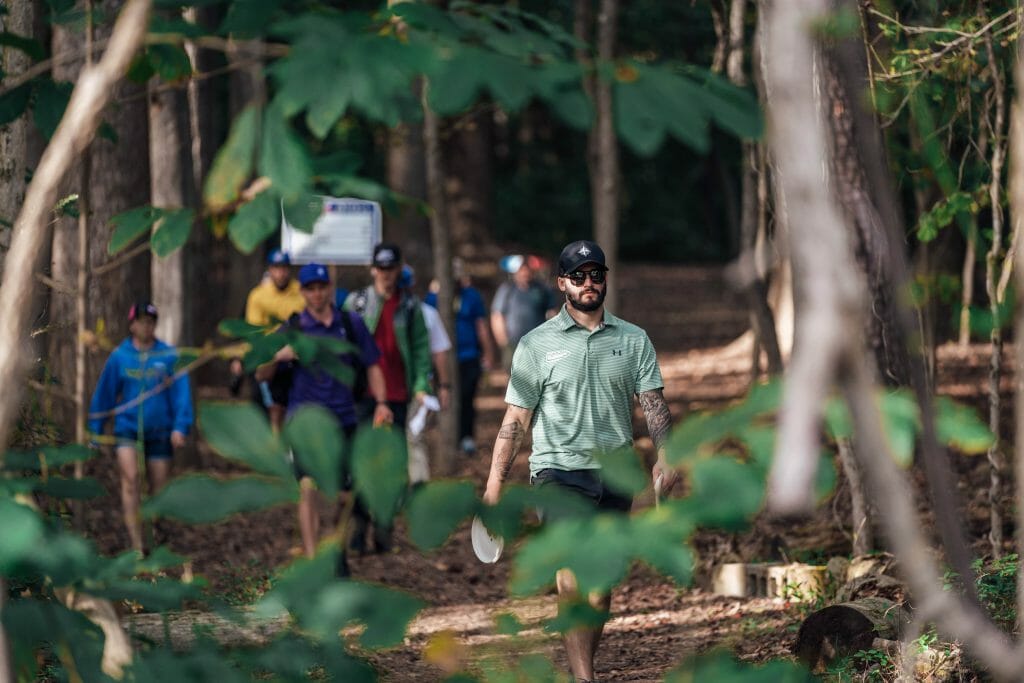 It's Saturday morning and I'm waking up at 6:00 AM, this had better be important. Tee times for the Disc Golf Pro Tour Championship semifinals were moved up to try to dodge the unpredictable autumn weather here in the Queen City, and Jeff Spring's move would eventually prove wise. As I try to get my brain revving at full speed on the drive to the course, I tried to predict what would happen. 
Would the cut line score of 2-over par hold in FPO now that the powerhouses that dominate any discussion of professional women's disc golf prepare to enter the fray? Can Michael Johansen and Philo Brathwaite hold off the slew of young guns yet again by setting the pace in MPO? How much will the extra day off help (or hurt) the favorites — James Conrad, Simon Lizotte, Garrett Gurthie, and Kevin Jones? 
I came to the conclusion that even if I was fully awake, my predictions would be about as useful as the weather forecast had been lately.
FPO Semifinal 2019 DGPT Championship
Open Women was a wild ride from start to finish. From my recollection, everybody was "inside the line" at some point during the round, there were at least four different leaders, and nearly as many different people in last place. For most of the day the field of eight was only separated by five or six strokes. As much as I'm sure some of the competitors wanted to check their status and play strategically, it was pointless to check UDisc Live as the scenario was changing too often.
All in all, it was a slower start for everyone except Sarah Hokom. Through three holes she was the only player under par, and she was in fact a missed circles-edge attempt on the first par 4  from starting 3-for-3. A triple bogey, courtesy of two costly misfires on hole 4, quickly dropped her from ahead by two to third place. Yet Paige Pierce, who benefited greatly after securing an easy birdie to deliver the rarely-seen four-stroke swing, returned the favor on the very hole with a triple bogey of her own.
Pierce was clearly not sharp in the early going, only finding Circle 1 in regulation once in the first nine holes, ditto that for C2 in regulation. In a twist on a familiar tale, Pierce still amazed the crowd, but it was purely with the putter. She pulled out a C2 par save, an obstructed, from-the-knee birdie putt on an elevated pin, and then a fully-committed 72-foot anny-release chain-smashing effort that rallied her into putting down a 2-under par back 9 to finish even par 65 for the day. Oh, and by the way, she eagled hole 13 from 16 feet deep of the pin after what was seriously one of the greatest  anhyzer-to-flat shots that I've ever seen in my life — a 90-degree turning, downhill, and into a funnel of trees approach. Greatest "for a woman?" Hell no, greatest for a disc golfer, period. Soft par 5 for these elite women? Arguably so, but the shot alone is worthy of the unique accomplishment.
In the earlier grouping it was more of a dogfight, as both Holly Finley and Lisa Fajkus missed two C1X putts in the first three holes. For Finley, her achilles heel was scrambling, and for Fajkus it was uncharacteristically putting. At the end of the day their efforts were for naught, as Catrina Allen was able to lay-up while lying 3 on hole 18 to tie Finley and Fajkus at 4-over par, and move into the Finals with the Tour Point tiebreaker.
The big winner today was Rebecca Cox. Working through a leg injury that took her out of the Hall of Fame Classic last week, she alone used that extra day of rest to full advantage and played a patient gameplan. She used the power that she had, not the full power she is used to, and recovered from mistakes by keeping it simple and straightforward off the tee. She led in only one statistic, Circle 1 in regulation. Once Cox found her rhythm on the back 9, she perfected the trio of holes 12 through 14 by placing consecutive shots inside the circle in regulation, and converting the putts that followed. Like Finley one day prior, she was the only FPO player to beat Hornets Nest and finish under par. For the Sunday round, the four top-rated women get to do battle all over again.
MPO Semifinal DGPT Championship
In MPO, the picture was almost as messy. It quickly became evident that the livestream feature card of the top seeds was not the one to watch, with one exception. U.S. champion Conrad's epic run lately came up one round short, and he finished as the only player over par in the division. And we mean way over par. He was out of contention far too early after taking 10 strokes to finish the first two holes, but he still cashed out courtesy of the format, and he's still the U.S. champ so it can't be all that bad.
There are too many "almosts" and "also-rans" to run through the whole list, but it is worthwhile to point out Alex Russell and Johansen who lost out in the four-way tie at 7-under par. In similar fashion to the ladies earlier in the day, it was the over-par start that stymied their efforts. Russell began his day by needing a fairway par save (and not getting it) on hole 1, and Johansen missed the island on hole 2 and subsequently his only C1X putt of the day to card a double-bogey. The effort from each of them from that point on, however, was spectacular despite the outcome. Johansen made 12 C1X putts, hit nine greens in regulation, and converted all seven scramble attempts after the island. Russell only had three C1X attempts after hole 1 due to a combination of parking four holes, and smashing five-of-eight C2 attempts. Reminder, this is not an "open" course, so imagine that there are plenty of trees and iron leaves in his way.
The final "almost" is Garrett Gurthie. Only one throw back from the cut-line at 6-under par, Gurthie nearly relegated Heimburg to the same fate as the other two gentlemen I mentioned above, but it his lone C1X miss on the par 4 hole 5 that kept him out of Sunday's contest. A very makeable putt, albeit quite deathy on the severely sloped green, Gurthie just plain whiffed it. 
Overall, he was a crowd pleaser, throwing a U-turn sky anhyzer upshot with his Sonic on hole 4 that was TOO good and found OB. He then nailed the insanely difficult 50-foot par save and casually grinned as he walked to the next hole. On hole 9 he played a double skip-then-flare line that got so far down the throat of the gap he was able to again pull out his signature lid of a putter and give it a run for eagle before settling for birdie. 
"I play pretty good in the woods," he said as we casually chatted after the round. "Anybody who thinks you're just an open-course power player definitely isn't paying attention," I replied. After a fist-bump and a, "See you next season," he shepherded his adoring nieces to the playground, casual grin still intact.
Heimburg himself slipped in the Final via a tie settled by Tour Points with a late C2 par-save on 16 and a testy birdie look on 17, though his fate was not sealed until his tee shot landed in bounds on hole 18. A small slide with two late-round C1X misses could have cost him greatly, but just like last week in Georgia he made the putts when it really mattered. Also on the winning side of the 7-down logjam was KJUSA. He started out his day hot, 5-down through six holes, and was seemingly the only person on the lead card that ate the proper breakfast. His putting was a clean 10-for-10 from C1X, and his big moment was a C2 connection on "The Gauntlet" – hole 15's wooded fairway and raised basket — to grab that crucial stroke back immediately after a bogey on the 14th.
The two superstars in MPO in the semifinals were undoubtedly Drew Gibson and Chris Dickerson however, each birdieing at least half the course and leading the pack at 9-under par, Dickerson with a clean sheet and Gibson with two bogeys. It was more of the same from Dickerson, whose bread-and-butter is simply playing with the mentality of, "get me close enough to have a look." If he's successful, my betting advice is to never short his stock. 
On the course today I met a fan of The Upshot (shameless plug) named Nate and we had a fun debate about who was the better mid-range thrower — Dickerson or Gibson? Naturally, Nate picked the East Coast guy and I picked the West Coast, but after watching both of them find the fairways north of 70% and each only having four C1 attempts in 18 holes I'm happy to call that debate a draw for now. Their accuracy, regardless of the speed of the disc in their hands, was downright impressive.
Gibson did what he needed to do despite injuring his back on the 7th hole. In fact, he doesn't want us to talk about it, he wants to make no excuses. Frankly, I'm just impressed that his foot stayed on the gas after that. Not that there was a large margin for error anyway, but it showed tenacity and it showed an extreme amount of willpower. Both Drew and Dickerson have this in spades, and their demeanor on the course reflected the domination on the scoresheet. Even with only 25% of the field earning the chance to play tomorrow, you could find both of their names all day long without having to scroll too far.
Sunday looks to be as perfect of a set of conditions as we could ask for, and the final battle of the decade features players with a variety of styles and attitudes. Pick your favorites and bet your friends, for the 10 am local time FPO tee, and double-down on the 3pm MPO afternoon clash. If the first two days are any indicator, the favorites aren't necessarily the safe picks at Hornets Nest.